Customers Quit Verizon Over Extended Phone and Internet Outages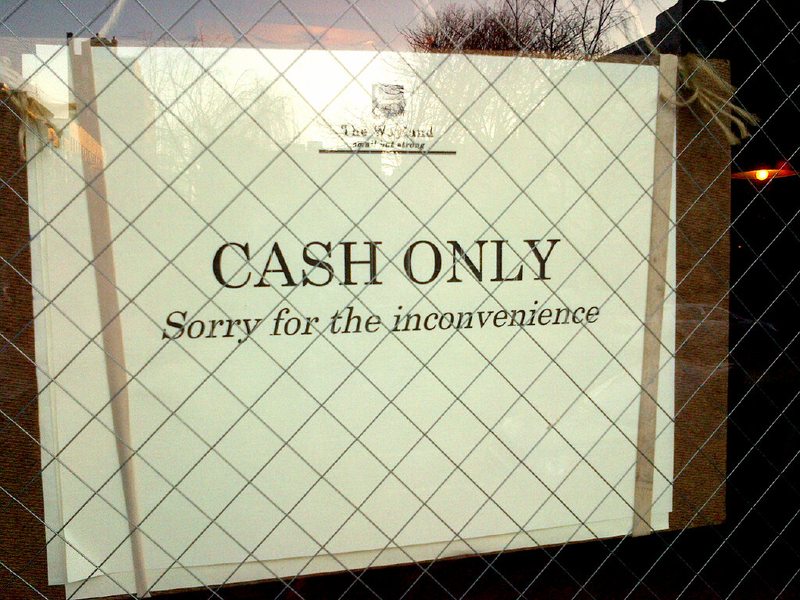 More than three months after Sandy, frustration continues to grow in parts of lower Manhattan where many residents and businesses are still without phone or internet service
Along Avenue C, roughly from Third Street to Tenth Street, there are "cash only" signs in the windows of some businesses because their internet is down and they can't process credit cards.
And if you want to hit a cash machine, you'd be out of luck at the nearby credit union. For the past three and a half months, the screen on the ATM there has displayed the same two words: "OFF LINE".
Now, fed-up Verizon customers are cancelling contracts and moving to other providers at places like Bobwhite Lunch Supper Counter and Alphabet City Wine Co.
Beatriz Arremony runs a Barnyard Cheese Shop and Brix Wine Shop, both near the intersection of Avenue C and 9th Street. She clearly recalled the decision to quit Verizon. It was a few days before Christmas and a representative of Time Warner Cable, a Verizon competitor, showed up unannounced.
"He walked into the wine store and said, 'Hi, I understand that you currently have Verizon, do you have phone service back?'" Arremony said. "I said, 'as a matter of fact I don't, and I thought you'd never get here!'"
Within minutes, Arremony had signed a new contract for phone and internet service. Time Warner Cable confirmed to WNYC it's been recruiting in storm-battered areas.  Arremony said the outages hurt her businesses "quite a bit." At the wine store, about 80% of her customers pay by credit card, about half at the cheese shop.  Both businesses also take many orders by phone.

"I was just thrilled to hear a dial tone," Arremony said.
To make the switch, Time Warner Cable had to install a new cable that pokes out from the wall. Arremony can accept the visual intrusion, but some other merchants don't like it. Some have opted instead for Clear, a wireless internet service.
A Problem That's Hard to Quantify
It's impossible to say just how many New Yorkers are still communications-deprived, or where, exactly, they are. Unlike electricity outages, phone and internet interruptions aren't publicly reported. The New York Public Service Commission tracks phone outages, but doesn't release the information.
"Given the fact that the telecommunication industry is highly competitive, such information is considered confidential," wrote James Denn, a PSC spokesman, in an email.
The Bloomberg Administration sees the scarcity of information as a problem. In prepared remarks delivered this month to the Federal Communications Commission, Rahul Merchant, chief information and innovation officer for the city, said first responders ought to be informed of communications outages as a matter of public safety.
"This information should also be made publicly available to consumers so they may track the status repairs, obtain reasonable estimates as to when service might be restored, and compare performance across competing carriers," Merchant said.
Sometimes it seems as if Verizon itself may have lost track of its own customers.
"If I may say that, they're making fun of people," said Edi Frauender, owner of the Austrian restaurant, Edi and the Wolf, as well as the bar, The Third Man. While both are located on Avenue C, each establishment has a different problem: the bar is without internet, while the restaurant has no land line.
Fraueneder recalled recently receiving an email from a Verizon representative, informing him that The Third Man's internet had been repaired.
"I'm like super ecstatic, home run.  We could be running credit cards tonight at the bar," Fraueneder said. "I restart the router, I restart the modem, I restart the computer. I do the whole thing three times, and you know what? They send you a message that everything is resolved. And nothing is resolved."
What's more, Fraueneder said, he's been getting monthly bills for the services he's not receiving. WNYC spoke with a check casher, a mobile phone store, and a number of nearby bars and restaurants along Avenue C. Many had similar stories to tell: service interruptions, incorrect bills, and erroneous messages from Verizon.
Verizon Responds
"I don't doubt for a moment what our customers have told you," said John Bonomo, a Verizon spokesman. He said Verizon has restored the vast majority of customers, and is working hard to bring back the rest. In the meantime, the company is offering interim solutions, like wireless internet hotspots, for free.
But the company wouldn't say how many people and businesses are still without service and couldn't fully explain the persistent outages and poor communications along Avenue C.
"There are certain instances where we have access issues, getting into certain buildings, but people and businesses should feel confident that we're working 24-hours, around the clock, with not only building managers and property owners, but also within our own network to get this restored," Bonomo said.
Last month, a Verizon repair team finally showed up at Beatriz Arremony's cheese store. Saleswoman Laura Rooney listened, and then gave them the bad news.
"They came and they [said] 'I'm here to fix your Verizon service,'" Rooney recalled. "I'm like, well we quit you two weeks ago, I'm sorry that you didn't get the message.... I think they bought a sandwich afterwards."
WNYC wants to know where there are still outages due to Sandy. If your phone and/or internet service has not yet been restored, email newsroom@wnyc.org and put "outage" in the subject line.
The following error was corrected in this article on Wednesday evening. The company is Time Warner Cable, not TimeWarner.