Stunned by Pope's Decision, Many Embrace the Change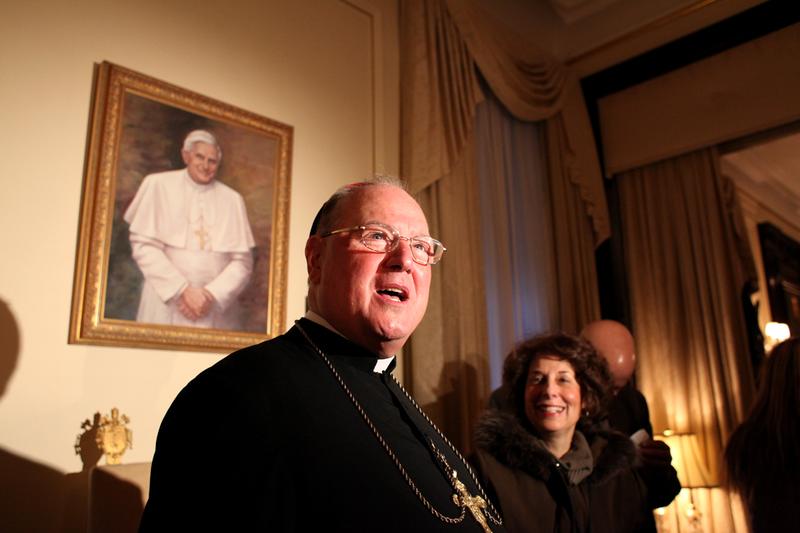 Most New Yorkers were stunned to hear the news that Pope Benedict XVI planned to resign at the end of the month – including Cardinal Timothy Dolan who was appointed archbishop of New York by the pope.
As a Cardinal, Dolan plans to return to the Vatican to take part in the conclave, the behind-closed doors process for choosing the next pope. Although experts say it's not likely that he will be on the short list of candidates.
"It's like watching your own dad get old and admit that he's not up to all the duties of being the head of a family involves," Dolan told reporters on Monday, "and there's some somberness there, some sadness there."
Dolan called Benedict a shy, but approachable man.
Many Catholics in the region felt the Pope's decision to step down because of age was a responsible decision.
"It's a brave decision," Sister Mary Ellen Lacy of Brooklyn who works at social justice lobby NETWORK. "Not many people can say in a public view where they hold so much responsibility and so much admiration can state, 'You know what? I can't do it anymore.'"
Outside St. Patrick's Cathedral in Manhattan on Monday, Lida Pabon said she was stunned by the announcement but felt the church is ready for change.
"I think that it's the time for new people, for new ways of thinking and for others," she said.
Benedict's tenure at the Vatican will be remembered for his attempts to reawaken the faith among non-observant Catholics.
Bishop of Trenton, N.J. David O'Connell said the new pope should continue that work. He said the new pope should be someone who has "open arms and bring people back into the church who may have left."
"But by that, I don't mean that I think the next pope should make all kinds of radical changes to the teachings of the church," O'Connell said.
It will also be remembered as a time of crisis, as revelations deepened under Benedict of decades of priest child sexual abuse.  
Benedict met with victims and said the church must "do everything possible" to ensure such crimes never happen again. The Vatican updated its legal code and told bishops' conferences around the world to come up with guidelines to prevent abuse. But Benedict never admitted any personal or Vatican failure. And he never took action against bishops who ignored or covered up the abuse.
Benedict's papacy was also contentious because of a crackdown on American nuns accused of straying from church doctrine in pursuing social justice issues. 
The Reverend Gabriella Velardi Ward is with the association of Roman Catholic Womenpriests. Her group operates outside of canon law.  She hopes cardinals pick a leader who will be more inclusive, especially of women.
"This can be an opportunity to revitalize the Roman Catholic Church," Velardi said. "And I hope that's the way it goes. But it can also become a further and stronger entrenchment of the current policies, and we'll have to wait and see on that."
At Fordham University, students had mixed reactions:
Terrence O'Toole, 22, is from Cleveland, Ohio, where he was brought up Catholic.  He is studying fine art with a focus on architecture.
 "I would love to see some more accepting stances on homosexuality, on women in the church, and a more transparent structure to the church, that I can relate to." 
Brooke Eyer is a freshman at Fordham. She hopes a new pope will be open to considering some changes in the church. She believes that priests should be allowed to get married, and that a focus on integrating family life into the church will bring more young people into the Catholic Church.
"I think he definitely needs to be more open to hearing what we have to say. I think that would definitely help more people get involved."
Michael Martinez, 22, is a student intern for Fordham Campus Ministry. He hopes that the next pope will be from a poor country, because he thinks that the church needs to focus on those who are suffering. He thinks this next pope will be a "revolutionary pope" who focuses on social justice and helps the church understand its situation and place in the world.
"A lot of people I think have lost hope, that the church has gone astray, or that the church really can't adapt to its situation right now.  But I really am hopeful that the church will make the right decisions when the time comes."
Tom Grilli doesn't believe the next pope will change any fundamental Catholic values, and believes the next pope will be conservative. Still, the right person could do a lot to mobilize Catholic youth around his faith, he says. His choice for the next pope? New York City's own Archbishop Timothy Dolan.
"He's charismatic… He came to Fordham and he was interesting and funny... I think he's a good leader… I think he'd be a great pope."
Lauren Olsen, 19, said she thinks the next pope will have to confront hard issues like gun control and abortion. She said she hopes he will continue in Pope Benedict XVI's footsteps by upholding the Catholic tradition.  She hopes that the next pope will be able to connect the church's stances on these controversial issues to church doctrine in a way that is clear and concise and helps young people understand why the church takes those viewpoints. But  she hopes the church will show it can adapt to modern times by electing a pope from Africa.
 "I think that would be awesome. I mean, it would reflect the values that I'm sure are universal, that race, religion, all that kind of doesn't matter when it comes down to it."
Photos by Christine Streich.
With the Associated Press.
Social responses: We are asking you to describe the characteristics you'd look for in the next Pope. Here's what you're telling us:
"@wnyc: Compassion? Beneficence? Judiciousness? What characteristics look for in a new Pope? wnyc.org/articles/wnyc-…" HONESTY & DISCLOSURE

— Deb (@fiesty_democrat) February 11, 2013
@wnyc Tolerance.

— Mary Beth Keane (@Mary_Beth_Keane) February 11, 2013