After Trip to Guantanamo Bay, Three Mothers Reflect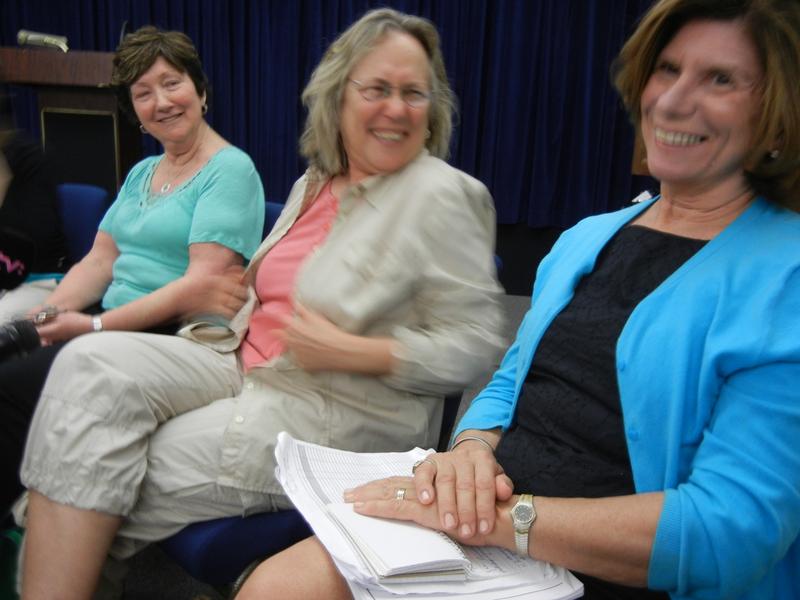 The case against five men accused of plotting the September 11 terror attacks resumes Monday with pre-trial hearings in Guantanamo Bay, Cuba. Each time the court is in session, five victims' families are chosen by lottery to attend in person. Two weeks ago, Joyce Woods, Phyllis Rodriguez and Loreen Sellitto were selected to make the trip down.
The women didn't know each other before that week, even though they're members of a small, painful group. They each lost a son on September 11. Those men, 26-year-old James Woods, 31-year-old Gregory Rodriguez, and 23-year-old Matthew Sellitto, all worked at the investment firm Cantor Fitzgerald, on different floors of the North Tower.
After returning from Guantanamo, the mothers are still processing the experience and shared some of their impressions with WNYC in a three-way call last week.
Woods said even the environment was unexpected.
"Cuba is, to me, a tropical island and yet so much of the beauty is missing because of all of the security, all of the barriers, not being able to go around freely, that was all very new to me," Woods explained by telephone from her kitchen in Pearl River, N.Y.
Phyllis Rodriguez chimed in from her kitchen on the other side of the Hudson River in White Plains, "I had a similar reaction I found it strange and kind of in a very disturbing way to be in Cuba but to be feeling like I'm on the moon."
Sellitto joined the call from her home in Naples, Florida.
(Photo: Loreen Sellitto holds a picture of 23-year-old son Matthew Sellitto. Brigid Bergin/WNYC)
The women are careful to say that they don't speak for all victims' families. They're sharing their own experiences. These are their feelings. And even among these three, the feelings are very different.
Woods and Sellitto support the death penalty in this case, but it's something that Rodriguez opposes. She has deep concerns about the military commission process itself.
"I'm angry about what I see," Rodriguez said. "What I observed that to me are just violations of our Constitutional rights especially in capital cases."
Seeing the men allegedly responsible for the attacks — Khalid Sheikh Mohammed and the four other defendants — didn't change her position. It was the first opportunity for all three women to see these men in person.
Loreen Sellitto said what shocked her most was just how normal they looked.
"They look like us. They were not combative in the courtroom," Sellitto described. "That was more unsettling for me than actually seeing them."
(Photo: Phyllis Rodriguez with her son Greg. Courtesy of Phyllis Rodriguez)
For Woods and Rodriguez, the anticipation was worse then actually seeing the men.
Woods said she didn't feel too much when she actually saw them.
"You know, they didn't look like monsters. They didn't arouse any real emotions for me."
"I expected to be very upset and I wasn't," added Rodriguez. "But we have to remind people that we were far away from them looking at them mainly from behind and behind soundproof glass." 
The one thing the mothers agreed on is that they would have loved to see them up close, to look into their eyes and get more of an idea of what's inside of them
The five men are being tried under the latest incarnation of the Military Commissions instituted by Obama administration after the Supreme Court found the old one unconstitutional.
But there are still lots of questions about how this new process works. Critics call it improvised justice and argue it's not as transparent as it should be.
During the week these mothers were there, it was revealed for the first time to the judge, the defense teams and court observers that a third party outside the courtroom was listening in and could intervene and censor the proceedings.
All three women agree the censorship issue is troubling — but Sellitto and Woods have accepted the process.
"I find it interesting myself that we're quibbling over something that has been decided and I think that's counter productive and I think the energy should be made into making these military trials work," Sellitto said.
"You can't see me shaking my head yes but I've been nodding yes," Woods said.
This week five more families will go through their own version of this experience.
For those families, Woods had some motherly advice.
"Because we're still so exhausted I'd tell them to rest when they can," Woods said explaining that the trip was both physically and emotionally exhausting. But her other advice, "Go with an open mind."
(Photo: Joyce Woods holds a button with the picture of her son James Woods. Brigid Bergin/WNYC)
Rodriguez and Woods plan to be together again Monday watching the court proceedings through a closed circuit feed at Fort Hamilton in Brooklyn. Sellitto will only be able to see the press conferences the Office of Military Commissions posts on its website, since there's no viewing location in Florida.
Even though they're back at home now, these women remain connected. Their members of a tragic club they never chose to join. But after going to Cuba to seek justice for their sons — they can help cushion each other's grief. So they plan to keep in touch.
"Listen, I have three way calling ladies," Rodriguez offered.
They also believe their sons would be proud of them.