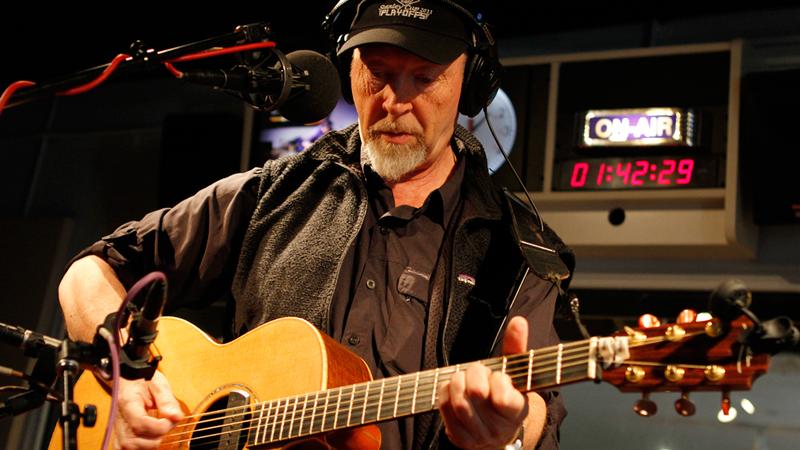 Acoustic … or electric? It's the fundamental decision that guitarists make before they compose, perform … or just noodle around while watching television. The English musician Richard Thompson has it both ways on his new album, which happens to be called Electric. As Thompson tells John Schaefer, the title is "deliberately misleading."
During his visit to Soundcheck, Thompson's usual wit was in fine form as he discussed the album, which was recorded in just four days with producer-guitarist Buddy Miller. Also, Thompson discussed two hobbies that might seem unusual for a musician known for cutting lyrics and finger-busting guitar work.
On bird-watching:

Being on the road, you're sitting on the back of a bus or something and you're thinking 'Well, um, I could just take heroin, or I could take an interest in what's around me. I could get into architecture, or wildlife, or botany'. [...] If you take an interest in your surroundings, there's this amazing world passing you by. You get to these great places. And if you get a day off, you can hike up into the hills and have a wonderful nature experience.
On being a British fan of hockey, especially the Los Angeles Kings: 

I got taken to a game about 20 or 25 years ago and I thought it was so great. It's so fast and skillful -- and sometimes violent, but we don't talk about that too much. 
Of course, Thompson also performed three songs from Electric in our studio. Hear them here, or watch the video we shot of Thompson in our studio.
Set List: 
"Good Things Happen To Bad People"
"Saving The Good Stuff For You"
"The Snow Goose"