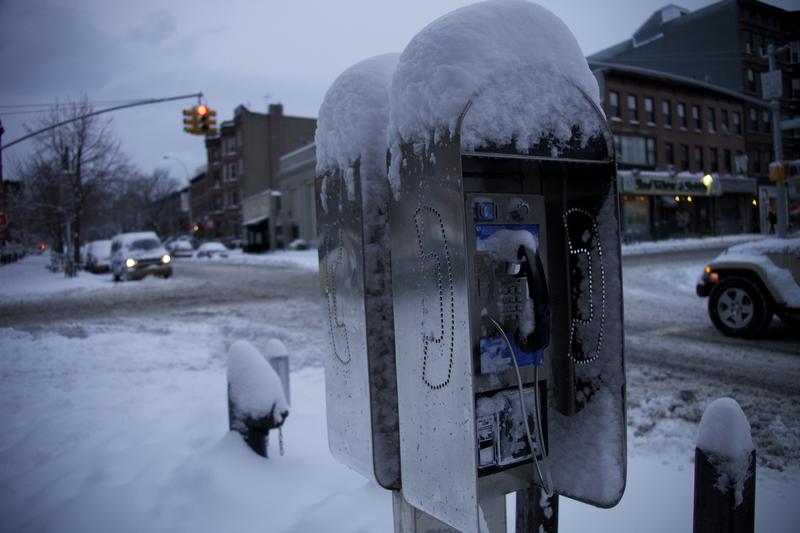 Much of the region is under a blizzard warning until 1 p.m. Saturday as a nor'easter continues to move through the region. Here's the latest on official statements, planning and updates that you'll need to watch.
+ Transit Tracker: Plan Your Saturday Travel
+ Storm Tracker: Follow the Flurries
+ Your Complete Guide to Getting Snowed In
Here's what you need to know as you wake up Saturday morning and plan your day.
New York City saw between 4 and 10 inches of accumulation and New Jersey saw between 4 and 15 inches. Both ares largely avoided the worst of the storm. Areas to the north and east of the city were hit much harder. Many parts of Long Island saw more than 20 inches of snow, including St. James in Suffolk County, which reported 27.5 inches. 
Many lines on the Long Island Railroad are shut down, as is the Long Island Expressway and many roads in Suffolk County.
Connecticut was also hit hard. Hamden, near New Haven, reported an astounding 34 inches of accumulation.
Local and State governments and agencies (and WNYC) are reacting to the storm. Here's what they're saying:
While the ban on travel is lifted at 4PM, we still want to urge residents to stay off the roads if at all possible. #CTStorm

— Governor Dan Malloy (@GovMalloyOffice) February 9, 2013
NYers are urged to stay inside, sunny weather can be deceptive -- it is dangerous to be on the roads | pls. RT to others #NYBlizzard

— Andrew Cuomo (@NYGovCuomo) February 9, 2013
Respect the work of the 1st responders & pls don't complicate their work by unnecessary travel | 1st responders were heroic last night

— Andrew Cuomo (@NYGovCuomo) February 9, 2013
We're going to be working on storm recovery all day in #Suffolk, getting equipment from #NYC, #Nassau, upstate #NY

— Andrew Cuomo (@NYGovCuomo) February 9, 2013
We need ppl to stay off the roads so plows can get through. Every time a car stalls or is abandoned, it causes further delays. #CTStorm

— Governor Dan Malloy (@GovMalloyOffice) February 9, 2013
ICYMI: Video of Gov. Malloy's 11AM news briefing on storm recovery from earlier today: ct-n.com/CTNplayer.asp?… #CTStorm

— Governor Dan Malloy (@GovMalloyOffice) February 9, 2013
NY airports open - planes rolling at LGA - hglaser1 just took this from the air instagr.am/p/VhGo-4pHRH/

— Andrew Cuomo (@NYGovCuomo) February 9, 2013
One of the biggest problems we face is stalled or abandoned cars on our roads. Every time that happens, it causes further delays. #CTStorm

— Governor Dan Malloy (@GovMalloyOffice) February 9, 2013
Gov. Malloy's order banning travel on all roads in #CT is still in effect until further notice. #CTStorm

— Governor Dan Malloy (@GovMalloyOffice) February 9, 2013
The blizzard warning is still in effect in #CT. This was a record breaking storm; snow topped 36" in some parts of the state. #CTStorm

— Governor Dan Malloy (@GovMalloyOffice) February 9, 2013
Today is a @nycparks Snow Day! Enjoy sledding, hot chocolate, and snow angel contests. on.nyc.gov/ULJ80D

— New York City 311 (@311NYC) February 9, 2013
Metro-North resuming service at approx 11AM on the full Hudson Line & Harlem Line btwn Grand Central & Southeast #nemo

— Andrew Cuomo (@NYGovCuomo) February 9, 2013
The #siferry is now operating on a normal schedule.

— NYC DOT (@NYC_DOT) February 9, 2013
Mayor: New Yorkers were really cooperative. They stayed off the roads. Do the same today, and check in on elderly neighbors.

— NYC Mayor's Office (@NYCMayorsOffice) February 9, 2013
Most recent NWS accumulation totals for NY/NJ/CT. Milford with 38"! nwschat.weather.gov/p.php?pid=2013…Measure yours project.wnyc.org/snowfall-map/m…

— Brian Lehrer Show (@BrianLehrer) February 9, 2013
As you dig out from the #blizzard today, be sure to clear around your hydrants for firefighters. (Please RT) #FDNY

— FDNY (@FDNY) February 9, 2013
Remember: don't toss shoveled snow back into the street. Pile it on your lawn or elsewhere.

— NYC Sanitation (@NYCSanitation) February 9, 2013
The previous 35 mph speed restriction at the GWB is no longer in effect.Please drive carefully.

— Port Authority NY&NJ (@PANYNJ) February 9, 2013
Update via @panynj: Some commercial flight activity at JFK & LaGuardia airports is expected to resume as early as 9am --> check your carrier

— Andrew Cuomo (@NYGovCuomo) February 9, 2013
In case you missed it, ALL ROADS in #CT were ordered CLOSED early this morning. Do not attempt to travel anywhere. governor.ct.gov/malloy/cwp/vie…

— Governor Dan Malloy (@GovMalloyOffice) February 9, 2013
Please be advised, Metro North is suspending service as of 10 PM Friday evening. Please use alternate routes: alert.mta.info

— NYC OEM - Notify NYC (@NotifyNYC) February 9, 2013
Watch my update on the latest on #Nemo here: youtu.be/gJadH3oK9c4. If you don't have to drive, stay home and off the roads.

— Governor Christie (@GovChristie) February 8, 2013
Sign up for email and text alerts from @notifynyc for the latest on winter storm #Nemo.

— NYC Mayor's Office (@NYCMayorsOffice) February 8, 2013
Mayor: please use 911 only for genuine emergencies. Use 311 for other calls -- we've brought in extra call-takers. #Nemo

— NYC Mayor's Office (@NYCMayorsOffice) February 8, 2013
Mayor asks people to stay off the streets: "It's for your own safety." After-school programs and Sat city events cancelled.

— Colby Hamilton (@bcolbyhamilton) February 8, 2013
Sandy remains "fresh" in city agency's minds, Bloomberg says, making them "ready for anything."

— Colby Hamilton (@bcolbyhamilton) February 8, 2013
Mayor says 10-14 inches are expected by tomorrow, but Nemo remains "unpredictable." twitter.com/bcolbyhamilton…

— Colby Hamilton (@bcolbyhamilton) February 8, 2013
We're ready for #Nemo: we have 250,000+ tons of salt on hand, 350 salt spreaders & plows ready to be put on 1,800 Sanitation trucks

— NYC Mayor's Office (@NYCMayorsOffice) February 7, 2013
#NYS preparing for #nemo | nearly 340 snow plows, >105K tons of salt for roads, more: governor.ny.gov/press/02072013… twitter.com/NYGovCuomo/sta…

— Andrew Cuomo (@NYGovCuomo) February 8, 2013
Please be safe out there today. For real-time traffic info, including weather-related incidents, visit 511nj.org. #Nemo

— Governor Christie (@GovChristie) February 8, 2013
Motorists should exercise extreme caution, allow for extra travel time and avoid unnecessary trips on our roadways #Nemo

— Governor Christie (@GovChristie) February 8, 2013
We're mobilizing & preparing for a major statewide storm w/ 1,400 snow plows & 650 salt-spreader trucks at the ready. #Nemo

— Governor Christie (@GovChristie) February 7, 2013
Download Gov. Malloy's Declaration of Emergency, which he signed earlier today in advance of the blizzard: governor.ct.gov/malloy/lib/mal… #CTStorm