You Might Have Heard, There's a Snowstorm Coming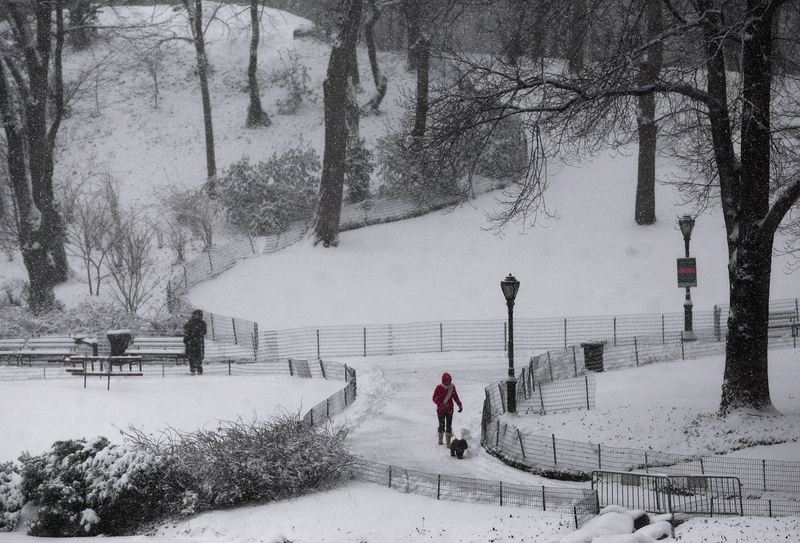 Some white stuff is headed this way. How much? Nobody knows. Here's how the city's preparing, and we want to know about you.
The National Weather Service is predicting anywhere from six to 10 inches in the city, and up to a foot in the suburbs. (If you can decipher the ever evolving forecast, let us know.)
Are you worried about the storm? Are you meh? Are you prepping? What are you doing to prepare? Let us know and we'll use some of your comments on air.
WNYC's Stephen Nessen has identified four types of New Yorkers when it comes to snowstorm prep:
1/4: type of New Yorkers in #snowstorm Snow preppers-/ ready w food water, overnight bags

— Stephen Nessen (@stephen_nessen) February 8, 2013
2/4 Type of New Yorker in #snowstorm Wait-n-seers will wait til last min to prepare or head home

— Stephen Nessen (@stephen_nessen) February 8, 2013
3/4 type of new Yorker in #snowstorm Mercenary: ready to cash in on storm

— Stephen Nessen (@stephen_nessen) February 8, 2013
4/4 type of new Yorker in a #snowstormthe Gimmie-a-breakers, it's the northeast, it snows, get a grip. Am I missing a group?

— Stephen Nessen (@stephen_nessen) February 8, 2013
And here's what you're telling us:
@byseanferrell @ericholthaus @wnyc Code word: Bourbon

— Lou Freshwater (@LFreshwater) February 7, 2013
@wnyc A mix. Calm but prepping for snow,falling trees and power outages.

— Ermelinda Cortes (@moxiemuchness) February 7, 2013
#nemo, hear me on this: you gonna delay my husband's flight home, then we'll have a problem.

— Sara. (@YoMissSara) February 7, 2013
@wnyc Meh.

— Sparnon (@sparnon) February 7, 2013
@wnyc by, food, candle and like that, and h friends over.

— Anna T Wilsson (@AnnaTWilsson) February 7, 2013
@wnyc Meh

— Brad Andrews (@andrews_brad) February 7, 2013