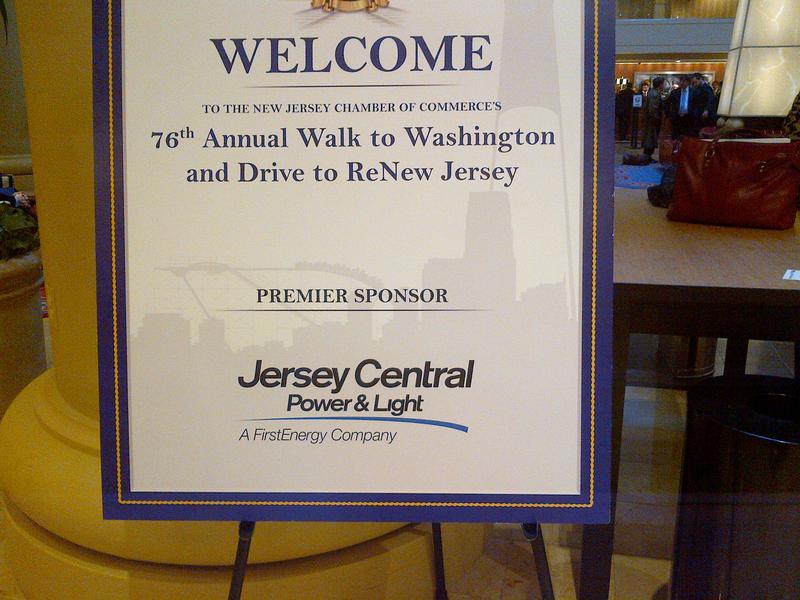 Some 900 of New Jersey's shakers and movers ride the annual Chamber of Commerce train to Washington.
As VIPs boarded the train in Newark Penn Station, a group of Citizens Action protestors asked them to "remember the working poor." The activists oppose the $1000 price of admission that gives lobbyists, business people and trade groups a chance to mingle with political leaders while speeding toward Washington.
The group then attends a dinner and hears from keynote speaker, Governor Chris Christie,  at the JW Marriott in Washington this evening.
This is the 76th year for the train ride and junket, and its prime sponsor this year  is Jersey Central Power and Light.
The Ohio-based utility has come under withering criticism from the state's Board of Public Utilities and elected officials for their handling of Hurricane Irene and Super storm Sandy.
The train trip is better attended this year and the usual nine-car train was expanded to 14 cars. This year all of New Jersey's state legislature and the Governor are up for re-election. Candidates and incumbents acknowledged that the confluence of business interests and elected officials in such tight quarters is a natural setting for fund raising.
Also, attendance was boosted this year by a robust contingent of construction executives, engineers, and development consultants. The train trip offered a unique opportunity for the private and public sector to discuss the state's massive Sandy rebuilding effort, according to Chamber of Commerce Chairman Jeffrey Scheninger.
"This kind of event allows the players to meet each other, to speak to each other, and to at least have a rapport," Scheninger said.