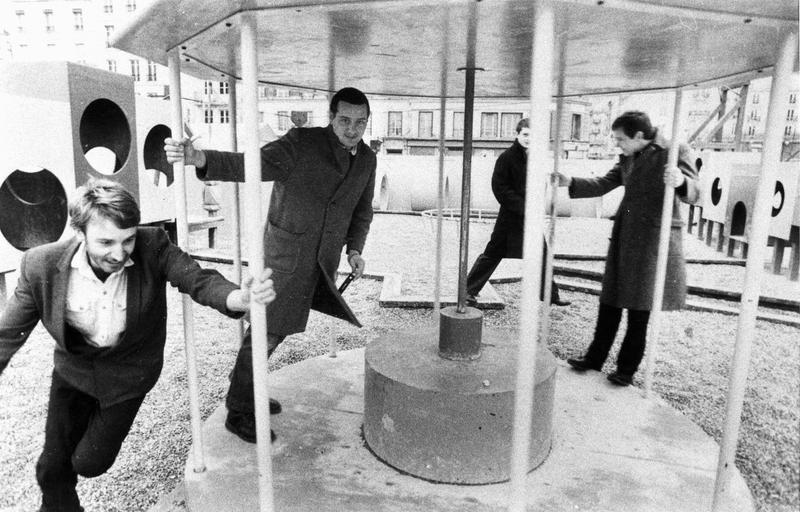 The British post-punk band Joy Division existed for less than three years -- all told, from January of 1978 to May of 1980. But its influence on music over the last 30 years has been enormous, heard in the sound of bands from U2 to Interpol. Joy Division's story is also a sad one; the group's singer, Ian Curtis, took his own life just days before the group was scheduled to make its first US tour.
The other three members soldiered on under the name New Order -- changing from the dark, intense sound of Joy Division to something more dance oriented. New Order went on to rule '80s radio, but Joy Division never really went away.
Peter Hook, who played bass in both bands, tells his side of the tale, with his book Unknown Pleasures: Inside Joy Division. Along the way, you get a tale full of humor, dopey pranks, perseverance, fights, friendship, and a band that changed the sound of rock.
This segment originally aired on Jan. 31, 2013.
---
Interview Highlights
Peter Hook, on the famed Sex Pistols concert (June 4, 1976, Manchester)  where 50 people showed up and 40 are said to have started bands (like The Fall and Buzzcocks):
"When I went in the door I was a normal, nine-to-five civil servant with weekends off and time off for good behavior. And then when I walked out, I was a completely obsessed musician. Why you listened to The Sex Pistols and thought --  40 people thought -- 'Oh, we could do that!' It's just ridiculous. But the scary thing from my point of view is: what would have happened if you hadn't have gone?"
 On the DIY way he learned to play bass:
"Bernard [Sumner] and I weren't' trained, weren't musicians. We'd never been in a band before. We'd never written a song. Hardly, Bernard had played the guitar 'cause his mom and dad got him one for Christmas, but I'd never had a music instrument in my hands and didn't have a clue about writing music. You know what? The great thing was, that didn't seem to matter. It didn't stop you in any way. It was all about capturing the spirit, expressing yourself."
On Joy Division's transformative experience playing "Transmission" for the first time during a sound check in 1978:
"We played it, and every band in the place — there was about seven bands on --  actually stopped, looked around, and then walked towards us. And we were like, 'What's going on? Why are they doing this?' You know, those nervous looks you're sort of sharing to each other. And it was that first moment when you were though, 'Oh my god, we might actually have something here.'"
On the dangerous cocktail Ian Curtis was taking for his epilepsy:
"There was a scene they actually left out of the Joy Division documentary. They took Ian's prescription to a modern day epilepsy specialist and got him to analyze it. And the modern-day epilepsy specialist when he looked at it said, 'Oh my god, this was guaranteed to kill him.' It was that strong… the mixers of uppers and downers they were giving him for the treatment in 1977. Just not recognized in any way today. It was terrible."
On how Ian Curtis fought through his illness:
"The guy was in a complete maelstrom compounded by the illness. I think because of the work and the enthusiasm he put in before he got ill, while the illness was degenerating, he didn't want to let you down. I think he just looked at you and wanted to say, I'm alright. Don't worry about me."
On what might have happened, had Ian Curtis made it to America:
"He was so excited about coming to America because the American bands were the ones that were his idols. Velvet Underground, Iggy Pop and the Stooges, the Doors. These were his big, big heroes. And I do think that he would have caught on to the spirit, maybe relaxed and enjoyed it more."
Joy Division on Tony Wilson's television program in 1978: