Now in a Flood Zone, Residents of Gerritsen Beach Struggle to Stay Afloat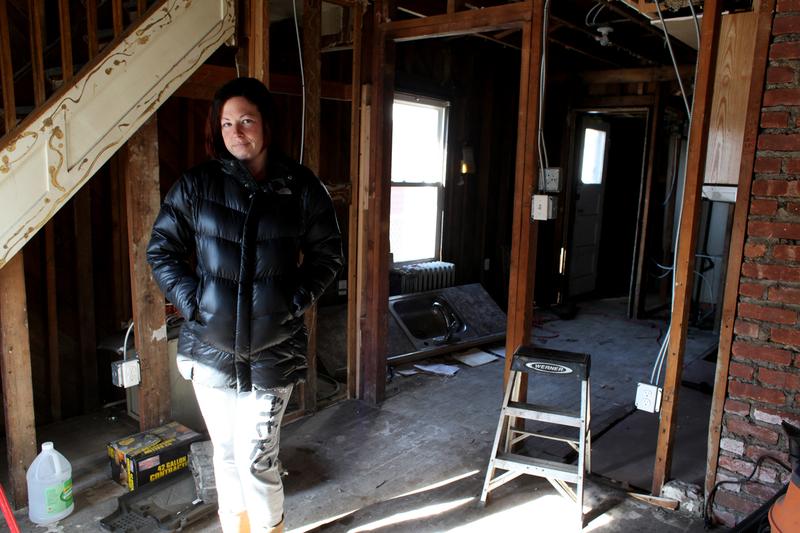 Residents of this Brooklyn neighborhood aren't happy that they're on the map.
Gerritsen Beach, a working-class Brooklyn neighborhood of low-slung bungalows hard hit by Sandy, is among the communities included in FEMA's updated flood maps released this week. The 35,000 homes and businesses in and around parts of New York City added to the flood zone may have to pay either higher flood insurance rates or raise their homes above sea level.
Jennifer Avena, 35, was born in Gerristen Beach. She said she can't afford to buy flood insurance right now.
"When I bought my house that was not in the arrangements," she said, standing outside her two-story clapboard home that took on nearly five feet of water during Sandy. "That wasn't in the budget. It wasn't in the pay checks to own our homes. And I don't know what I'm going to do."
All that's left of the first story of her home is the wooden frame, a metal sink on the floor and a dangling white shower head. It's uninhabitable and she's staying with her neighbor across the street. She will need to raise her home 11 feet above sea level in order to comply with the new flood maps, she said.
Her neighbor, Michael Murr, is in the midst of renovating his damaged basement and wonders what's the point?
"To sink money into repairing a house you may have to raise up, means you're demolishing a lot of what you just spent a lot of money to repair also not a sensible move," he said.
It's still unclear how these preliminary maps will affect individual flood insurance rates. But Murr, 49, worries his neighbors will be priced out the close-knit community. Many of them are retired city employees living on pensions. 
"It'll also accomplish turning these houses into unsellable or sellable only to contractors or developers or people with a lot of money," Murr said. 
Congress approved a more than $50 billion Sandy relief package, and residents of Gerritsen Beach hope some of that trickles down to them.
Listen to the audio above to hear WNYC's Amy Eddings ask Michael Byrne, FEMA's federal coordinating officer for New York, on the latest on the flood maps.