New Lessons for Bellevue in Post-Sandy Return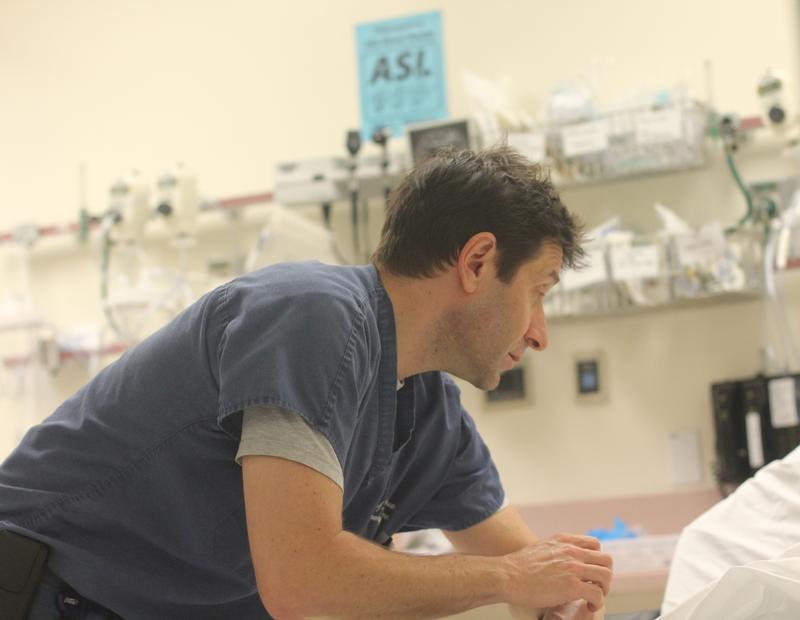 When a ferry crashed in lower Manhattan earlier this month, ambulances took dozens of people to hospitals around Manhattan.
The Bellevue Hospital emergency room went into high gear. Thirty-one passengers were brought in for treatment, but they all had minor injuries. Despite all their bruises and bandages, and all the attention they received from doctors and nurses, something was missing: the most seriously hurt patients from the crash. Dr. Suzi Vassallo said that's because Bellevue currently can't handle serious traumatic injuries.
"We don't have an operating room yet," Vassallo said. "And you always have to have that kind of backup for any critical trauma."

Most of the hospital has been closed since November. Officials hope to restore full service by early February.  Providing limited service in the emergency room, while also repairing much of the infrastructure, has forced Bellevue to improvise, and has taught both the medical and physical plant staff new things about operating a large urban hospital.
Vassallo is standing in the emergency room on a quiet weekday morning, as patients file in with flu symptoms. Since re-opening in December, the Bellevue E.R. has been doing only partial duty. For the moment, it doesn't have an "upstairs" where it can send patients for surgery or keep them overnight for observation. Ambulances don't bring the most serious cases here, and when people walk in the door who might be suffering a heart attack or a stroke, doctors and nurses stabilize them and then send them to a more full-service operation.
Recently, Dr. William Goldberg arrived at his E.R. shift and found that a stabbing victim had come in and been transferred to another hospital.
"He was probably fine, but because we don't have the resources we normally have, they basically packed him up and shipped him over to Cornell," Goldberg said, referring to New York-Presbyterian's Weill Cornell Medical Center, the area's only other trauma center.
It's a point of pride among staffers that Bellevue usually takes all comers–whether they have a bad stomach ache or a gunshot wound. Goldberg says not being at full capacity, even temporarily, stings a little.

"It's frustrating for us," he said, "because we want to do everything that we're trained to do, and when you can't, you feel a little disabled."
To operate on patients, to house them overnight, monitor them in the intensive care unit, or deliver their babies, you need rock-solid electrical and fuel systems. You need heating and cooling. You need pumps to move water and fuel—and elevators to move people—up and down the 22-story complex.
All of these were lost in Sandy.
Hundreds of people are working on restoring them. One of the people in charge, Chief engineer Patrick O'Brien, takes me around the basement, where the problems started.
Flooding wrecked the pump motors, leaving the hospital no way to replenish four 55,000-gallon rooftop towers that supply water to the complex. Only one of the four pumps has been restored—enough to get things going, pending a longer-term solution. Eventually, a new system will place two pumps on the second floor, out of harm's way from flooding.
O'Brien and I move from the water pump room to the fuel pump room. After Hurricane Irene, in 2011, Bellevue 'hardened' this room with a heavy steel-and-rubber "submarine door," so that even in the event of a flood, the fuel pumps could still send oil up to the backup generators on the 13th floor and keep the hospital running. But when Sandy came, these pump motors also got soaked and failed.
"We're not really sure where the water came in," O'Brien said. "We have a lot of penetrations." Those include fuel lines, electric lines, a sewage line and a general lack of sealing among the cinder blocks.
Engineers are still deciding what to do with this and other vulnerable spaces in the long-term. O'Brien says possible solutions include elevating the fuel pumps—which may or may not be feasible, since the massive fuel tanks have to stay below ground—or putting dedicated water pumps in the room that would, in the event of flooding, at least buy the hospital some time while it searched for an alternate way of getting fuel to the generators.
Reconstruction is costing hundreds of millions of dollars, and has proved to be a series of compromises between what can be done now and what will have to wait for later. While some large systems are being moved out of the basement to higher ground, others, such as the air handlers that cool and heat the buildings, will stay put—and could be damaged in the next storm.
"The cost to move them, if they got damaged again, doesn't justify moving them up higher," O'Brien said. "Although it would be an inconvenience if they got flooded again, you wouldn't have to shut the hospital down. At some point, you have to just make priorities, you just can't move every single thing, it's just not feasible."
Bellevue's reopening can't come a minute too soon for nearby hospitals, many of whose E.R.'s were being slammed even before flu season. At Weill Cornell Medical Center on Manhattan's Upper East Side, the only other full-fledged "trauma center" in the area, CEO Dr. Steven Corwin said the increased E.R. patients were causing backups throughout the hospital.
Instead of the four-to six-hours that these patients normally wait for an inpatient bed, or the 10-hour-wait during the busier flu season, Corwin said, "We're now seeing 12 or 13 hours to get a bed."
Back at Bellevue, E.R. doctors say patients who otherwise might normally be held for observation are being discharged a little more readily—since there's no place to keep them overnight. Many of these are low-income patients with relatively minor symptoms who come to the E.R. repeatedly for problems with their diabetes, high blood pressure or mental illness medication. Dr. Rajneesh Gulati says Sandy has forced Bellevue to do a better job getting them follow-up care—and has consequently accelerated an important trend in hospital care.
"Where in the past we might've had to wait two to three days for a routine follow-up, we're trying to organize our primary care clinics, and get patients emergency access," Gulati said. "Many of the patients I would've leaned toward admitting [for overnight stays], I can now safely discharge, knowing they have follow-up in the morning."
Increasingly, Gulati said, this is the future, as hospitals get more and more pressure from the government to treat patients not in emergency rooms, but instead in clinics, where health officials say they will get better care at a lower cost.
"A good number of our patients visit the emergency room because they have no ability to find primary care," he said. "As people get primary care, we hope they will be less sick and won't have to visit the hospital as much."