Cuomo Details Some Sandy Expenditures in Budget Address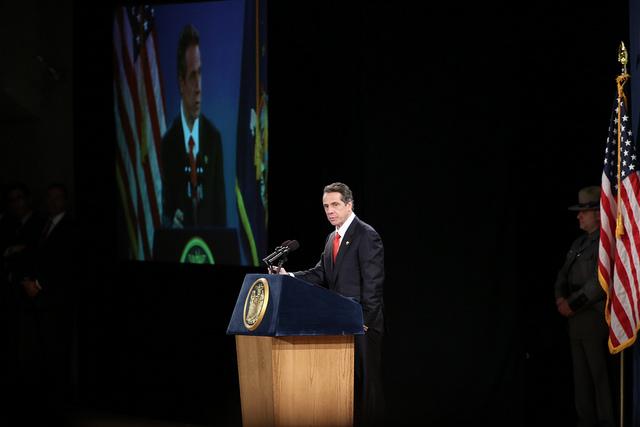 Governor Andrew Cuomo is offering more details on how he'd like to spend federal Sandy recovery funds -- even though Congress hasn't yet passed the legislation. When he unveiled his $142.6 billion budget Tuesday, Cuomo laid out how the state will allocate a hoped-for $30 billion in aid, including spending for inflatable bladders to protect transit tunnels and building new dunes on beaches.
Cuomo said the state will control about two-thirds of the funds directly, with the rest paying for locally-designed plans. "Rebuilding plans will be executed on two levels, both on the state level and the community level," Gov. Cuomo said. "We'll do the big mainstays, but they know what to do about their main street."
The House passed a $50.7 billion package to fund Sandy recovery last week, but the Senate has yet to finalize the legislation.
For the state expenditures, Cuomo said he will rely on a Disaster Reconstruction Task Force and independent consultants to direct allocations. "Every state project has a two-fold mandate," Cuomo said. "Bring it back, but bring it back better than before and do the smart work that we need to do to make sure this doesn't happen again."
Cuomo outlined a few dollar amounts in his address:
$2 billion for replacement or mitigation of 2,000 miles of highway
$6 billion for mitigation for MTA and Port Authority, including vent covers, tunnel bladders and pumping capacity to protect transit tunnels. 
$159 million for coastal mitigation – $34 million to repair Fire Island inlet and $125 for "soft barriers" like dunes on beaches
$2 billion to harden energy utilities  
Cuomo described plans for other investments in water treatment facilities, fuel backup systems, hospital readiness and patient tracking, and residential mitigation rebuilding and buyouts in coastline communities, but did not break down their costs.
Local rebuilding projects will be funded in what Cuomo deemed "community reconstruction zones" in zip codes that have reached a certain threshold of damage. Relying on funding from federal community development block grants, the zones will include communities damaged by Sandy as well as Irene and Lee. If the local plans are approved, Cuomo said, projects would be funded according to a formula, but he didn't describe how much of particular local projects the state will cover.
Cuomo also held out the possibility that expenses from Sandy will stretch into budget cycles years from this one.
"It's a massive situation that's going to be protracted for a long period of time that requires immediate assistance on a grand scale," Cuomo said.