Episode #3420
Around the Globe in 59 Minutes
Friday, January 18, 2013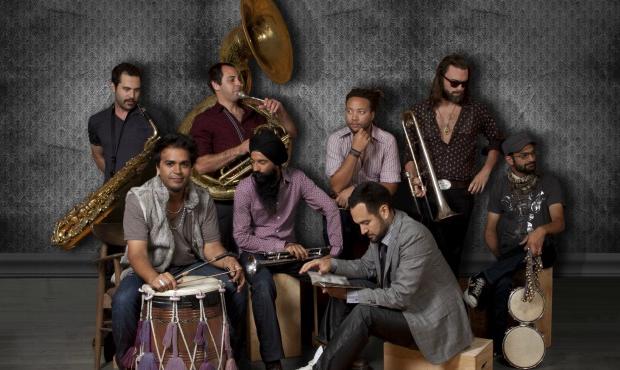 (Courtesy of the artist)
This New Sounds program aims to take a tour of music around the world, in 59 minutes or less.  Listen to Bengali, Punjabi, Ethiopian and Senegalese music, along with other sounds.  Punjabi wedding music meets New Orleans Brass bands in the music of Brooklyn-based party band Red Baraat, then Samuel Yirga takes the groove of Ethiopian music as his starting point in a trance-jazz tune.
Also, composer Jocelyn Pook explores the immigrant/emigrant experience on her latest, "Desh," which is the Bengali word for "homeland."  Plus, music from Senegal, a U.K.-Gambian collaboration between guitarist Justin Adams and ritti-player Juldeh Camara (the ritti is a one- stringed fiddle), and a Sweden- Zimbabwe collaboration in the music of Monoswezi.
PROGRAM #3420, Around the Globe in 60 Minutes (First aired on 1/18/2013)                                       

For this New Sounds, John Schaefer sifts through the avalanche of CDs (and digital offerings) piled up in his office to find a sampling of new releases worthy of showcasing in tonight's New Sounds program.  Also, he'll look back at some of the things that came out during 2012 that might have gone unnoticed on the chaos that is his desk, and ahead to some of the things that 2013 holds.  Listen to inventive voice-based music from Holly Herndon, some hypnotic plucked strings from Ljova, and some Zimbabwean music by way of Scandinavia in a collaborative project called Monoswezi.