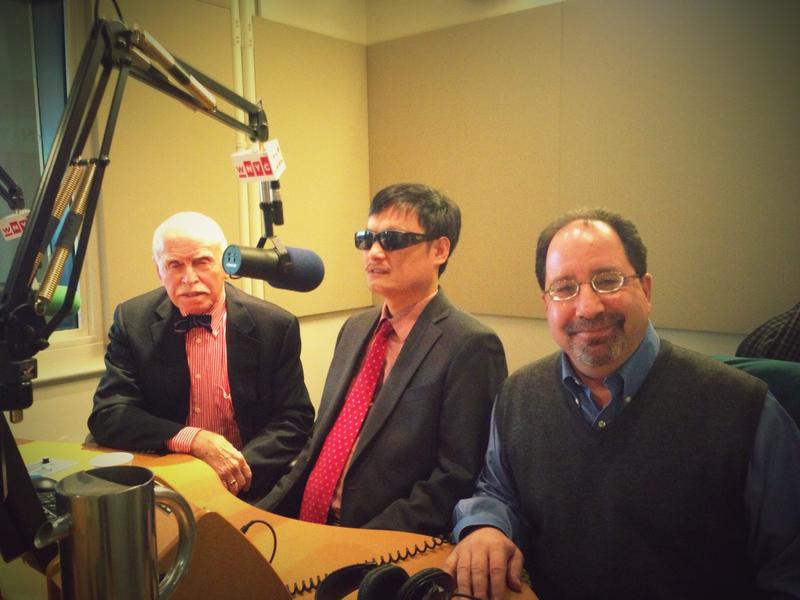 Chinese civil rights activist Chen Guangcheng talks about his work on human rights in China, his new life in the United States, and his views on the Chinese government. Joining him is Chinese law expert Jerome Cohen, professor of law at New York University School of Law and a senior fellow for Asia Studies at the Council on Foreign Relations. Ira Belkin, executive director of the U.S. Asia Law Institute at NYU School of Law, interprets Chen's remarks.
Selected transcript of interview with Chen Guangchang and Jerome Cohen:
Speaking through an interpreter, Chen Guangcheng spoke specifically about his views on abortion, the role he thinks the United States could play in defending human rights in China, and about his life in New York City since leaving China last year. Professor Cohen explained why Chen prefers not to be called a "dissident" -- but instead to be referred to as an activist. Below is a transcript of parts of the interview: 
Brian Lehrer: In this country, some anti-abortion activists have tried to use your case to argue that abortion itself is wrong. Is your issue only forced abortion or also to make all abortions illegal?

Chen Guangcheng, through interpreter Ira Belkin: I'm opposed to forced abortions. As I said before, I am somebody who cares about human rights and the violation of all human rights – all cases that involve violations of human rights. So the idea that somebody would be forced to have an abortion against their will would be a violation of human rights and is wrong and that's what I oppose.

  ...

Brian Lehrer: I was told that he likes to be referred to as an activist but not a dissident. Why that distinction?

Prof. Jerome Cohen: Because he is in favor of the Chinese government – he doesn't want to overthrow the Chinese government. He has always tried to improve its performance and he tried to use law, he tried to go to court, to use the authorized legal institutions to resolve problems and to combat oppressive government violations of law. So he was trying to enforce their legal system, not overthrow it. That's why he's not really a dissident, although by persecuting him and persecuting now his nephew in revenge, they may be turning him into a dissident.

                                                                                    …

Brian Lehrer: When you were at the US embassy in Beijing, did the Obama administration side with you strongly enough? Some critics say they were going to let China keep you if there hadn't been such a big outcry from others.

Chen Guangcheng: I feel they gave me a lot of support. Whether it's enough or not, I'd let other people decide. Any government, whether it's the Chinese government or the American government, they should be serving the people. The government and the country belong to the people, not to their leaders. If the American people believe the American government hasn't done enough, then the American people should say so. I feel that [on] human rights in general, the American government hasn't done enough.

BL: What more could they do?

CG: I feel that when it comes to some of the human rights disasters in China, the American government can do a lot more. At least, they could do as much as the good people of the United States are asking them to do.

BL: On what issues other than the ones we've spoken about?

CG: For example, just today I heard news that villagers from my home village went to Beijing to bring to light issues regarding my case and to see to it that the government  live up to its promise that they made to me before I left China – which was to have a transparent investigation of my case. When they got to Beijing, they were taken into custody by police and forcibly brought back to Shandong and on the way many of them were beaten in a very serious way. And this is a matter that I think everyone should give some attention to.

BL: Do you hope to go back to China, or have you broken too much with the government for that?

CG: I definitely want to return to China in the future, and I think that change in China is inevitable. China will move towards a more constitutional government towards a society under the rule of law and a place where rights are protected. I think it's just a matter of time and I hope it won't take too long.

                                                                                    …

BL: Have you discovered new foods in New York, new music in New York, or new activities in New York?

CG: […] I see people just freely engaging in whatever activities they want, a lot of free speech that wouldn't be possible in China, and I'm engaged in some of my own activities. New York is an incredibly diverse place in terms of food, people, activities – so whatever you're interested in, whatever you're looking for, you can find it in New York.

BL: What new foods?

CG: I have discovered some new things. For example, in Indian restaurants I've discovered mango lassi --- which I really enjoy.

  ...

Chen Guangcheng: I just want to thank the people of New York and the United States and the audience for listening to the program and for the concern you've shown for our situation.