In Mayor's Race, Quinn Keeps Lead in Money and in Poll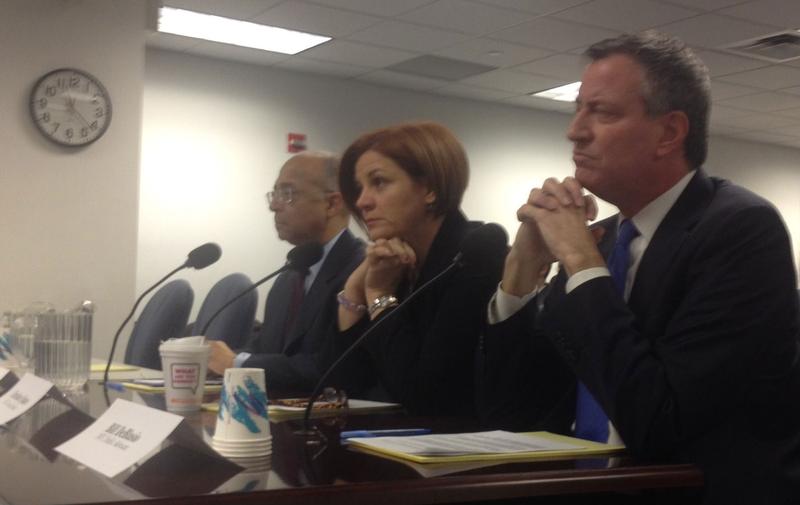 In the New York City mayor's race, Council Speaker Christine Quinn continues to have the edge in campaign cash and in early polls, according to new data out this week. 
A new Quinnipiac poll out Wednesday shows that Quinn continues to lead the pack of likely Democratic candidates in the September primary and has a huge name recognition advantage over Joe Lhota, the former MTA chairman who said he'll file to run as a Republican this week.
In the new poll, 35 percent of Democratic voters said they backed Quinn, which is more than 20 percent ahead of her closest competitor. And that's been stable — she's had a big lead among registered Democrats in polls since last spring, and she's built on it by just a few points in this latest poll. And Public Advocate Bill de Blasio, former Comptroller Bill Thompson and Comptroller John Liu are about even, with around 10 percent each.
And for now, the entry of Lhota is not breaking up that support. Republican primary voters are still largely unfamiliar with the field, and more than half said they didn't have a preference. After undecided, Lhota leads the pack on the Republican side with 23 percent — but the poll today shows he's lose by at least 40 points in a matchup against Christine Quinn, Bill de Blasio or Bill Thompson.
But Lhota downplayed the importance of any matchup numbers at this point. "Even before I get in my campaign to have polling numbers like this is pleasing," Lhota said in a statement. He pointed that Mayor Michael Bloomberg also lagged behind his Democratic opponent in 2001, and went on to win that November. "I am looking forward to history repeating itself."
Lhota also hasn't begun fundraising yet — so he's not among the candidates who filed a report of their financial activity this week. The filing deadline on Tuesday covered the six month period spanning July 12, 2012, through January 11, 2013.
Christine Quinn had already raised the maximum of what she can spend in a primary campaign, so the pace of her fundraising slowed somewhat in this filing period. Still, she raised more than $450,000 in the last six months, while spending just over $150,000, largely on campaign and fundraising consultants. In all, she has raised more than $6 million, with the help of $2.5 million collected from 149 fundraising bundlers, and is eligible for more $3.5 million in public matching funds so far.
Bill Thompson, the former comptroller who mounted a close challenge to Bloomberg in 2009, raised more than $1 million in the last six months, the most of the leading Democratic hopefuls. That accounts for about 40 percent of the $2.4 million he's raised so far. Forty-five percent of that those new donations came from outside the city, which are not matched by the city's public campaign finance program. In all, he is eligible for $518,766 in public matching funds. Thompson told reporters on Tuesday that his campaign deserves more respect after these latest fundraising receipts. "I think that we have in so many ways, with this filing, dispelled any notion that I'm not serious, that I'm not focused, and don't have the energy and drive to win this election," he said. 
Public Advocate Bill de Blasio maintained a strong but steady fundraising pace, bringing in more than $725,000 this period.  That's down slightly from what he raised in the previous six months.  The campaign also upped its spending, doling out more than $300,000 this period with the bulk going towards campaign consulting fees. The campaign has brought in more than $3.5 million, including $625,000 from 79 bundlers, and is currently eligible for nearly $2 million in public matching funds.
Despite an ongoing federal investigation into his campaign's fundraising practices, John Liu raised more than half a million dollars this period.  But the campaign also spent nearly $350,000. That includes a $50,000 retainer to the firm of Liu's lawyer, Paul Schectman, and nearly $100,000 to Chung Seto, his campaign manager.  In all, the campaign has raised more than $3.1 million with more than $625,000 raised by some 134 bundlers and is eligible for $3 million in public matching funds.
Former Congressman Anthony Weiner remains among the list of declared 2013 mayoral candidates with $4.4 million remaining in his campaign fund although he's made no indication of a political comeback after resigning in 2011 from his congressional seat amid a social media scandal. In the most recent filing, his campaign spent $36,999 on office space, telephones and legal services. The idling campaign did not raise any additional money this period.
Among the Republican hopefuls, founder of The DOE Fund George McDonald received $277,531 in this period. That includes $135,000 in loans with $15,000 from McDonald himself and $120,000 from something called National Enterprises Corp.  Under the city's campaign finance laws, contributions from corporate entities are prohibited. McDonald has filed a lawsuit to set aside the City's campaign finance limits for candidates who opt out of public financing. He spent $122,167 with nearly half going to the law firm of Genova, Burns, Giantomasi & Webster.  In all, he currently has $154,979 in his campaign fund.
Businessman John Catsimatidis, owner of Red Apple Food and Gristedes supermarkets, loaned his campaign $1 million to get it off the ground.  So far, the only spending is designated as an advance repayment tallying less than $4,000 to Robert Zorn, who has worked with Catsimatidis as a senior executive at Red Apple.
Adolfo Carrion Jr., is also widely expected to run for mayor on the Republican and Independent lines. He reported receiving more than $1 million in the last six months. While he hasn't started fundraising, that money was transferred from his previous campaigns. He served two terms as Bronx Borough president and suspended his campaign for comptroller after the Obama administration named him the first director of the White House Office of Urban Affairs policy.  The campaign has spent more than $150,000, including $60,000 to the political consultant Douglas Schoen.