Cuomo's Speech Stokes the Progressive Base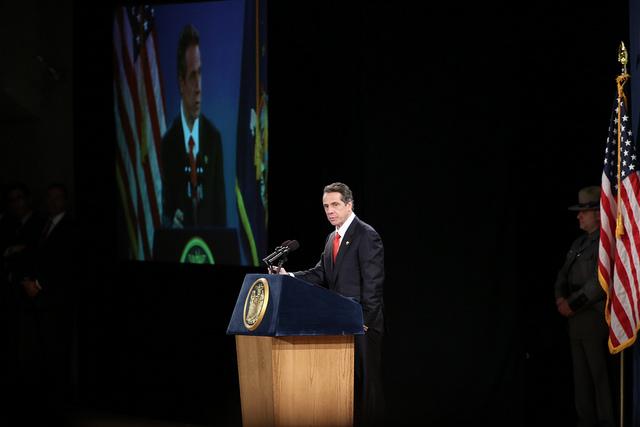 In his first state of the state in 2011, Governor Andrew Cuomo embraced tax cuts and spending cuts.  A year ago, it was economic development. This year, with Democrats on the march nationally and a new ally in the state Senate leadership, Cuomo is embracing his liberal side.
Women's equality and the nation's toughest gun restrictions drew the loudest applause of the governor's State of the State of the State address.
Cuomo also called for decriminalizing small amounts of marijuana, raising the minimum wage, requiring lobbyists and campaigns to disclose spending within 48 hours, tightening the regional cap for carbon emissions, and even a statewide network of charging stations for electric cars.
This, from a governor who as recently as last month was drawing the ire from the left for failing to rigorously defend a Democratic majority in the Senate.
Even after the passage of same-sex marriage in 2011, the forcefulness of the governor's progressive embrace was welcome, if a little unexpected, for some activists.    
Zenaida Mendez, president of National Organization for Women of New York State said she was "pleasantly surprised" by the governor's rigorous call to pass the Reproductive Health Act, which would codify abortion rights in state law. She said that has "always" been the group's top legislative priority.
It's not a new issue for Cuomo, but the new way he indicated his support exemplified this year's shift in tone.
Last year, the governor mentioned the abortion rights bill in passing during his speech. This year, he rolled it out with a video chronicling economic disparities for women, and introduced a 10-point agenda for women's equality. It would cover everything from to pay equity to human trafficking protections, Cuomo explained, building a crescendo to extol the importance of abortion rights. "It's her body, it's her choice! It's her body, it's her choice!" the governor shouted and the audience leaped into a standing ovation.
Taken together, the governor described this year's legislative proposals as "clearly the most ambitious agenda of the three I've outlined in state of the states," a scope he said was prompted by the imperatives of responding to Sandy and recent gun violence.  
"Forget the extremists!" Cuomo declared in his speech. "No one hunts with an assault rifle. No one needs ten bullets to kill a deer. Too many innocents have died already."
His gun proposals include a ban on large-capacity magazines, tightening the state's assault weapon ban, and mandating background checks in private gun sales.
Cuomo acknowledged that the politics of gun policy are difficult, but even before his speech, legislative leaders were expressing optimism that a deal was close.
How it plays out in the state Senate could foretell how other parts of Cuomo's progressive agenda will fare this session.
That's because after some jostling after the November elections, the Senate emerged with a joint coalition majority of Republicans and breakaway Democrats that is controlled by Republican and independent Democratic co-leaders.
In Cuomo's first two years, he had to negotiate with the Senate's Republican leader, Dean Skelos. Now, with independent Democratic leader Jeff Klein in place, Gov. Cuomo's has a close ally in charge.
"I think the package the governor unveiled is fantastic," Klein said of Cuomo's proposed gun restrictions. And of the speech more broadly, Klein told reporters he had no complaints. "Once again the governor in his state of the state has outlined the people's agenda, and I'm looking forward to getting a lot of that done."
Klein's Senate co-leader, Republican Dean Skelos, had tried to carve out some ground by introducing a different package of gun laws over the weekend. His focused on penalties for illegal guns but did not tighten the state's assault weapon.
By today, Skelos indicated that he was open to including those proposals in a broader set of gun law changes, though he made no mention of assault weapons.  
"To protect the safety of New Yorkers, I believe we must pursue a comprehensive approach that includes cracking down on the possession and use of illegal guns," Senate Republican leader Dean Skelos said in his video response to the governor's speech. More broadly, Skelos emphasized the importance of controlling spending and taxes, but did not directly criticize any of the governor's proposals.
Some Democrats privately surmised that Governor Cuomo's approach is part of a strategy to notch more high-profile progressive wins to position for the 2016 presidential race. 
But Albany's other top Democrat, Assembly Speaker Sheldon Silver, downplayed Cuomo's shifts.  
"He's emphasized his own liberal social agenda, which he's always had," Assembly Speaker Sheldon Silver told the Journal News. "That hasn't changed."