India's Rape Case Prompts an American Dialogue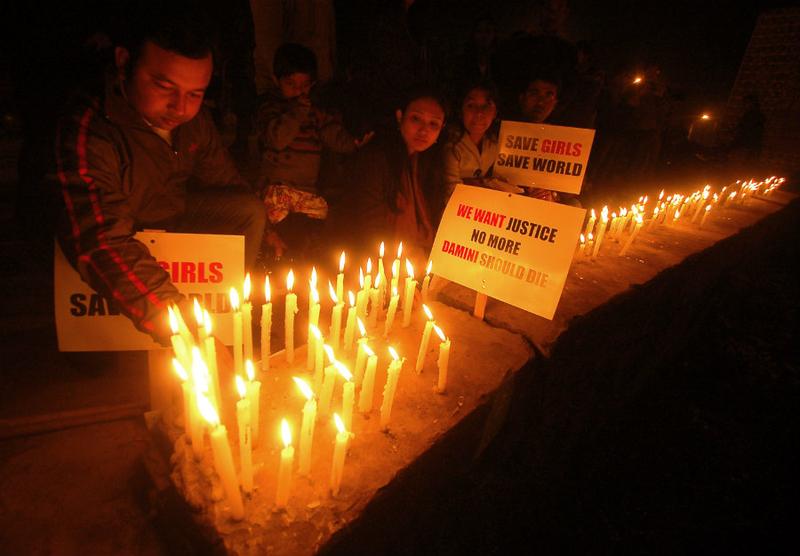 In the mid-1990s, I walked into a crowded theater in Bangalore with some friends and watched what is probably one of the most disturbing movies I've ever seen: "Bandit Queen." It's based on the true story of Phoolan Devi, a poor Indian village girl who was married off as a kid, raped by her much older husband, and survived a series of humiliations and assaults into her adulthood, including a horrific, 3-day gang rape at the hands of upper-caste men. Instead of fading away, however, she became one of India's most notorious outlaws, returning to the site of that awful attack and slaughtering the upper-caste men in the village.
Stories like this are hardly the norm in India, but they speak to what are seen as the failings of a legal system and a society that don't take matters of sexual violence against women seriously.
Activist Mallika Dutt was in India when the news first broke that a 23-year-old woman, later identified as Jyoti Singh Pandey, had been gang raped in New Delhi. She said she experienced a familiar sort of despair at first: "That horrible, sinking feeling that yet again this kind of awful, awful atrocity has happened to a woman."
Mallika runs Breakthrough, a group based in New York City and New Delhi that fights for human rights and women's rights. She's currently in New Delhi, and says her feelings of despair changed in the following days as she saw demonstrations break out across India. As much as the attack shocked the world, the subsequent response has been just as profound. Not only in India and the developing world, but in the West.
"What I'm seeing for the first time, really, is American feminists and American women's organizations seeing the moment in India as an opening for us to be talking about what's going on in the United States as well," she said. "Women in the United States are saying 'When are we going to see the day when we see young men in America really get out onto the streets and support ending violence against women there?'"
And activists argue that the rape incident in India wasn't the product of some far-flung, patriarchal society but speaks to global patterns of abuse.
"I don't think we've had anything as galvanizing in sexual assault in more than 20 years, since the Central Park jogger case," said Sonia Ossorio, who heads the New York City chapter of NOW, the National Organization for Women. She said the Indian case follows a series of other notorious incidents, here in the U.S., including the alleged sexual assault of a 16-year-old girl by football players in Steubenville, Ohio, captured on camera. And former Rep. Todd Akin's remarks last year as he ran for U.S. Senate about "legitimate rape" not causing pregnancy.
"The case in India has really, really touched a deep nerve," Ossorio said. "We're hearing from women, and men, and fathers every single day, here in our office."
Other activists suggest the impact has been minimal in the U.S. Scott Berkowitz, the president of RAINN, the Rape, Abuse and Incest National Network, said that unlike the aftermath of Penn State football scandal -- when calls to the National Sexual Assault hotline went up by 50 percent -- his organization has fielded few calls stemming from the incident in India. But he hopes Indian lawmakers will follow the lead of state legislators in the U.S. after the Penn State scandal, tightening laws on who has to report abuse and how soon.
Ossorio and others say the gang rape case is prompting some to renew calls for the reauthorization of the Violence Against Women Act, which was recently blocked in Congress.
Patrick Lemmon, co-founder or the Washington DC-based group Men Can Stop Rape, says the presence of so many men at demonstrations in India dovetails with contemporary efforts to involve American men in conversations about violence, before any crime is committed. And he's hopeful that something good will ultimately emerge.
"We've seen tens of thousands of people gathering in the streets, talking about this issue in India, in ways that, from what I'm reading, has not happened before," he said. "So this is the real moment of possibility. It's an incredible tragedy, and we have an opportunity, as a world and as the nation of India, to say 'This is not who we are. We choose to be different.'"
Next Tuesday, the group Sakhi for South Asian Women is holding a candlelight vigil for Jyoti Singh Pandey, in Union Square. The organizers say their hope is to remind New Yorkers that the effort to end gender-based violence is "urgent, necessary and ongoing."
For more on Arun Venugopal's look at life in New York City, go to Micropolis: NYC