In State of State, Cuomo Makes Progressive Pivot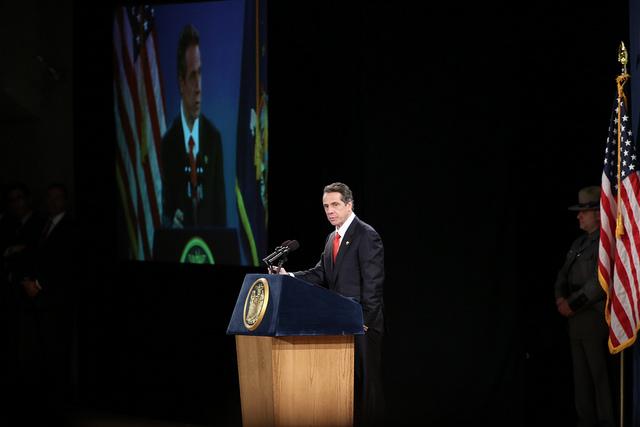 New York Governor Andrew Cuomo made the case for a progressive policy agenda in his third annual state of the state, pivoting away from issues that have dominated previous state of the state addresses, like fiscal prudence and cutting taxes, and moving towards issues like women's equality, raising the minimum wage, campaign finance reform, reducing greenhouse gases emissions and enacting gun control.
"The past few weeks and months have been a blizzard of emotion," Cuomo said, after a long list of thank yous and a moment of silence for gun violence victims. "Incidents from unimaginable to unforgettable, from acts of cowardice to acts of heroism, from cause of despair to cause for celebration. It's hard to get your bearings in the midst of all of it."
Those words set up the speech's twin themes of enacting a long list of policy items — from an "Adirondack Challenge" white water rafting race to legalizing casino gambling to decriminalizing low-level marijuana arrests and rebuilding New York in the wake of Sandy.  "I would rather pay more to rebuild a house right, rather than rebuild it three times," Cuomo said. Among the spending Cuomo recommended was to "harden" Manhattan infrastructure, which he said was sometimes 15 stories deep.
The speech, which some were calling the longest in state history, was not accompanied by a transcript for reporters, as has been the practice in the past, but by a 300-plus page policy book outlining his reform agenda.  The book's cover showed a storm-ravaged home at the bottom and the new Tappan Zee bridge at the top, with the state's capital connecting the two, a flattering image of Albany as a solutions generator.
Governor Cuomo was most emphatic and specific on Sandy rebuilding proposals when it came to the public transit and the power grid. His book calls for "immediate" action to harden the subway system through roll-down gates over station entrances, giant bladders that would block water from entering tunnels and higher flood walls at substations to create redundancies. As for protecting New York harbor, he merely called for "more study" of natural barriers, such as oyster reefs and salt marshes.
As his 78-minute speech wound towards a conclusion, the governor's voice rose to a shout. "And I say to you forget the extremists," Cuomo exhorted both chambers of New York's legislature. "It's simple. No one hunts will an assault rifle. No one needs ten bullets to kill a deer."   That line — and a line about passing the Reproductive Health Act — won the biggest applause of the afternoon.
After quoting Teddy Roosevelt, saying "no man can be a good citizen unless he has a wage more than sufficient to cover the bare cost of living," Cuomo argued for raising the minimum wage from $7.25 to $8.75 an hour, quickly running through the math of what it costs per year for gas, housing, and electricity — more than minimum wage workers can earn in a year.  Cuomo said 19 states currently have a higher minimum wage than New York.
Cuomo was obliquely critical of the New York Police Department's stop and frisk program, saying "there's a challenge posed by the stop and frisk police policies." Referring to statistics showing that 82 percent of roughly 50,000 are black or Hispanic, Cuomo said "these arrests stigmatize, they criminalize, they create a permanent record. It's not fair, it's not right, it must end, it must end now." 
He proposed decriminalizing marijuana possession for quantities under 15 grams.
The governor did not pass over the key area of education reform, calling for extended school days or an extending school year. Cuomo pointed to Massachusetts as an example — that  state added 300 more instructional hours a year and increased achievement for low income students since 2006.
He also pushed for full day Pre-K for highest needs students, and for increasing requirements for teaching students at CUNY and SUNY schools.  
Listen above as WNYC's Amy Eddings talks with Political Reporter Anna Sale about Cuomo's State of the State Address.