Dozens Injured in Lower Manhattan Ferry Crash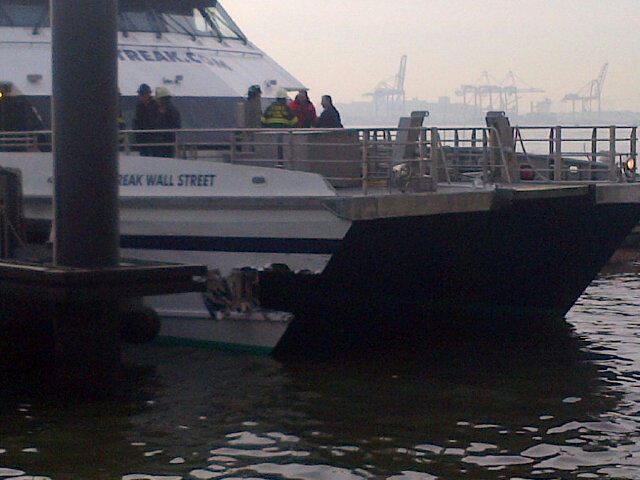 Authorities say 74 people were injured in the Manhattan ferry crash — two of them critically. There were 326 passengers on the vessel when it arrived from New Jersey on Wednesday morning.
An NTSB spokesman said an 11-member team of investigators will be on site gathering evidence for the next five to seven days.
The SeaStreak was on its second trip of the morning at 8:40 a.m. Wednesday when it hit the dock. Many of the passengers waiting to get off were sent flying.
"There was no warning. You couldn't see anything. I'm doing my blackberry or whatever and everybody was, next thing you know, were out of their seats and falling to the floor," said Frank McLaughlin of Highlands, NJ.
Roy Marceau of Rumsen, NJ, says there was no warning before the boat crashed into the pier.
"It was a pretty good jolt, there was a lot of people cut, banged up, in pain. People came crashing through the two glass doors in the back and splattered in the aisles.
Officials at the scene gave this breakdown of the injuries: two critical; nine serious; 17 guarded, 29 minor. The marine industry magazine MarineLog reported in August that the ferry's water-jet propulsion system had been replaced with a new system of propellers and rudders to save fuel costs.
Police say the crew passed alcohol breath tests given after the crash.
The ferry has had seven incidents since 2006, and the Coast Guard Incident reports show the Seastreak Wall Street has been involved in at least two prior docking accidents.

A spokesman for SeaStreak said those past incidents were minor and that the company has a stellar safety record. The company said ferry service should be up and running for the Thursday morning commute.
In January of 2010, the boat hit a cluster of fender piles at the Sandy Hook Bay Marina while docking, punching a hole through the skin of the ship above the waterline.
And in August of 2009, the ferry suffered a 2- to 3-foot tear in its bow above the waterline while docking at East 34th Street when the ship's controls became unresponsive.
Nobody was reported injured in either incident.
The New York Times is reporting the city has been working to expand ferry service along New York City's waterways in recent years, and accidents are relatively rare.
Colby Hamilton and Robert Lewis contributed reporting.