Fiscal Cliff, Sandy Buffeted Office Market at Year's End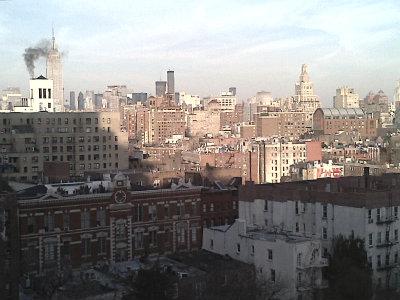 In the last quarter of 2012, two contrary forces played on Manhattan's commercial real estate market. The threat of the "fiscal cliff" caused a spike in sales of office buildings, while Sandy's floodwaters put dozens of downtown office buildings out of commission, raising questions about the neighborhood's future.
Owners Rush to Sell
New data from the real estate firm Eastern Consolidated show nearly $11 billion of office space changed hands in the last three months of the year. That's more than double the volume compared to the previous quarter.
"So many expected the capital gains tax to go up in 2013, so a lot of investors and owners were eager to close their deals before the end of the year," said Barbara Byrne Denham, chief economist with Eastern Consolidated.
Congress did in fact raise capital gains taxes in the revenue-raising deal reached on New Year's Day.
Eastern Consolidated also reports a spike in the sale of retail properties, development sites, and hotels at the end of the year.
Downtown Doubts
Only a handful of downtown office buildings still remain closed due to Sandy. But the storm may have affected the neighborhood's image as a hub for finance and law firms.
A year-end report by the real estate firm Cushman & Wakefield shows downtown office rents dropped slightly.
That's not so unusual. But Bob Constable, an executive director at Cushman, says companies are now wary about locating critical functions like data-centers in flood prone areas.
"I doubt you're going to see critical mission offices moving down to the Water Street area anymore — ever again.
According to Crain's, the Rudin company canceled all leases in its building at 110 Wall Street last month due to flood damage.
Constable says many owners of buildings near the East River will need to make infrastructure upgrades to prove to prospective renters that they can withstand the next storm.