Since Last State of the State, A Mixed Bag for Cuomo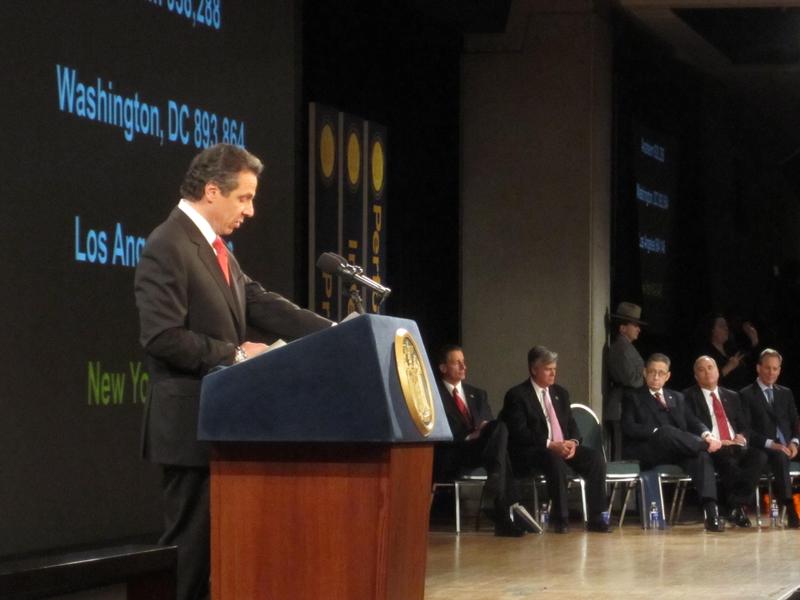 A year ago, in his State of the State address, New York Governor Andrew Cuomo dramatically proposed the world's largest convention center near JFK airport, $15 billion in infrastructure investments, restructuring the state's pension program, and public financing of elections.  As we head into the 2013 state of the state, here's a tally of where those promises ended up.
No Deal on 'the Largest Convention Center in the Nation'
The big headline coming out of the governor's State of the State address was his proposal to expand gambling and convention center space in New York City. But by year's end, the speech's major announcement had fallen apart.
In his speech, Cuomo proposed the country's largest convention center at the Aqueduct racetrack in Queens and redesigning Manhattan's Jacob Javits convention center. He also called for a constitutional amendment to allow casino gambling in New York.
 Today is different because we're not just going to talk about this challenge, we're going to do something about it. Let's build the largest convention center in the nation, period.
The governor's office said that it was "pursuing a joint venture" with Genting, a Malaysian casino company, which was prepared to invest $4 billion in the Aqueduct project to "make New York the #1 convention site in the nation." The New York Times later reported that the governor's announcement came after gambling interests donated $2 million to the Committee to Save New York, an advocacy group closely aligned with the governor.
By June, though, the deal with Genting had stalled. Gov. Cuomo told an Albany radio station that the talks "haven't really worked out" and that the state was pursuing relationships with other casino companies. 
But before that deal collapsed, the governor successfully secured passage of a constitutional amendment to legalize up to seven casinos in the state.
Another potential economic engine for the state is casino gaming. When it comes to casino gaming, I believe we are living in a state of denial. It's time we confronted reality…For us, this isn't about chips and cards. This is about the jobs the casino industry generates.
That vote on the constitutional amendment was just the first step. The legislature must pass the amendment again and then the question goes to New York voters. A key sticking point between the governor and legislators is whether the potential locations of casinos would be identified in a voter referendum. The governor has said the question could be broad, but some legislators want to know beforehand how the casinos will be divided up across the state.  
The governor also called for an overhaul of the Jacob Javits Convention Center in Manhattan. The Regional Plan Association was a major proponent of reimaging the Manhattan convention center, but the organization acknowledges that political momentum has shifted away from a total rebuild, particularly after Sandy. "Priorities have shifted. I'd be very surprised to hear Javits come up," said Regional Plan Association spokeswoman Wendy Pollack.
Big Wins: No New Taxes, Tappan Zee, Teacher Evaluations, and a New Pension Tier
The legislature passed an on-time budget in 2012 that included $10 billion in cuts while increasing spending on education and health care by four percent.
Governor Cuomo pledged no new taxes or fees in 2012, and he kept to that promise. He had just raised tax rates on high-income earners in a tax deal in December 2011 to close some of the state's expected budget gap, which he described as a necessary and fair update to the tax code. But he called for more changes to state taxes.
We can go through that tax code and we can close loopholes, we can make it more fair, we can make it more pro-growth.
The governor proposed a Tax Reform and Fairness Commission to make recommendations to redesign the state's corporate, sales and personal income taxes. The governor appointed members to that commission last month. The schedule means it will not have recommendations in time for this year's budget cycle, but the governor's office says it was never designed to be a quick turnaround.
The governor also announced a new program to invest $15 billion to fast-track infrastructure construction across the state, including the long-delayed replacement Tappan Zee Bridge. 
We can't do this on government time. This is going to have to happen on real time. It can't take three years to get a shovel in the ground. It just can't work that way anymore and it's not going to.
Through the New York Works program, the state invested more than half a billion dollars in priority projects last year. And at the end of 2012, the Tappan Zee Bridge project had secured a contractor and layers of state and local approval. The governor's office says construction will begin in a matter of months. 
The governor also called for a new system for evaluating teachers. 
We have to change the paradigm when it comes to transforming education. We need to focus on student achievement and we're going to need a real teacher evaluation system.
Mayor Michael Bloomberg championed a different approach than Cuomo favored, and it was Cuomo's version that passed. 
The governor won hard-fought pension changes that state officials estimate will save $80 billion dollars over three decades. 
When we're talking about pension reform for union employees, we're talking about union employees who don't even exist at this point in time.  
The legislation reduced pension benefits for new employees by creating a new entry level, or tier, and offered a 401(k)-like option for the highest-paid employees. That legislation picked up on the 2011 property tax cap to help lower costs for local governments, but left public worker unions feeling scorned. Combined with changes to Medicaid calculations, these governor delivered more of the "mandate relief" local county and town officials say is necessary to make the 2011 property tax cap sustainable.
Mixed Success for Cuomo's 'Progressive Future'
Gov. Cuomo was sweeping in his calls to follow up on the state's passage of same-sex marriage in 2011. Citing women's suffrage, the abolitionist movement, and the women's rights movement, the governor said he wanted to restore New York's rightful place as a national leader on progressive issues.
We birthed the women's suffrage movement, the worker's rights movement, the environmental movement – all were born in this state, in this capital, by this government.
He called for and won legislation that expanded the state's DNA database for crimes, ended the practice of fingerprinting food stamp recipients, and created a state-run health insurance exchange.
He also announced a new Office for New Americans within the Department of State to better serve immigrant communities. At the end of 2012, the state had created 25 community-based centers across the state that  teach English and help residents navigate immigration forms and laws. "Obviously it's going to take some time to get a major statewide program up and running," said Chung-Wha Hong, executive director of the New York Immigration Coalition, one of the grantees of the Office of New Americans. "I think the fact that they've left it to organizations is a great sign."
But Cuomo fell short on key election reform policy.
New York currently rates 48th in the country in voter turnout. We have a government we can be proud of. Let's build on that pride, and have elections that New Yorkers can be proud of also.
Cuomo called for public financing of campaigns, and that did not pass in 2012. He also backed down on a threat to veto any redistricting plan that was not independent, a setback he acknowledged. "I failed. I failed," the governor told the New York Times in March. "My legislative proposals were asking for the moon."