New Ideas for Protecting New York Harbor
In the days following Sandy, many people and politicians began talking about the need for a steel hurricane barrier stretching across New York Harbor.
A commission appointed by New York Governor Andrew Cuomo has been studying barriers and "natural protective systems," and is expected to issue its findings as early as Monday.
Architects and planners — as well as Mayor Michael Bloomberg — have raised numerous concerns about building a wall around the city, like those in the Thames River or in the Netherlands. It would be costly, around $20 billion, and would take years to pass environmental reviews. Plus, a barrier stretching from Staten Island to Breezy Point, Queens, could push the storm surge onto areas immediately adjacent, like New Jersey and Long Island, and make flooding worse there.
 "The other problem is that New York has grown rich off of a carbon-intensive economy that is accelerating the pace and velocity of these storms," said Kate Orff, the founding principal of Scape Studio, a landscape architecture firm, and an assistant professor at Columbia University's Graduate School of Architecture, Planning and Preservation. "This is setting up an enclave situation, where rich cities can afford sea gates and the poorest of the poor living in coastal areas around the world are left out."
Orff, at a conference last month sponsored by the Center for Urban Real Estate at Columbia University and the Municipal Art Society, mapped out a "hybrid" plan that would combine "soft" and "hard" edge ideas. She called for a series of man-made islands stretching north to south, from Coney Island, Brooklyn, to Sandy Hook, New Jersey. It's based on a chain of shoals and reefs that existed hundreds of years ago but that have slowly disappeared due to dredging and erosion.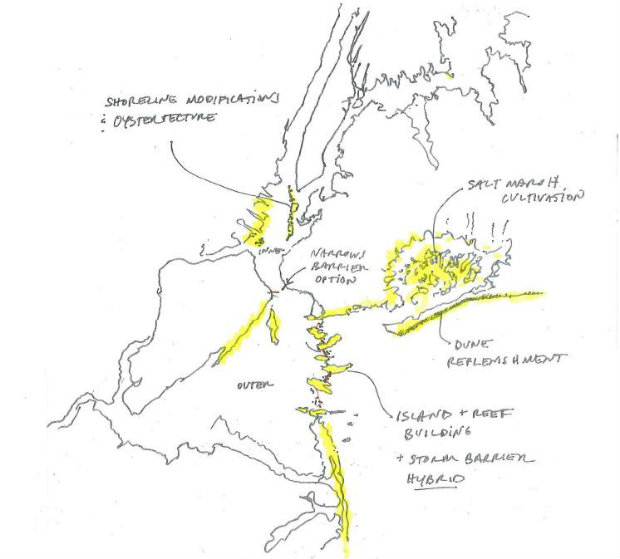 (Landscape architect's Kate Orff's sketch showing a chain of man-made islands between Coney Island and New Jersey's Sandy Hook. Her plan also calls for "soft" edge measures like dune replenishment in the Rockaways./Scape Studio.)
But she says the islands, while they would absorb some of a storm surge, would not do the trick alone.
"You can't just have a piece of land and an island and assume that the land will be protected," she said in an interview. "The water would just go around that barrier."
So Orff says traditional iron sea gates would still be needed. They would connect the islands to make sure a storm surge did not reach Upper New York Bay. (They would normally be retracted in order to let ships and ferries pass.) Dunes and salt marshes also would be replenished along Long Island and Jamaica Bay to provide protection for those areas.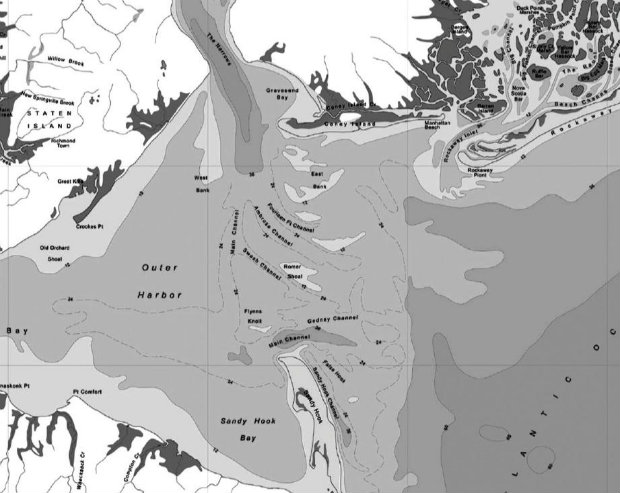 (The islands would build upon a series of islands and shoals that have gradually eroded or dredged over the past few hundred years./Regional Plan Association)
The Wall Street Journal reported Friday that the panel is recommending the construction of barrier islands in the harbor to mitigate the force of future storm surges. Commission members contacted by WNYC wouldn't comment, saying they had agreed to let the governor announce the findings himself.
The idea of barrier islands appeared in the "Rising Currents" exhibition at the Museum of Modern Art in 2010. A team made up of members from the Architecture Research Office and DLANDSTUDIO proposed building small narrow islands covered by wetlands in the waters south of the Battery. They would be oriented in a north-south direction, to withstand the force of the waves, and would slowly increase in size as more sediment built up around their edges. (Orff did an "Oyster-tecture" design for the same exhibit.)
Susannah Drake, principal of DLANDSTUDIO, says the miniature islands would absorb the force of a storm surge better than a steel hurricane barrier.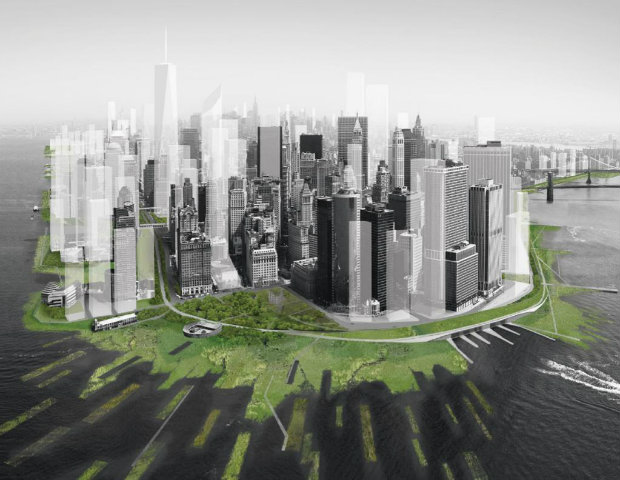 (A design for the Museum of Modern Art's 2010 Rising Currents exhibit, which called for a series of man-made islands south of Manhattan./Architecture Research Office/DLANDSTUDIO)
"Instead of the force hitting back like a fist hitting a wall, the force hits a sponge," she said. "The grasses will flex and will break down the force."
In addition, the design proposes remaking the Lower Manhattan with areas that would collect excess flood waters and other parts that absorb it. Drake said the design had been tested to accommodate the volume of water expected to inundate Manhattan in a 100-year-flood.