Clean Water and Fiery Furnaces: The Health of New York, 1947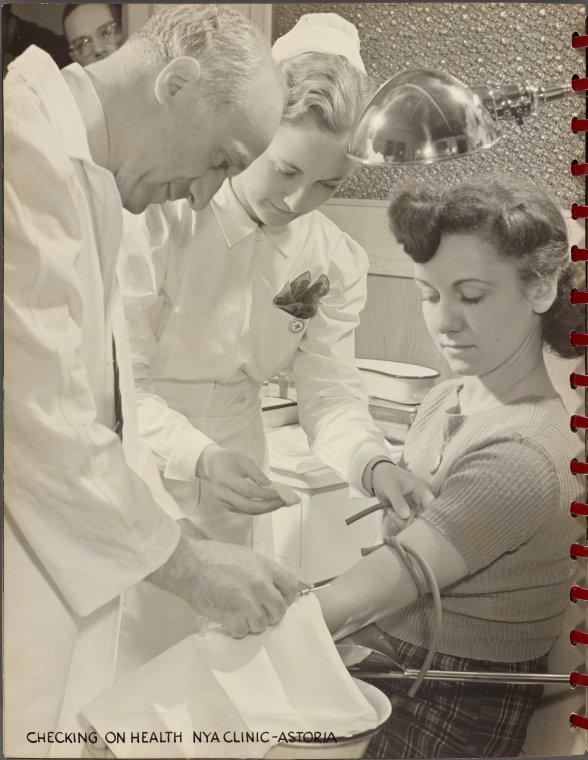 January 1, 1948 —
In this 1948 New Year's Day address, NYC Health Commissioner Harry Mustard radiates post-war optimism and faith in the future.   He proudly recounts the accomplishments of the previous year in infant and maternal health, food and water safety and venereal disease treatment.  He also candidly discusses the resource shortages of the Health Department, as well as the need to do more in the areas of environmental health (smoke from old furnaces was a key issue of the time), tuberculosis, chronic disease and mental hygiene.   In short, he sounds like he is giving a report from NYC's current model for action, "Take Care, New York".
As the French say, plus ça change, plus c'est la même chose, or the more things change, the more they stay the same.  Well, not quite.  But it is illuminating to see what has changed and what has remained the same in the NYC Department of Health (NYCDOH) over time.
In this talk, Commissioner Mustard gives tribute to the Health Department workers who have labored to help the 8 million New Yorkers achieve good health in 1947.  And rightly so: at that point the NYCDOH had implemented a lot of positive changes in a little over ten years.
Let's go back a little further in time. In 1935, the American Public Health Association (APHA) had published a scathing critique of the NYCDOH, roundly criticizing its authoritarian and police-like policies while noting its lack of capacity and the low morale of the employees.  The city responded to the challenge: by1945, the NYCDOH was reorganized, better funded and clearly focused on the important health issues of the time, with a new emphasis on prevention and health education.
We've Come a Long Way, Babies
One change (which continues today) was a focus on maternal and child health.  In 1947, the infant mortality rate was 26 per 1000 births, a rate that seems shockingly high by today's standards, but was actually half of the 1935 rate and at an all-time low. The maternal mortality rate was also at its lowest ever.  Commissioner Mustard attributes this to the improved skills of private physicians, good hospital care, health department standards, efforts of public health nurses and the use of 'scientific formulas' to feed babies.  These were important improvements to the standards of the time and the infant mortality rate has continued to plummet (today it is at 4.7/1000 births).
Today, we continue this focus on maternal and infant health, but the context is different.  Our 2012 goals for infant mortality, of 5.0/1000 births, would have been unthinkable in 1947.  But, the "medicalization" of the birthing process brought its own problems and has since been roundly critiqued.  With the publication of Our Bodies, Ourselves in 1970 and the launch of the women's health movement, women started reclaiming center stage in the birthing process.  The current  public health agenda, for example, rejects 'scientific formulas' and actively promotes breastfeeding.
Mental Hygiene and Smoking (Furnaces)
Another change in the city's policies was in mental hygiene, although this change took over 50 years to implement.   In 1947, Commissioner Mustard raised the issue of mental hygiene (the term of the day for mental health) and the need for NYCDOH to do more.  It took a long time, but in 2002, the NYC Departments of Health and of Mental Hygiene merged, creating the modern (albeit vintage-termed) NYC Department of Health and Mental Hygiene (NYCDOHMH) that we have today.
The environmental health issue of "smoke" is one of the few that Commissioner Mustard raises for which he neither lists accomplishments nor presents a plan.  He cites the carelessness of thousands of furnace men stoking their furnaces and dismisses the idea of ripping out old furnaces simply because they are inefficient.  He asks for patience and promises New Yorkers the Health Department's best efforts.  This part of Mustard's speech feels all too familiar today.  The paradigm shift from infectious disease prevention to addressing ill health and catastrophe resulting from environmental degradation continues to be a struggle. We are all careless furnace men and we are not quite sure what to do with the 'miasma' we have collectively stoked.
The Foundation for a Plan
Overall, the key change in the New York City Department of Health was that by 1947 it had a vision for what it wanted to accomplish and a plan to get there.   This vision continues today with the publication of "Take Care New York," which is New York City's road map for improving its citizens' health.  Interestingly, many of the items in "Take Care, New York" are a natural outgrowth of the vision in 1947.  Addressing sexually transmitted infections, raising healthy children, promoting quality health care for all and being heart healthy were all priorities in 1947.  Other priorities, such as being tobacco free, recognizing and treating depression and making all neighborhoods healthy places are newer.   Some, such as addressing the health challenges of global warming, are emerging.
Perhaps the best part of Commissioner Mustard's talk is his advice to individuals.  He recommends that all seek out lots of rest, recreation and balanced meals.  He admonishes those approaching middle age to not 'maintain the pace of your youth'.  This advice flies in the face of today's culture's message that we can have and do it all.  As working mothers recovering from our respective Chanukah and Christmas traditions, we heartily endorse Mustard's advice, even as we struggle to heed it.  We wish you all a healthy, restful, and happy New Year.