Christmas Arrives Early in the Rockaways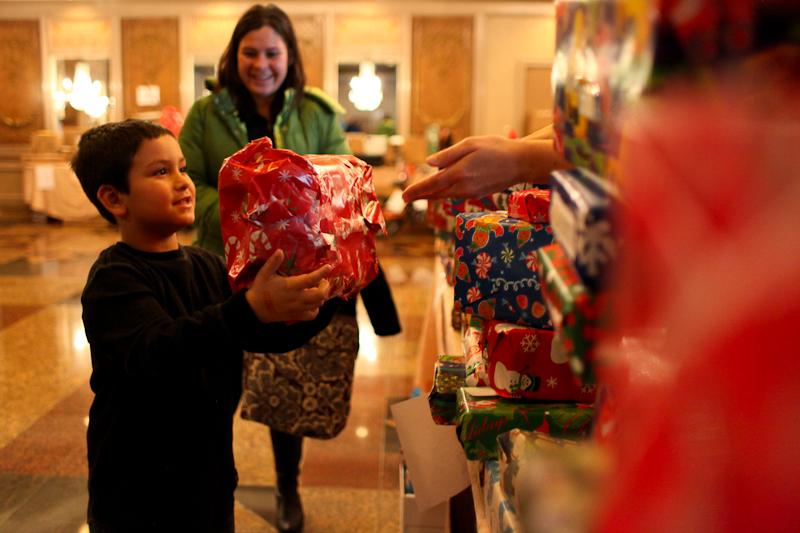 At a banquet hall usually reserved for wedding receptions in Howard Beach hundreds of families affected by Sandy received an early Christmas surprise courtesy of the relief group Secret Sandy.
On Sunday, families lined up for an all-you-can-eat buffet of hamburgers, chicken fingers, cotton candy and an ice cream bar. Children, many of whom have spent the last month helping parent rebuild their homes, got their photos taken with Santa. Before they left, the families were allowed to visit a room full of presents and take home a few.
Jose Criespo, 10, came with his parents and twin sister. Since Sandy, he's aged beyond his years and said he's been too busy to think much about presents. When asked what he'd like, he considered it for a minute. "I'd probably be happy to see lots of babies smile—cause a lot have been crying ever since they lost their house," he said.
The group Secret Sandy, founded by Joy Huang and Kim Berdy, started a website where families can fill out a Mad-Lib-like form explaining what happened during Sandy, and what they'd like for Christmas.
"We knew that kids needed toys. We knew we wanted kids to be kids, and even if your house isn't there, Santa knows where you are," Huang said. 
In addition to requests for a new bike and a replacement for Legos that floated away in the flood, they've received some surprising letters.
"We began noticing that people were saying things like: I hope I see mommy stop crying, I hope I have a hot shower someday, I hope I know what normal feels like. This is coming from 8 and 9-year-old children, who should never have to say anything like that," Huang said.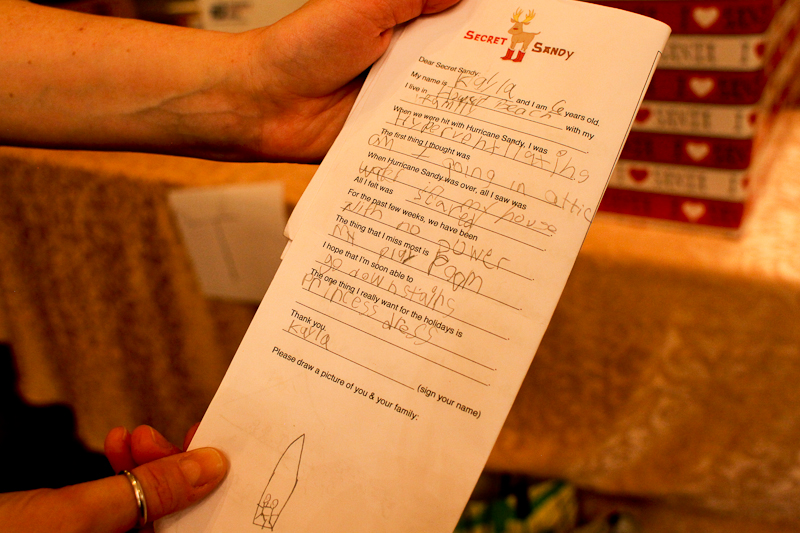 One of the letters Secret Sandy received Stephen/Nessen
The group received more than 1,600 letters and more than 2,000 presents. At first, it helped families create wish lists on Amazon and had donors send gifts directly to the families. When more and more letters came in, they switched tactics and had donors send the presents directly to Russo on the Water, where Sunday's party was held.
For families that didn't fill out a wish list there was a table in the middle of the room with gifts labeled for different ages, so everybody went home with something.
Theresa Hoffman lives in Belle Harbor and lost all her furniture and many of her children's toys during Sandy. For the holidays they bought a "Charlie Brown Christmas tree." Her son Bradley, 10 and Danielle, 13, keep asking her, "Do we still have this? Do we still have that?" she said. "Eventually the things you really like, we'll replace them," she told them. 
Standing in the present room she said, "This is amazing, it's a dream come true. Its so much fun for them and so touching for me," she said. "This is making Christmas so much better."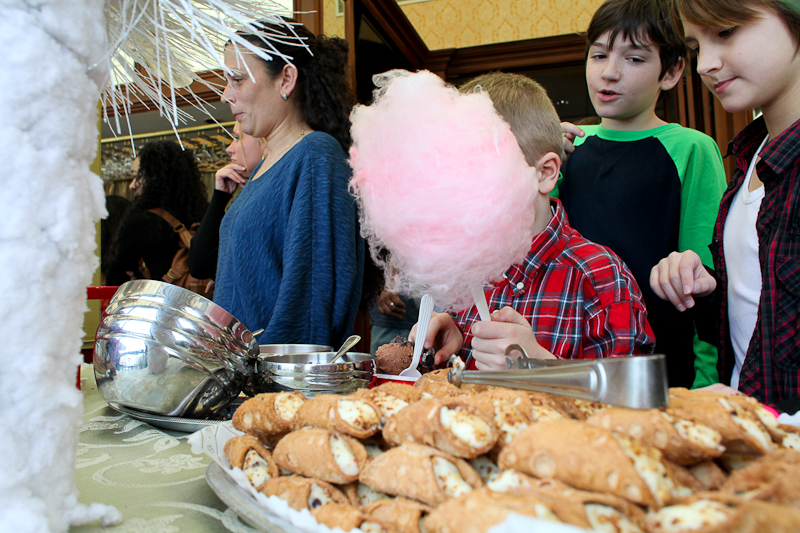 Children at a party hosted by the relief group Secret Sandy in the Rockaways Stephen/Nessen