Housing Generations | Life in the Projects: An Uncertain Future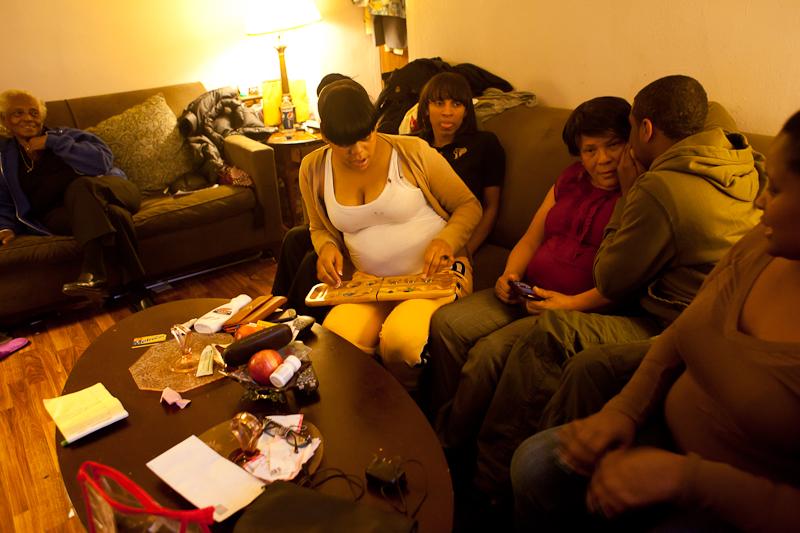 WNYC is telling the story of public housing in New York City through the lens of one family that has lived there for four decades. The Alstons arrived in the Queensbridge Houses in 1954 and have lived there ever since. This is part four of a four-part series.
The Alston family's future at the Queensbridge Houses is as uncertain as the future of public housing itself. 
They have been a fixture at the Long Island City housing complex for more than half a century — but most family members say more and more relatives are attending college and few return after graduating.
"Ten to 20 years? No way," said Chick Alston, the patriarch of the family, sitting on a bench at the center of the housing complex where he and his 11 siblings grew up. "I think in the next five to 10 years most of the next young crew will be gone. And they don't have kids so it won't like a bunch of Alstons left hanging here."
But the future of public housing in New York City similarly hangs in the balance. The New York City Housing Authority is the nation's largest landlord. For years the federal government has been decreasing its funding. Many of its aging buildings are in need of major infrastructure overhauls and nearly half of its housing stock is located in low-lying areas susceptible to flooding and other vulnerabilities, as evidenced by Sandy.
"There's been a two to three-decades long disinvestment in public housing nationally, which in many cities has led to the disinvestment, which has then led to disrepair, which is then led to demolition. We are fighting to ensure that that doesn't happen here in New York," NYCHA chairman John Rhea told WNYC. "The reality is that under-funding really does put that housing stock itself at risk."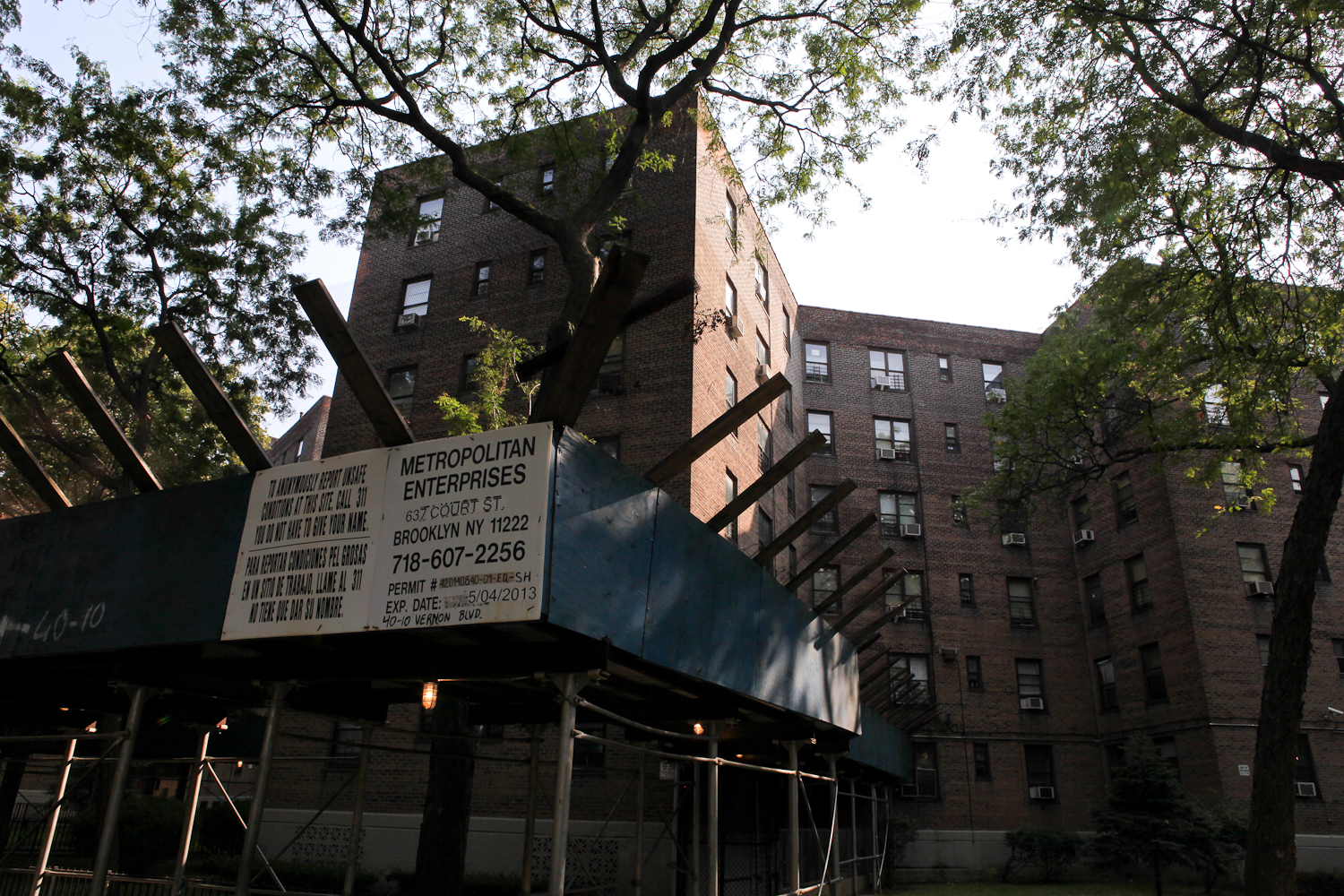 Queensbridge House under construction Stephen Nessen/ WNYC
Before Sandy, the authority said it needed $6 billion to maintain its stock of more than 178,000 apartments. But the storm toll will likely push that figure higher since 402 buildings were damaged in Coney Island, the Rockaways and Red Hook, leaving many without electricity, heat and elevators for days or even weeks. NYCHA is asking the federal government to help cover the storm costs.
Seventy percent of the city's public housing is 40 years old or older and many need major infrastructure overhauls, brick and roof repair, elevator replacement and other vital renovations to keep them functional, experts said.
Owen Gutfreund is director of the Urban Affairs program at Hunter College and says buildings from the early 1940s were built well, but they weren't meant to last forever.
"For a project built in 1939 like the Queensbridge Houses — you're going on three-quarters of a century with only the reactive day-to-day repairs being done, and even those are done late," Gutfreund said. "But the idea that some of the core infrastructure would need to be replaced as normally happens is far out of reach of NYCHA's budget."
At Queensbridge, scaffolding around the buildings has been there as long as anyone can remember. A number of elevators, like so many in public housing, perpetually smell of urine, and front door locks often do not work.
And yet, wait-lists to get in are consistently long. The average stay in Queensbridge is about 18 years, and city-wide it's about 20 years. There are more than 161,000 people waiting to get an apartment in public housing.
Rhea said Queensbridge is "one of those true public works" that put Americans to work, housed them and gave them a place to live, grow and be proud.
"Public Housing still plays an important role in that same American progression story," he said.
Unlike a traditional landlord, the authority can't rely on rent to pay the bills.
NYCHA is funded primarily through federal grants that have been steadily decreasing. It has received $1 billion from the federal government since 2009, money it says is used for replacing roofs, elevators and upgrading heating systems and refrigerators in the apartments. Earlier this year, the Daily News reported that NYCHA misused the funds.
Rhea, the authority's chief, refutes the claim made by the paper but acknowledged that there is waste at the agency. In August, NYCHA said it was reorganizing the authority's board — removing two mayoral appointees who make more than $187,000. But thus far, no changes to the board have been made.
Ahead of Sandy, NYCHA noted in its annual Plan NYCHA report, that it expects a $13 billion capital shortfall through 2015 at the current rate of funding.
Rhea, who previously worked in the financial services industry for Lehman Brothers and earned an MBA from Harvard, recently unveiled a plan he hopes will raise millions of dollars for NYCHA, by lending land to private developers.
Rhea's plan calls for creating more mixed-income building that allocates 20 percent for low income residents, but he said this doesn't mean NYCHA is being privatized, something residents say they have feared for years.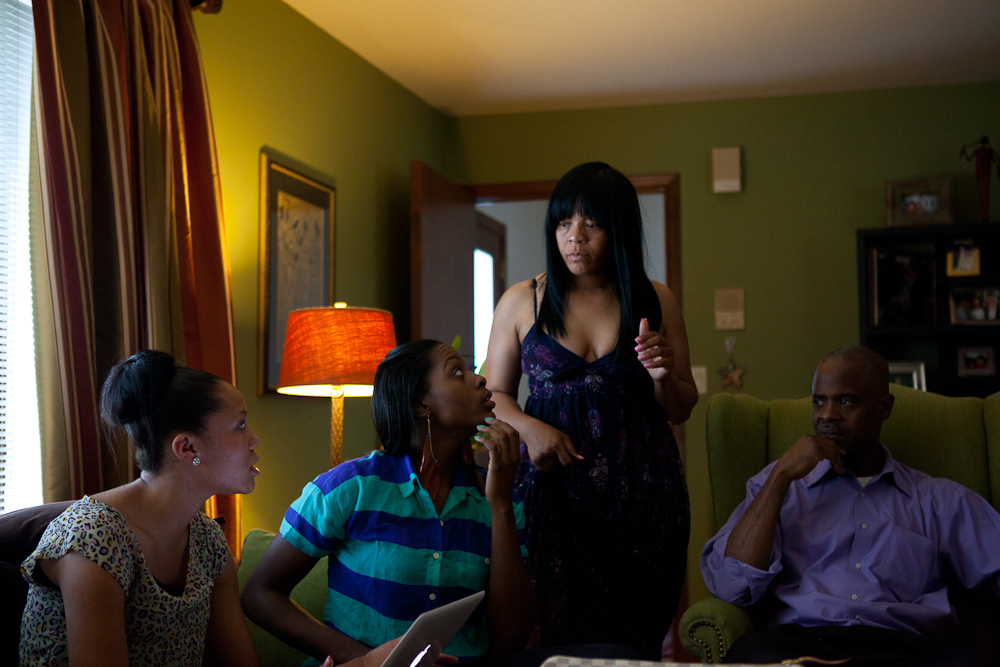 Dr. Sharon Alston, center, her brother Keith, right, and younger, college graduates from the Alston family at a Mother's Day party. Stephen Nessen/ WNYC
Many Alstons Checking Out of Public Housing
While legacy families, like the Alstons have been a fixture at Queensbridge for more than half a century — most family members say it won't remain that way. Many have branched out to nearby housing projects. And still others, college-educated Alstons, have left for school and won't come back.
Sharon Alston, 46, is Chick's sister, the youngest of her 12 siblings, the baby in the family. Today, she's a full-time social worker in Washington, D.C., and an adjunct professor at George Mason University.
When she's back at Queensbridge, she's reverently referred to as Dr. Alston. She has a Ph.D. from Howard University.
During her frequent visits to Queensbridge she sleeps on the saggy leather sofa in her mother Virgie's cluttered living room. Above the TV is a photo of Sharon and President George W. Bush at the White House Christmas party.
Many Alstons from the third generation are college graduates. They've received various scholarships and are planning careers far from Queensbridge.
Jason Alston, 26, is back, and is preparing for law school. He doesn't judge those that stayed in Queensbridge, like his cousin Fredo.
"You can't really question a man for carving out his own path. There's some things that Fredo experienced and learned that I may never learn and experience," Jason said. "And that may make him a better man. That may have equipped him for life in a different way."  
And even though her big brother Chick, 16 years her elder, is a legend in the neighborhood, he too sees an uncertain future at Queensbridge. He said he's thinking about heading to North Carolina. Enjoy the weather—spend some time with his daughter and grandkids, who are already there.
His parents moved to New York from Henderson, North Carolina in the 1940s, and he says it's about time he headed back there. His mother, Virgie, still lives at Queensbridge, but doesn't think she'll leave.
While Queensbridge gave the Alstons a place to expand, and for many to get old together—owning an apartment was not part of the deal. The closest they came to claiming anything there, was a piece of grass under a tree where the patriarch, Walter Alston held regular barbeques.
And when the Alstons stop this yearly ritual, another family will take that spot. And their apartments will be scrubbed of any trace of the Alstons to make way for the next family.