State Officials Mull End of LIPA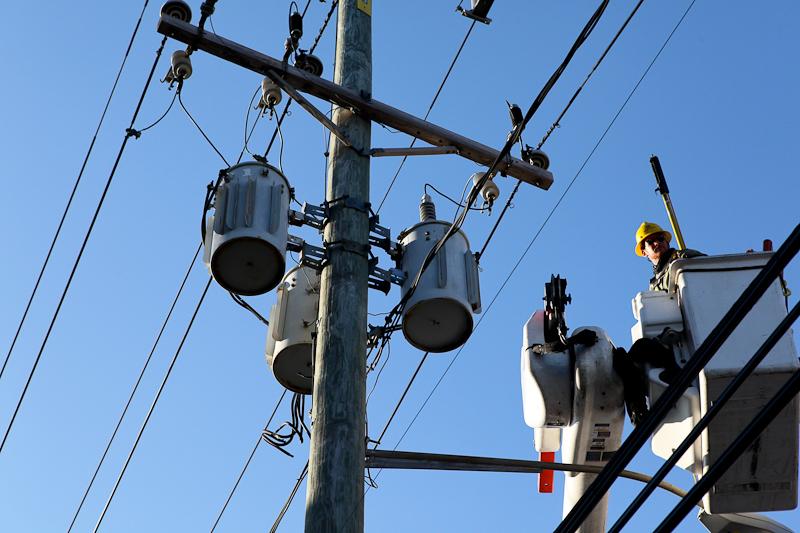 State officials are working on plans to overhaul and possibly kill the Long Island Power Authority two months after Sandy knocked out power for nearly a million customers – almost all of Nassau and Suffolk counties.
The area was one of the hardest hit by Sandy. Trees toppled in the storm, bringing down wires. Flood waters damaged substations and sensitive equipment. High winds knocked over poles.
But this was the second year in a row that a major storm caused widespread and prolonged outages for LIPA customers. As the darks days and nights after Sandy hit turned into weeks, cold, frustrated and scared residents – who pay among the highest rates in the country - struggled to get answers from LIPA. And a growing chorus of experts has said LIPA and its contractor National Grid weren't prepared for and didn't adequately manage the recovery.
Two weeks after the storm, Governor Andrew Cuomo formed a special commission to investigate the performance of the state's power companies and energy regulation. The so-called Moreland Commission – named after the 1907 law that gives the governor the power to investigate state bodies – is charged with looking broadly at electric utilities in the state. LIPA, which is a public authority, is a main focus of the commission.
"I lost power for eight days. My family suffered tremendously without power in the cold as well as thousands of my neighbors," Pedro Quintanilla, a Village of Westbury resident, told the commission at a public hearing in Old Westbury on Dec. 11.
Dozens of LIPA customers attended that meeting. The commission is scheduled to be back on Long Island Thursday night for another hearing where LIPA and National Grid executives are slated to testify.
Cuomo's plan
The hearing comes amid word that Cuomo's office is working behind the scenes on plans for LIPA.
Newsday last week reported the Governor's Office is looking at what it would take to privatize LIPA, among other options. An administration source who wasn't authorized to talk on the record confirmed to WNYC that a global investment bank is working on such an analysis.
But while the governor's office and his commission are figuring out what to do with LIPA, there is another outstanding question: Who is going to pay for LIPA's storm recovery?
"Right now we're estimating the cost is between $900 million and $950 million. We still are doing restoration activities especially in the flooded areas so we do expect that some of that cost may go up," said Michael Hervey, LIPA's outgoing chief operating officer.
That's equal to roughly a quarter of LIPA's revenue for an entire year.
In comparison, PSE&G of New Jersey earlier this month estimated its restoration cost at $250 million to $300 million. They had nearly twice as many customer outages as LIPA.
LIPA customer Seymour Spiegel pointed out that difference to the Moreland Commission.
"This highlights the poor condition of LIPA's infrastructure before Sandy. We had a 21st Century storm but a 19th century power company. I saw LIPA surveyors after Sandy going house to house recording damage with pencil and paper when 4G tablets are available," Spiegel said.
LIPA is not actually a utility company -- at least not in a traditional sense. LIPA is a government body that owns the wires that carry the power across the island. The authority only has about 100 staffers. The authority contracts with a major investor-owned utility company – London-based National Grid -- to run the system.
So when Sandy hit, it was National Grid whose workers were out in the field side by side with out-of-state crews.
The work included the replacement of more than 2,100 transformers, 4,500 poles and the repair of 400 miles of wire, according to LIPA.
National Grid is able to bill LIPA for 100 percent of the cost of that work. So on top of its monthly fee, the company gets for running the system, National Grid also gets paid back for the cost of its storm work including overtime wages, equipment and hiring outside crews, according to members of the Suffolk County Legislature's LIPA Oversight Committee.
Peter Schlussler, a member of the committee and strong critic of LIPA, said National Grid hasn't received the public scrutiny and blame it deserves for the slow restoration process.
"I believe they absolutely should be held just as accountable. The scrutiny should be equal to if not more so than what LIPA has been enjoying -- quote unquote -- for the past few years," Schlussler said.
Energy consultant Walter Drabinski said the state should look at National Grid's compensation from LIPA. Drabinski is the president of Vantage Energy Consulting, a company the state Department of Public Service hired to help analyze LIPA and National Grid's handling of Irene.
The department released the results of that investigation this past June. Among the findings: The authority had for years neglected maintenance such as tree trimming, underfunded projects to harden the system and ignored recommendations from 2006 on how to prepare for a big storm.
Drabinski said his team also questioned the way LIPA's contract with National Grid was structured. The state should look to see if the fact that National Grid receives money for storm expenses on top of its contract fee has any impact on the restoration time, he added.
"Is there a perverse incentive? Theoretically there is and we felt that it needed to be looked at but it wasn't really part of our scope nor did we have time to go in and look at," Drabinski said.
A spokeswoman for National Grid declined an interview request.
Hervey defended the company and said National Grid worked hard to get the power back on.
"They're incentive is the same as it is for any utility and that's the public scrutiny we go through, also the desire to service out customers," Hervey said. "They have a very professional team over there that knows the business, knows how to restore power and how to run the business."
FEMA intervention?
Because LIPA is a government body, it is eligible for reimbursement from the Federal Emergency Management Agency. FEMA typically pays 75 percent of eligible costs.
Cuomo has asked FEMA to consider reimbursing LIPA for all of it. But given the political wrangling in Washington over spending as well as the overall cost of the storm, many are dubious FEMA will pick up the near-billion dollar price tag.
"The governor is talking about 100 percent reimbursements from FEMA. But I think that's more wishful thinking than anything else. If they got 75 percent I think they'd be lucky," said Matthew Cordaro, a former utility executive and member of the oversight committee.
If FEMA does pick up three quarters of the cost, that would still put LIPA on the hook for more than $200 million.
Experts have a simple back of the envelope calculation that says every $40 million in cost is a 1 percent increase in rates. So $200 million could mean a 5 percent increase in electric bills.
But last week, LIPA's Board of Trustees approved a budget that holds rates flat next year.
"And if toward the end of 2013 or 2014 we find there's any unreimbursed amount then what we've discussed with our board of trustees is that we would in fact pass that on through rates except that we would do the thing most utilities do and pass it on over a long period of time," Hervey said.
There's no guarantee FEMA will reimburse 75 percent of LIPA's storm costs and if it does, it's unclear how long it might take.
LIPA officials said Hurricane Irene cost $176 million. As of the day Sandy hit, more than a year after Irene, FEMA had released less than $66 million for those storm costs, according to the agency.
The amount of time it takes to receive the FEMA reimbursement could be of concern for LIPA, which has almost $7 billion in rated debt and weak liquidity, according to ratings agency Moody's Investors Service. Earlier this month Moody's indicated it might downgrade the authority's ratings pointing out, among other issues, that the timing of the FEMA reimbursement "is highly uncertain."
Critics say the reimbursement delay traces back to LIPA and National Grid's billings after Hurricane Earl in 2010.
That hurricane largely missed the area yet National Grid billed LIPA for more than $36 million in costs, records show.
At the time, critics including Cordaro raised questions about those bills.
"There were crew meals for example where people were going to fancy steakhouses. LIPA was getting billed for meals that exceed over $100-$150 a head, which was obviously ridiculous," Cordaro said.  "We also saw a situation where a luxury limousine service was being used to transport workers from Brooklyn to Long Island."
Under scrutiny
Cordaro testified about his concerns before a state legislative committee. And U.S. Senator Charles Schumer, in an interview with Newsday last year, called on FEMA to review the bills from National Grid and LIPA.
Hervey said LIPA closely scrutinizes the bills from National Grid.
"We deal in facts when we talk about these things and not speculation about what someone imagines might be going on," Hervey said. "So on the National Grid bills we look at 100 percent of those. We scrutinize those. We have a very tight process around the billing for the storm response and we know that those charges are appropriate."
After Irene hit, FEMA started an intensive examination of LIPA's system. In a public meeting a few months ago, a LIPA official said Fema workers were walking outside, following every circuit to inspect the work.
Hervey refuted the notion the billings from Earl and past storms have slowed the utility's ability to get reimbursement.
"I don't know that it has any impact or had any impact at all. What we hear from FEMA is that they are very used to seeing large scale infrastructure projects – roads, bridges, beaches – as items that they reimburse. Large scale utilities such as ours they don't encounter as often," he said.
But Peter Schlussler, a member of the oversight committee, said LIPA created their own problems with the questionable bills passed on for reimbursement to FEMA.
"When we started scrutinizing a lot of these storm costs and bringing up the red flags, I truly believe that's when FEMA began realizing that maybe they're a little bit part of the patsy game, if you will, here and that point they started taking a closer look at the reimbursement," he said.
FEMA spokesman Donald Caetano said the deliberate pace of Irene reimbursement was normal.
"Before we obligate the money we do look at the reimbursement making sure that the work did get done and making sure the I's are dotted and T's are crossed," he said.
He said FEMA will try to expedite the reimbursement to LIPA and others Sandy hit. But the feds will also need to ensure the costs are legitimate.
"That's the balance you have to strike," he said.
Hervey said LIPA has enough cash and other sources of financing to cover the cost until the FEMA money arrives.