Housing Generations | Life in the Projects: A Family on Two Paths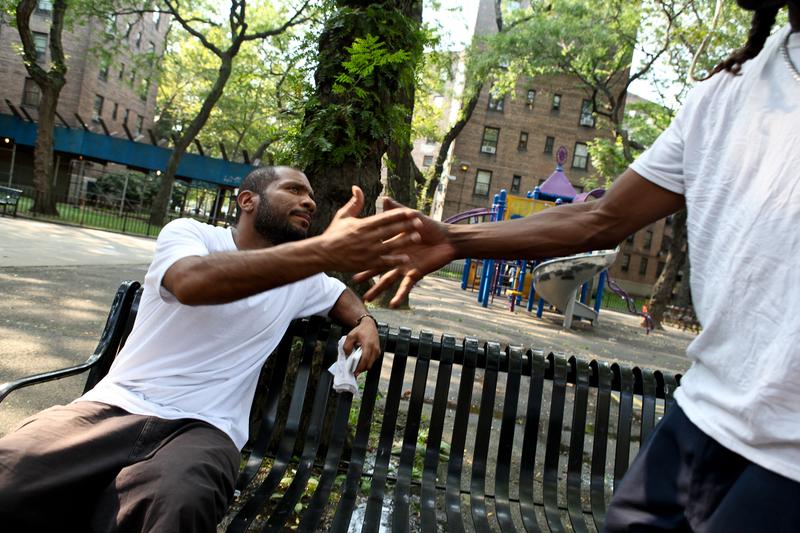 WNYC is telling the story of public housing in New York City through the lens of one family that has lived there for four decades. The Alstons arrived in the Queensbridge Houses in 1954 and have lived there ever since. This is part three of a four-part series.
If Chick Alston is the unofficial mayor of Queensbridge, his son, Fredo, could be considered his deputy to the streets.
The wide-eyed and already graying Fredo, 35, is part of the third generation of the Alston family raised in the public housing complex in Long Island City — a fact he says marked him as early as elementary school.
"One time a teacher told me, 'You gonna be in jail. You gonna be in jail,' and I just couldn't understand," Fredo said, recalling an episode from fourth grade. "I knew people go to jail—I knew my father went to jail—but I didn't know I was doing anything that would lead to jail. And it was such a rude awakening when I went to jail that she was right."
Fredo spent his teens in North Carolina with his aunt who says he was always showing other kids how "bad" New Yorkers were. He managed to finish high school.
Fredo said the allure of street life — the money, fast cars and status — and coming from a family that he said condoned hustling if it meant making ends meet culminated in his first arrest.
Three months after he returned to Queensbridge from North Carolina, he was arrested for selling crack. He said he served two years in Mohawk Prison. Three years later, he says he was shot in the shoulder and then arrested on gun charges. He served two more years.
Members of the Alston family describe how tight-knit their crews were. Members include family and friends and loyalties run deep. Sometimes too deep. Defending honor has landed members in jail.
When Fredo's son was born, the pressure to provide increased. Now he sees much of his father in himself.
"I always said that I would never be like him. I always had this thing, I'm never going to be like my father," he said. "But you start to have children and then you understand how a man could maybe not raise his family or be there for his family or be there for his son."
Fredo was working a construction job until 2008. Now, he's out of work and hustling. His life is punctuated by the constant ring of his cell phone. He's currently crashing with a few friends at Queensbridge.
He spends part of each day with his father and uncles in a half-renovated café across from Queensbridge playing cards and craps on tables — waiting for the phone or a friend to swing by.
And while Fredo wishes he'd made better choices, he's also grateful to have the love and support of his family, especially his grandmother, Virgie.
"If there's one thing that truly makes us Alstons—if there's one thing that truly makes us who we are it's her," he said, fighting back tears. "If your mother throws you out, your father throws you out, she's there for you. When you see that kind of love, it's hard to turn it down—'Oh yeah, I'm just another person.' "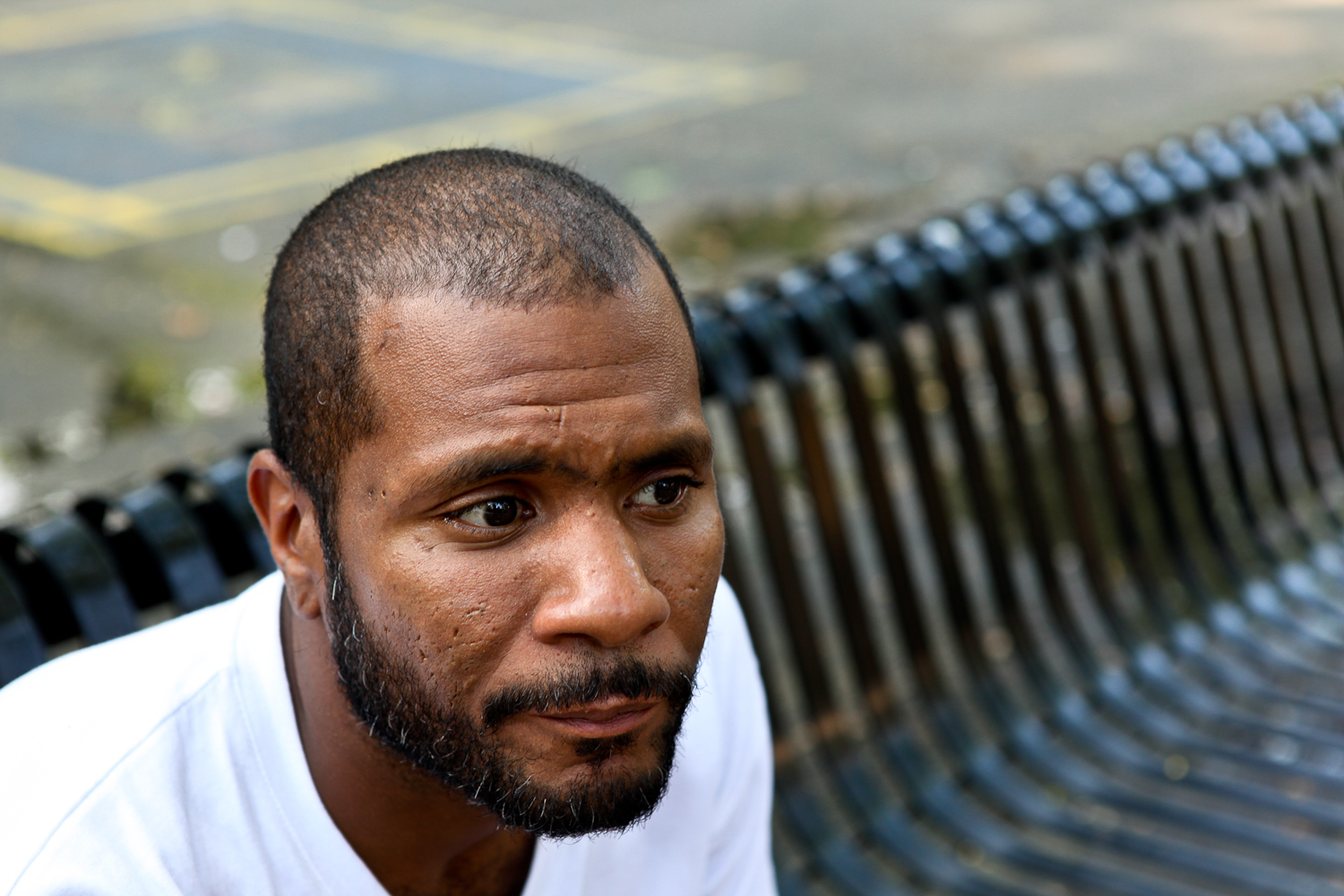 Fredo Alston Stephen Nessen/WNYC
The Next Generation of Alstons
Compared to his cousins, Jason says he was kind of a nerd. In fourth or fifth grade he wanted to be a pediatrician or a lawyer.
Jason has tight cropped hair and likes to wear a gray Hillman College sweatshirt from the fictional black university in "The Cosby Show." He attended a very real historic black liberal arts college, Dillard University in New Orleans where he received his Bachelor's degree. He just earned a Master's degree in political science from Howard University.
But sitting on a picnic table in the leafy park across from Queensbridge, the 26-year old remembers one time when he tried to fit in. He loosened the belt on his jeans, like his friends and cousins, and let his pants droop a little. His mother, Karen, freaked out.
"I came in the house one time with my pants sagging and I was like, 'That's the style' and she went ham, she went ballistic. 'Pull your pants up! You will not walk the streets like that,' " he remembers her saying.
And his mother's strictness extended beyond fashion. When other kids could go around the corner on their bikes, he could only ride in front of the building.
His mother's discipline came hard-earned. The 52-year old is intimately familiar with the social problems people generally associate with the projects — drugs, rape, violence. But she's also taken advantages of its community: she learned to swim at a nearby pool, ride a bike in the park and attended drug rehab classes at Queensbridge.
"I've had some good times and bad times at Queensbridge," she said. "At the same time, I wouldn't have liked to have done it anyplace else."
She was addicted to crack at 26 — when Jason was born — and struggled to quit. After watching her brothers fall victim to drug addiction she forced herself through meetings and finally quit for good.
"I had to break cycles," she said.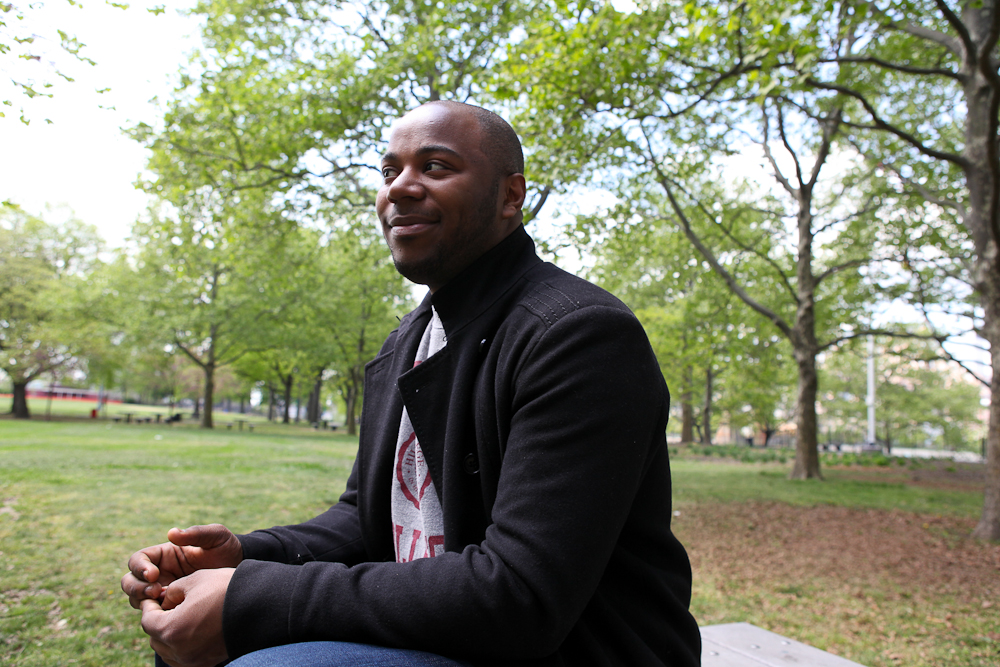 Jason Alston Stephen Nessen/WNYC
As a single mother she eventually got a job at Queens College. As Jason grew up, she knew she wanted more for him then a life in Queensbridge, which had led to jail for so many Alstons.
"When my son was growing up, my brothers and all them was in the hustling game. So, I said, 'Jason, you don't see anyone working, but you see how everybody's getting all these things? Think about how they getting them,' " she said. "'You have an option and jail doesn't have to be that option for you.'"
Jason is working four days a week as a youth counselor and just took the LSATs. He plans to apply to law school in the Fall. Right now, he's back at Queensbridge. He's giving back to the community, which he admits is where he's most comfortable.
He is living with his mother above the apartment the New York City Housing Authority once converted into a double apartment for the Alstons. The doors are turquoise. Jason rolls his eyes saying it's always been one awful shade of blue or another.
"I've been fortunate to have a family and a community that really are engaged with each other," he said. "I remember my aunts and uncles telling me that when they were young besides the fact that there were so many of them, there was never a time when somebody else's kid wasn't in my grandmother's house sleeping or eating."
But Jason said he hasn't been immune to the stigma of living in public housing. He remembers when he first brought a girl home in high school and she cringed at the smell of urine in the elevator. He's been stopped and frisked by police too.
He said he remembers when the officer saw his university ID and told him to, "Keep his nose clean," and that, "He could be somebody."
"I could be somebody?" he said to himself. "I am somebody."