60-Second Stir Fry: Jacques Gautier
December 28, 2012 —
Jacques Gautier of Palo Santo restaurant in Park Slope, Brooklyn, thought he was going to sail through his Stir-Fry lightning round.  After all, he's was just in the hot seat this past April, when he visited WNYC to talk about green garlic.
It seems he's recreating the Garden of Eden on the roof of his restaurant's building, including, as we learn in this week's Last Chance Foods, raising rabbits there.
Little did Chef Gautier know that I had cast aside my usual questions about favorite comfort foods and vacation paradise preferences to talk about New Year's resolutions.  
Here's what we now know about Jacques Gautier: he's a workaholic.
But aren't many of us? We all could resolve to spend more time in 2013 being rather than doing.
Chef Gautier's return visit has inspired me to make a resolution to come up with new questions for the Stir-Fry series. Any suggestions?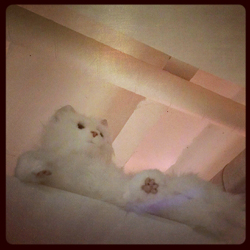 Watching his last Stir-Fry video reminds me that I'm still mourning the loss of our mascot, the white cat of Studio 4. His owner, producer Leo Duran, reports "he's busy keeping his real-cat sister Penny company" in his new apartment. He's suggesting Last Chance Foods producer Joy Y. Wang and I hold a micro–pledge drive "so listeners can donate to get you a new one."
Here's a picture of the kitty in his new home. He looks lonely without a mixing board to sit upon.
(Photo: The white cat of formerly of Studio 4/Leo Duran)
What are your New Year's resolutions?  
Whatever they are, happy eating in 2013!