Roiling Race, MTA Chief Makes Plans to Run for Mayor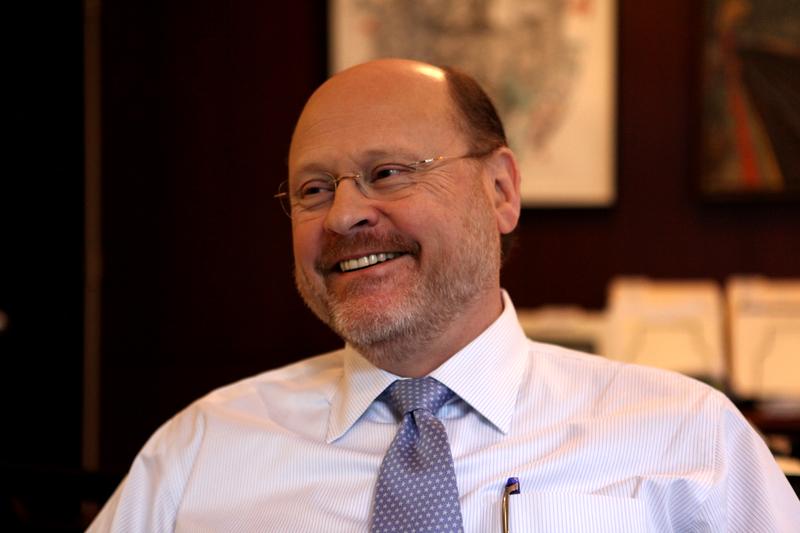 UPDATED. MTA Chief Joe Lhota is preparing to step down from his job to enter the race for mayor of New York City.  The decision, which has been privately and publicly backed by former Mayor Rudy Giuliani, roils both the 2013 race and the future of the MTA as it faces $5.2 billion in reconstruction costs after the devastation caused by Sandy. 
Lhota has won praise from the public, the press, and the political elite for his handling of the transportation authority in the days leading up to storm Sandy and in the aftermath of the storm.  
But he has no experience running for elective office, it's unclear which constituencies would get behind his campaign, and it's not known what message he would sell to the public.  He'd be running as a Republican in a city so blue, it's indigo.
In a recent Quinnipiac poll, Lhota lost 60 to 9 percent against a unnamed Democrat in a hypothetical race.
Lhota will also be vying for the top office in a city with an electorate that has become increasingly non-white.  One of his opponents, City Council Speaker Christine Quinn, would be the first woman and the first lesbian to be Mayor, after 20 years in which white men have been at the helm.   Both Mayor Giuliani and Mayor Michael Bloomberg were first elected as Republicans.  
After an MTA board meeting Wednesday — where the authority voted in fare and toll hikes to go into effect in March of 2013 — Lhota said he is resigning effective December 31, and that he will "explore" a run for mayor in January, 2013. 
"I never expected this to happen," Lhota said at a question and answer period after the meeting, but "I will support the MTA for the rest of my life."  Lhota declined to answer questions about his political positions, including congestion charging, because "that's a mayoral question."  He described leaving the MTA as "bittersweet."
Former Mayor Giuliani, who now has an extensive business and law practice, has been promoting Lhota's candidacy as the city's top elected official. "I'd like to see him run for the city and for the Republican Party," Giuliani told the Daily News earlier this month.
A mayoral run would likely bring under scrutiny Lhota's record during the Giuliani administration, and as an executive for Madison Square Garden, a division of Cablevision. Like the MTA, Cablevision has found itself at odds with the public over service provision.
Lhota could also face a primary challenge: Former Bronx Borough President Adolfo Carrion, a Democrat has indicated he would run on the Republican line.  If Lhota wins a GOP primary, he'd face the winner in the Democratic race, where City Council Speaker Christine Quinn and Public Advocate Bill De Blasio are in a crowded field that also includes former City Comptroller Bill Thompson. 
In signal of the tenor of the race, potential rivals gave Lhota no quarter.  "Voters aren't going to forget that MTA chief Joe Lhota saddled New Yorkers with a bus and subway fare hike just prior to running for Mayor," Josh Isay, Quinn's top consultant, called WNYC to say.  "Joe will have to own Rudy's record," another top Democrat predicted.
At an MTA meeting Monday, Lhota seemed relaxed, even buoyant, sticking his head into the press room at MTA headquarters to joke with reporters.
Lhota has been widely praised in the wake of Sandy, where his authority suffered what Lhota called "the worst devastation in our 108-year-old history."  Though the damage was extensive, the authority made communication with the press and the public a priority. 
He was appointed MTA chief after the departure of Jay Walder, who left to run Hong Kong's transportation agency.  Lhota had no experience in transit, but Cuomo cited his managerial prowess, and transit advocates praised his openness.
"He's doing an excellent job," said Robert Yaro, head of the Regional Plan Association.  "I hate to see someone leave who's been successful."
The MTA chief has been a frank and sometimes combative leader, willing to take on board members and even suburban politicians over MTA funding. He'd leave the authority at a sensitive time, when the state is appealing to Congress for more than $5.2 billion in aid just to repair what was destroyed during Sandy.  The authority says it will need even more to fortify itself against future storms.
When Walder left to run the Hong Kong transit agency, Cuomo named Tom Prendergast, who runs the subway and bus system, as interim chief.   A new MTA chair would have to be confirmed by the New York State senate.