With Trials Complete, Little Closure for Family of Pvt. Danny Chen
A day after the final courts-martial, the family of Pvt. Danny Chen said they were disappointed by the outcome of the trials of eight soldiers from their son's platoon who were charged with hazing and abuse that culminated in his suicide two years ago.
Speaking through an interpreter on Tuesday, Chen's father, Yao Ten Chen, said he'd hoped attending the five of the eight trials in Fort Bragg, N.C., would help him and his wife close this chapter in their lives.
"Hopefully time will heal. Looking forward to a closure," said Chen, who still wears his son's army cap everywhere he goes.
In October 2011, Chen was found dead in his guard tower, in Kandahar Province in Afghanistan. The cause, authorities said, was a self-inflicted gunshot wound.
The last courts-martial for the members of Pvt. Chen's platoon was Monday.
Chen grew up on the Lower East Side. His parents are immigrants from Southern China.
Speaking through an interpreter, Chen's mother, Su Zhen Chen, said she wanted to make sure this didn't happen to another family.
"She still finds the strength to go to those hearings because she doesn't want this to happen to another Danny Chen—that's why she wants to make sure justice is done—so not another mom has to suffer like she that," her translator said.
Chen's family and his best friend Raymond Dong urged him not to join the Army.  
"I told him it's not a good idea to join whatsoever, because there's risk in it. And he's the only son, I'm the only son, I don't think it's a good idea to do it," Dong said. "He said he wants to do something new in his life. And I respect that."
But in Kandahar Province in Afghanistan, authorities say Chen faced racial hazing and physical abuse. The eight members of his platoon were charged with bullying, hazing and using racist language.
From New York to North Carolina, Liz OuYang, president of the Organization of Chinese Americans and a civil rights lawyer for 26 years attended every courts-martial.
At every press conference and rally she attends, she carries a white banner that reads "We Are Danny."  Hundreds of people have left messages for and about Private Danny Chen in a rainbow of Sharpie colors.
The last officer to face court-martial was Lieutenant Daniel Schwartz. He will be removed from the Army.
 All the soldiers were found or plead guilty. Two will face short prison sentences and two were discharged. Others were demoted in rank and docked pay. OuYang says these sentences are just a slap on the wrist.
"And it just sank in then that the military court system cannot, cannot deliver justice to someone that is a victim of hazing by their superiors," OuYang said.
For OuYang though—the last trial isn't ending her advocacy that was catalyzed by Chen's death. She's been promoting national anti-hazing bills, which would strengthen the anti-hazing laws and create a database of incidents in the military.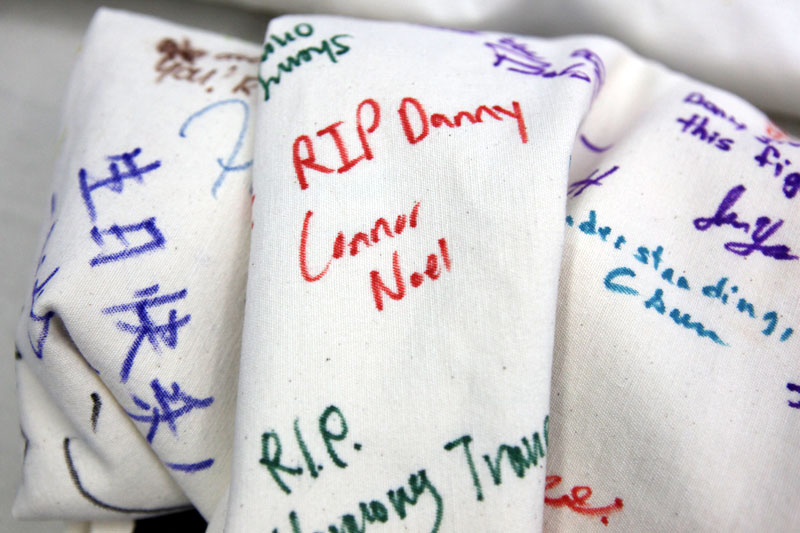 "We are Danny" banner, to commemorate death of Pvt. Danny Chen. Stephen Nessen/WNYC