In Staten Island, Sandy Victims Struggle With Housing Options
Cedar Grove Avenue in Staten Island is about as far east as one can go before ending up in New York Harbor. Residents say the water here reared up 15 feet high then rushed into their working class neighborhood. One home looks as if it had been picked up and smashed into pieces. A small village of tents set up by volunteers sits across the street from the ruined neighborhood, where people can pick up sundries like soap and shampoo.
"Paper towels go like crazy," Nicole Chati, 40, said.
Chati's house was destroyed nearby. Like many in the area, she comes to the tents for warm meals, cleaning supplies, clothing and, most importantly, camaraderie with neighbors. Chati is currently renting an apartment 20 minutes away. The Federal Emergency Management Agency is paying for it. 
"My husband and I pretty much adapted because we had no choice but to adapt," said Chati, who grew up in the area. "But it's been very hard on my 7-year–old. I mean, in her letter to Santa Claus, she wrote at the top, 'I hope you realize we don't live at 38 Topping Street anymore.'"
Typically after a natural disaster, FEMA puts up mobile homes for victims. But in New York, the city and federal government decided there's no room for them.  Instead, they are paying for people to stay in hotels and short-term apartment rentals. They've also set up what's called Rapid Repairs—a program that connects teams of contractors with homeowners needing power, heat and hot water. The goal is to fix basic functions so people can live in their homes while doing more major renovations. FEMA covers the cost of the repairs.
But the waits are long. Eddie Saman ended up sleeping in his damaged house while waiting for a team to visit. He said he could not find a hotel room within a 30 mile radius.
"It was a very bad night, very cold so I got to use the wood burning stove," Saman, who is originally from Egypt, said.
Then, as if things couldn't get worse, a spark from the stove set the house on fire. On a visit last week, the stench from the blaze still filled the small gutted home with boarded up windows emblazoned with American flags. The cot where Saman had been sleeping sat in the corner. Saman, a short vivacious man bundled up in a scarf and ski cap, said he registered for Rapid Repairs about a month ago. 
"I call them. They never answer the phone," he said. "I leave messages three times, four times…and nothing."
As of Dec. 14, 13,600 households had signed up for the program, according to Deputy Mayor Cas Holloway, who is overseeing Rapid Repairs. He said 1,500 houses, or just over 10 percent, have been fixed so far, and work is underway at 1,300 others.
"We are putting an unprecedented amount of resources, and the amount of people dedicated to the program is growing everyday," said Holloway, who added it was the first time FEMA was trying such a program. "We will get to everyone that is signed up, and we are trying to get there as quickly as possible."
The city couldn't say how long it would take to fix everyone's house. A spokesman said the work should accelerate once more contractors are added.  Right now, there are 2,000 electricians, plumbers and other tradespeople, involved with the program.
Many residents near Cedar Grove are not waiting for the government. They are fixing their homes themselves. Work trucks line the narrow streets, and the sound of vacuums, power tools and hammers fill the air.  Anthony Marotto, a tall burly man who lives across the street from Eddie Saman, says others are creating their own temporary housing.
"I know neighbors that have tents set up inside their houses, " said Marotto,
Marotto and Saman stood in front of a baby blue clap board house where debris filled the yard and two-by-fours half-way covered a gaping hole.
"Bruce you home?" they yelled into the house.
There was no answer, but the two men said the owner of the crumbling house has been camping out inside. Marotto is also camping out, but at the volunteer tents across the street. His house also caught on fire when he was burning wood in his fireplace to stay warm.
"My chimney must have shifted during the storm," he said, "and it set the roof rafters on fire." 
Marotto said he wants to be close by to help out neighbors struggling to rebuild. He said he tried renting an apartment through FEMA but couldn't find anything.
"Nobody wants to give you a short term lease, three months or two months or whatever it's going to take to fix your house," Marotto said. " I have a dog. That's another problem."
The city has also created a web portal listing 2,500 apartments set aside by landlords willing to rent short-term to storm victims. But publicity surrounding apartment rentals has not reached Marotto. He's planning to tough it out until his apartment gets fixed.
As for Saman, he did eventually find a hotel room, and Rapid Repairs finally visited last week.  But the team deemed his home unsafe to live in. The news was devastating. Now, he says, he's sorry he ever called them in the first place.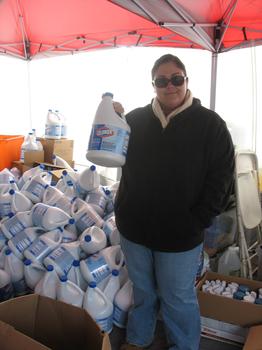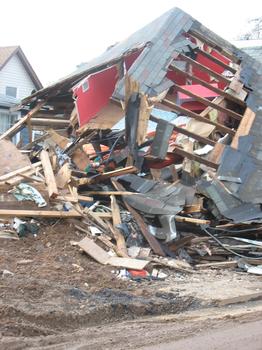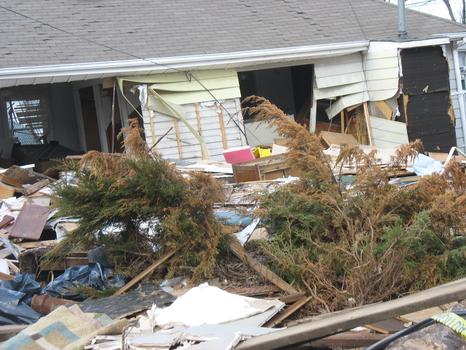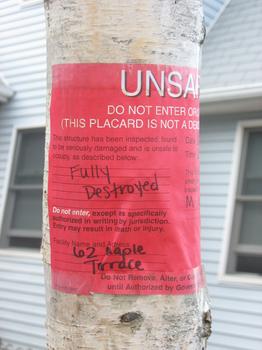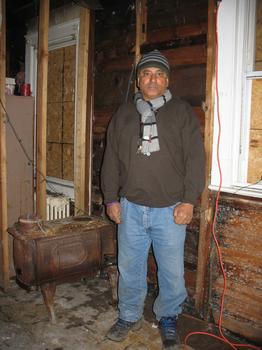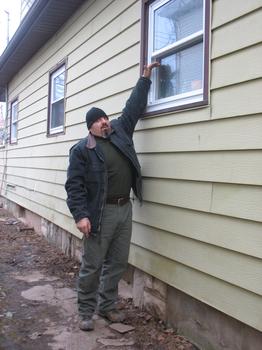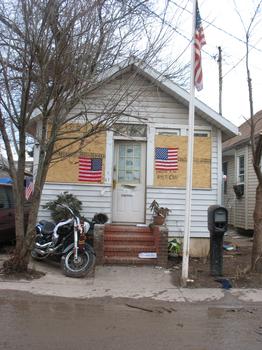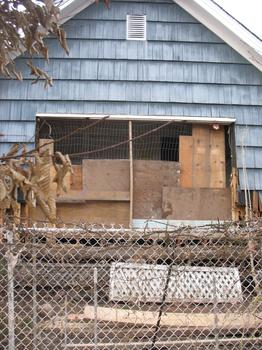 of