Housing Generations | Life in the Projects: A Shift to Violence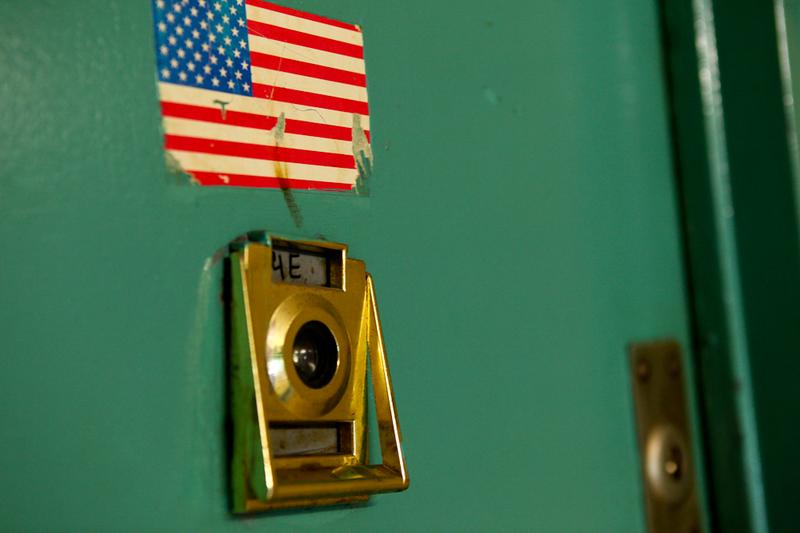 WNYC is telling the story of public housing in New York City through the lens of one family that has lived there for four decades. The Alstons arrived in the Queensbridge Houses in 1954 and have lived there ever since. This is part two of a four-part series.
Karen Alston lives two floors above her childhood home in the country's largest housing project, the Queensbridge Houses. Like many members of her sprawling family the 52-year old has had every reason to leave over the years.
At 15, she was raped in a laundromat near her home. In her 20s, she was addicted to crack. She has witnessed one after another of her brothers sent to jail.
Karen is a twin, and one of 12 children born to Virgie and Walter Alston. Like many in her family Karen got caught up in the kind of drugs that became commonplace in New York during the 1970s and 1980s.
"I used to smoke crack when (my son) was a baby," she said recently. "I grew up in the heroin era—where everybody in my generation we had a brother or sister addicted to dope. Everybody."
Dozens of members of the four-generation Alston family still live in Queensbridge, including four of Virgie's children who were raised there, many of their children and even some of their children. For more than 60 years, the Alstons have witnessed the landscape shifting as diversity dissipated in public housing and drugs flooded the streets.
Still, leaving her childhood home, her family, was never an option. Even when she was sent to the country through the Fresh Air Fund she pined for familiar sites like the smoke stacks of the nearby power plant and the familiar faces of Queensbridge.
Public housing started as a solution to urban crowding and an alternative to the unsanitary tenements. But decades later it too became a stigmatized problem in search of solutions.
One of Karen's brothers, Keith, now 48, said he used to be a junkie who would hustle to keep up with his habit. Now, clean after a seven-year jail stint, the married father of two said a life on the streets was all he knew growing up.
"When you have an example of a life of hustle that's set before you, you have no choice but to hustle," he said at a family gathering in New Jersey this past spring. "That's all I seen — how to get a fast buck. How to gamble. How to sell drugs."
Keith now lives in Far Rockaway. Leaving Queesnbridge was the best thing for him – it distanced him from temptations, he said.
"I think back where I came from and where I could of been today and I'm grateful. I could of still been out there in Queensbridge. Because I know a lot of my friends that are still out there," he said. "And I'm not better than them. God just made an escape for me. I'm living now—I'm not just existing, I'm living."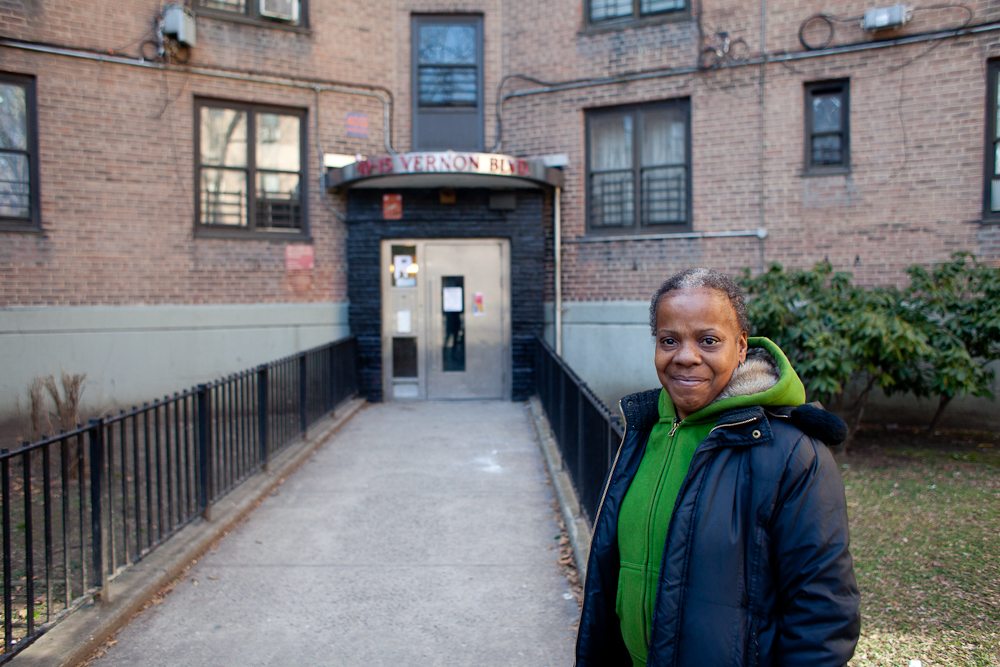 Karen Alston outside of her home Stephen Nessen/WNYC
Couldn't Evict Jack the Ripper
As an agency, the New York City Housing Authority (NYCHA) has a complicated funding structure that since its inception has used federal, state and local funding. Early on, the housing authority covered most of its operating expenses from rents, and did its best to attract and keep paying tenants. They even put a cap, 30 percent, on the number of tenants on welfare.
Mayor Fiorello LaGuardia hoped public housing would supplant the slum landlords he saw plaguing the city. But landlords and real estate interests claimed the city was taking away their middle-income paying tenants.
"Look at the scale of the plans of the early years," said professor Nick Bloom, with the New York Institute of Technology, referring to large complexes like the Queensbridge Houses, with 3,142 apartments and the Red Hook Houses with 2,545 apartments.
"They're really not just about building transitional housing. They really had the goal, much like happened in England, of pushing out landlords from the working class rental market."
At the same time, the balance of black and white residents was steadily sliding. Every year since such records began in 1946, the number of white residents decreased at Queensbridge as the number of blacks increased.
Experts say this was in part because there was more available housing for whites, many of whom moved out of urban centers and into suburbia in the 1950s. And although the 1944 G.I. Bill bolstered home ownership with low-cost mortgages in the suburbs, blacks were routinely discriminated against living in certain neighborhoods.
"Change in the racial complexion, quite literally, of public housing residents coincided with the boom in American suburbs," said Owen Gutfreund, director of the Urban Affairs program at Hunter College.
At the same time, advocates argued that subsidized housing should go to the neediest residents, said Bloom. "Emergency cases or the homeless, moved up the (NYCHA) waiting list very quickly and moved into public housing very rapidly."
By the 1960s, NYCHA had made it harder for higher income tenants to stay and easier for the poor and homeless to enter public housing. In 1961, rent was capped at 25 percent of a tenant's income.
But nothing did more to change life in New York public housing than a 1971 lawsuit brought by a couple evicted for keeping a dog illegally. The resulting consent decree, known as Escalera, tied NYCHA's hands by making it difficult to evict tenants who broke NYCHA rules.
One housing official told Fritz Umbach, a specialist in criminal history of New York and professor at John Jay College, that with this ruling "they couldn't even evict Jack the Ripper."
In the '70s and '80s, as the drug epidemic gripped the projects, crime in NYCHA exploded, and the stereotype of the projects as dangerous was cemented in the public's imagination.
But some experts were quick to point out that welfare tenants weren't necessarily more likely to commit crimes than paying tenants — it had just become harder for the community to police itself.
The culture at NYCHA was also changing. Growing up, members of the Alston family remember fearing fines from the housing police for minor infractions like playing ball on the grounds, walking on the grass or stepping on the benches. NYCHA police could also fine tenants for hanging their laundry out to dry or poor housekeeping.
But by the 1980s crime in NYCHA spiked "ferociously," Umbach said. "And the police force and the residents begin to go their separate ways."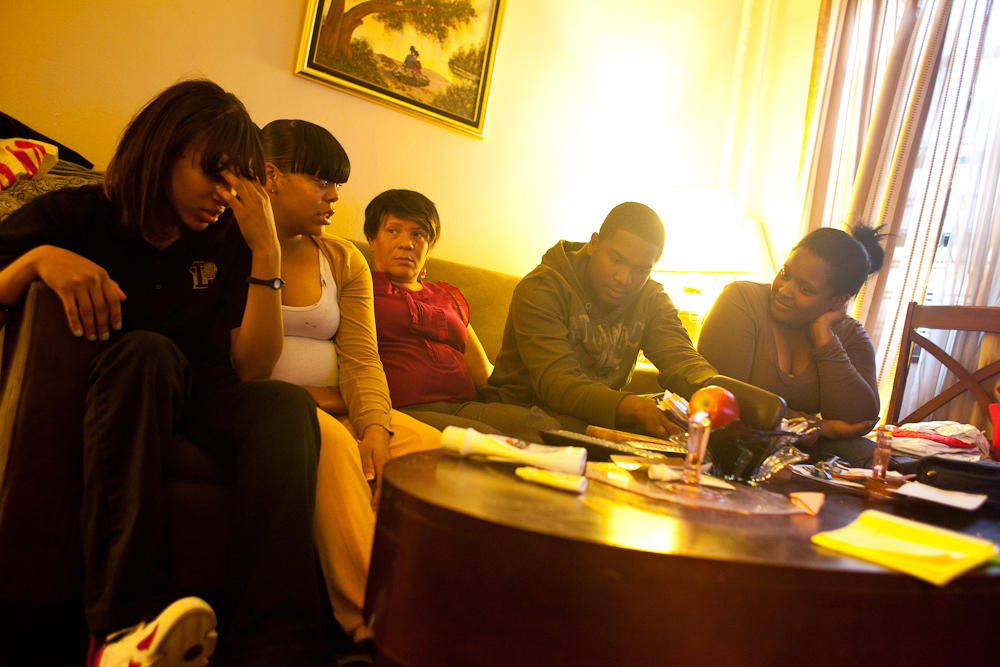 Patricia Alston, center, with her family in Virgie Alston's living room. Stephen Nessen/WNYC
Crime Plagues the Alstons
"This whole neighborhood just turned into hell," said Patricia Alston, 55, one of Virgie's daughters. "We all playing and all of a sudden we can't go to certain areas, we couldn't go to the avenue anymore. Literally, we saw people overdose on the bench outside."
Many Alstons succumbed to drug addiction too. Virgie and her husband said they didn't know much about drugs—but they knew when one of their children began acting strangely.
"That drug business that was the worst time in my life tell the truth. It was the worst," Virgie said recently. "You can tell when there's a change in your kids. All you do is say a prayer and keep talking to them, is all I can do."
And one by one—the Alston boys all got arrested.
Chick, the oldest brother was the first. In the mid 1970s, he was charged with manslaughter after a scuffle that ended in violence at the Astoria Houses, several family members said. The police did not confirm specifics about Chick's arrest record.
Eventually, six out of the seven Alston boys served time for various crimes — many involving drugs.
"How did it go from just how nice it was to everyday fighting in the house because my brother would be nodding on the floor." Patricia said. "And my father would be like, 'Get out of here with that in front of these kids.' "
Crime soared in public housing from 1985 to 1991, the peak of the crack epidemic. And this spike was, some experts say, a result of major changes to NYCHA's ecosystem. In the 1960s and 1970s there was an informal economy for things like lunch services, baked goods and auto repair. But in the '70s and '80s this became less profitable.
"Suddenly there are fewer opportunities for this gray market activity, and there's all this money to be made from dealing drugs," said Umbach.
Umbach doesn't believe it was the architecture that contributed to the proliferation of drugs, but rather the social dynamics of having fewer residents with full-time employment. And according to members of the Alston family, a quick buck, the latest sneakers and fast cars were also part of the allure.
NYCHA doesn't keep crime statistics anymore, and the police don't keep statistics for specific housing projects, but this year a child was shot in the hand while doing her homework at Queensbridge. And when gun shots rang out in Queensbridge this summer 83-year-old Virgie dropped to the ground outside the Jacob Riis Community Center.
As for Karen, who battled drug addiction and is now clean, she's retired from her job at Queens College and has a son who is a recent graduate with a Master's degree. She says she sees no reason to leave.
"I been here all my life—and I have no desire to leave Queensbridge either," she said defiantly.