Newtown Begins to Bury Its Dead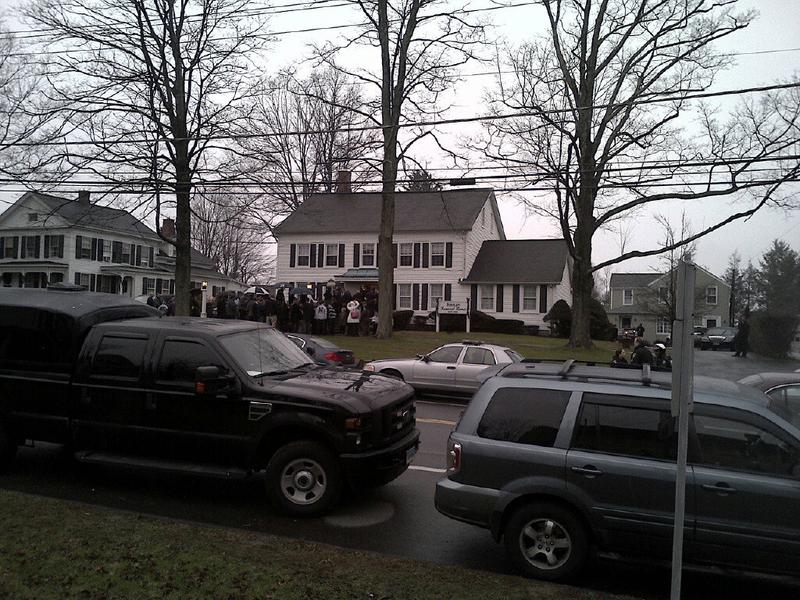 On Monday, the first funerals for the victims of the Sandy Hook school shooting took place. Two six year olds, Noah Pozner and Jack Pinto, were laid to rest.
Around noon, people began filing into Honan Funeral Home for Pinto's memorial service.

A young boy with a tough-guy smile, Pinto is remembered as a serious sports fan. His obituary in the Newtwon Bee says he played flag football, baseball, basketball, wrestled, and snow skiied. Football was Pinto's special passion, and one of his heroes, wide receiver Victor Cruz, honored Pinto on Sunday by writing the boy's name on his cleats.

The large number of small children solemnly entering the funeral home, many of them holding hands with their moms and dads, was a sign that this was no ordinary funeral.

After less than an hour, the service ended, and a hearse took Pinto's coffin to Newtown Village Cemetery.

A steady, light drizzle cast its gloom over the day. Homemade memorials and shrines now dot Newtown and its surroundings. A home-made sign near the cemetery reads simply "PRAY."

Funeral guests mainly managed to avoid the press: the police set up cordons around both the funeral home and the cemetery. The few who were willing to speak immediately drew a large crowd.

Ten-year-old Luke Wellman wore a blazer over a Newtown Football Jersey, and said he was impressed with Cruz's gesture.

"I thought it was really nice how he wrote Jack's name on his shoes," said ten year-old Luke Wellman, to a crowd of at least fifteen journalists.

Wellman said he was friends with Pinto's older brother.