Housing Generations | Life in the Projects: Meet the Alston Family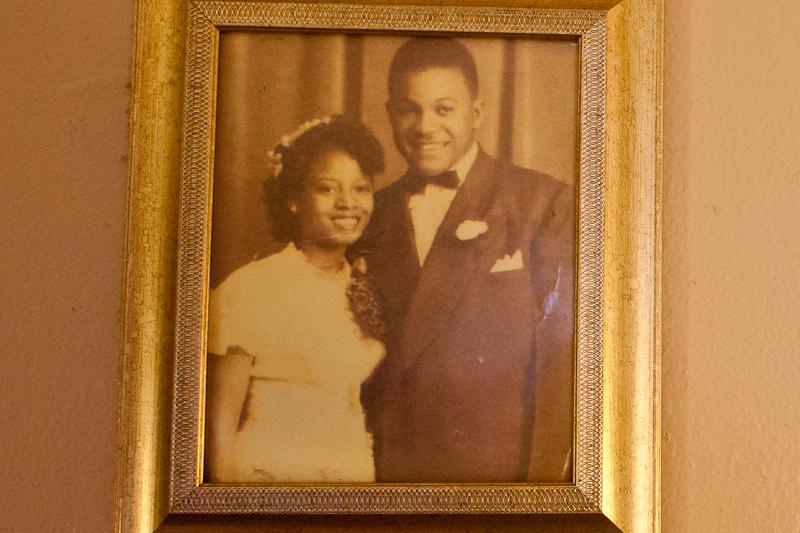 WNYC is telling the story of public housing in New York City through the lens of one family that has lived there for four decades. The Alstons arrived in the Queensbridge Houses in 1954, and many members continue to live there. This is part one of a four-part series.
Chick Alston is sometimes called the mayor of the Queensbridge Houses. He has lived in the sprawling Long Island City public housing development, the country's largest, since he was three-years old. He's 62 now.
The lanky patriarch said that even if he won the lottery he wouldn't leave Queensbridge. Four generations of Alstons live there, including Chick's 83-year old mother, Virgie, the first Alston to step foot in Queensbridge.
"It's hard, but inside there's life," said Chick, in his raspy voice, looking up at the security bars hanging off a red brick building. "Inside the building there's real life. Real families. Real love."
Public housing was built for families like the Alstons: the working poor who could reliably pay rent. It was also meant to be an antidote to the city's filthy and dangerously over-crowded tenements. 
But the Alstons are an anomaly to public housing experts; most families that moved into public housing during the mid-1950s are long gone.
More than 400,000 New Yorkers now live in public housing. Of those, 6,732 call Queensbridge home. Queensbridge is mostly black and Hispanic with an average gross income for residents between $21,000 to 24,000. Most residents stay an average of 17 to 18 years. The average rent is between $405 and $445. 
Chick Alston spends his mornings at the Jacob Riis Community Center in Queensbridge. In the lobby, there is a fading 300-foot WPA mural by Philip Guston called "Work and Play," which depicts basketball players, musicians, a doctor and child and a group of children playing near a slum building being demolished.
"Other than gun play every now and then people can have a good time," Chick said, "It's a beautiful place. The grass. The greenery. The trees. When it's summer time everything lights up."
After lunch, Chick winds down the sidewalk of his youth to meet his kids and grandkids, stops by his brother's cafe to catch up and finally, ends up at his apartment, which he shares with his live-in girlfriend.
"It's not all bad and it's definitely not all good all the time, but it's a balance."
Chick is the oldest of 12 siblings, all of whom were raised in Queensbridge. Four still live there and many of their children are growing up in the complex.
"It's not really about these bricks," said Chick's 26-year-old nephew, Jason, a college graduate who's back in Queensbridge  "It's about a deeper kind of personal experience that develops your character and what you value in life. A lot of things people associate with the projects — it's not always true."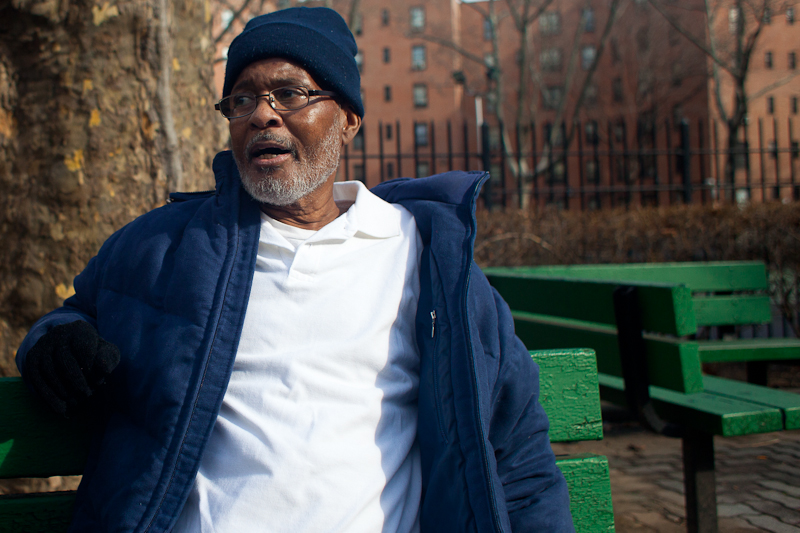 Chick Alston, sitting outside the Jacob Riis Community Center at the Queensbridge Houses Stephen Nessen/WNYC
"Tear Down the Old!": The Birth of Public Housing
The New York City Housing Authority (NYCHA) was established in 1934 before there was a federal housing program. It pledged to create housing for the so-called "submerged middle class," or as some say, "the working poor" who were stuck in decaying tenements. It was also seen as a job creator, providing 3,000-4,000 jobs at four housing projects, each in a different borough, according to reports at the time.
The first public housing was built in the Lower East Side in 1935, an experiment with 123 apartments called First Houses. Before the old tenement there had even been demolished, the New York Times reported 3,000 people had applied for apartments.
Early public housing was modeled after Europe's post-war housing programs with their use of eminent domain, low-cost uniform buildings and the notion that housing was a tool for rebuilding cities.
Mayor Fiorello LaGuardia, a child of Italian immigrants, saw public housing as a public service, like water or mass transit: a city's obligation to its citizens. And in the early years, it was self-supporting, mostly paying for itself and only using government subsidies for purchasing land and construction costs, but not for operating or maintenance.
LaGuardia took to the airwaves in October 1938 to press his agenda for clearing out what he said were the slums of Manhattan and to drum up support for more housing projects.
"Tear down the old, build up the new!" he barked on WNYC. "Down with rotten antiquated rat holes! Down with hovels! Down with disease! Down with firetraps! Let in the sun! Let in the sky! A new day is dawning. A new life. A new America."
A year earlier, Congress had passed the National Housing Act in an effort to create jobs through the construction of homes and to build safe housing for urban and rural communities. Congress wrote the decaying housing stock was "injurious to the health, safety, and morals of the citizens of the Nation."
Construction at Queensbridge began in September 1938 on 61 industrial acres surrounded by old factories. There was not much of a neighborhood in Long Island City at the time so there were few residents to complain about demolition — just vast cheap land for architects to build on.
Queensbridge was completed a year later—just in time for the 1939 World's Fair, where visions for the future of cities were presented.
NYCHA hoped visitors would be inspired by the 26 Y-shaped buildings as they crossed the (Ed Koch) Queensboro Bridge on their way to Flushing, Queens.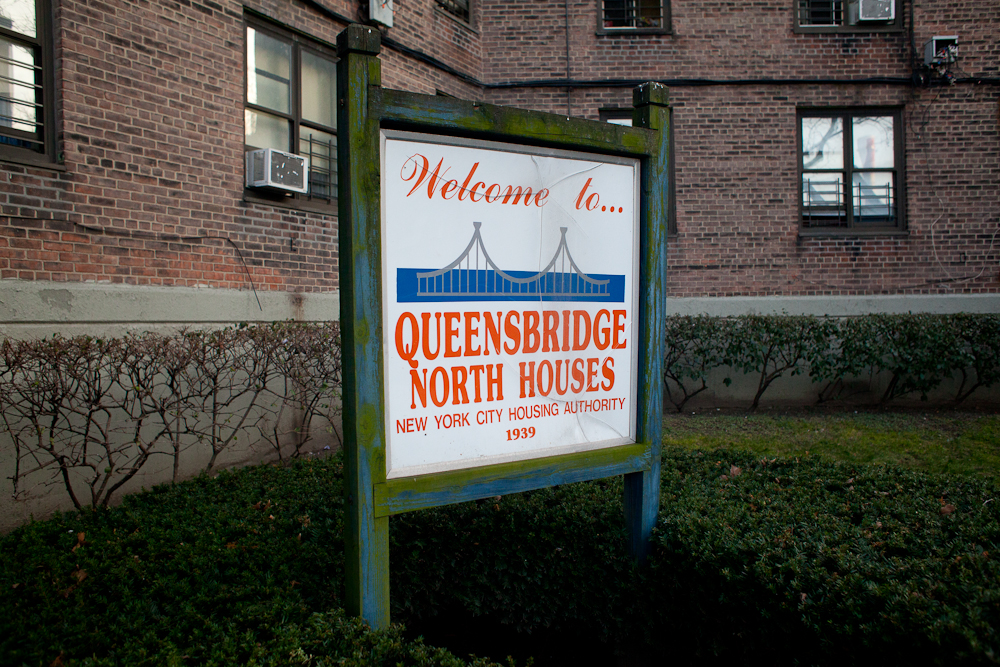 Queensbridge was meant to be a model for the future of public housing.
What they saw then is pretty much what can be seen now: from overhead, Queensbridge looks like a honeycomb with patches of green between the buildings. There is a warren of six-story brick apartment buildings, flanked by the East River to the west and bookended by the bridge looming to the south and a power plant with red and white smoke stacks to the north.
When it opened, rents ranged from $4.55 a week for 2-1/2 rooms to $5.90 a week for 6-1/2 rooms and included gas, electricity, heat and hot water.
Queensbridge was completed under budget by cutting back on amenities like closet doors and by using asbestos tiles instead of wooden floors, according to Nicholas Boom, a professor from the New York Institute of Technology, and author of Public Housing That Worked: New York in the Twentieth Century.
"The buildings are identical across the entire project, also reducing cost," Bloom said. "And thus allowed for there to be more units on site, while still preserving what the housing reformers wanted, which was abundant open space, modern conveniences for apartments, such as central heating, which was lacking in tenements that came before."
There were also elevators in the buildings—things most working class residents never had before in New York. 
In the early 1950s, when the Alstons arrived in Queensbridge, Virgie's oldest son, Chick, said he'd never seen such diversity before.
"I've seen people of other color, you know, whites and Chinese, on TV, but never personalized, living in the same building," he said recently. "We lived on the same block, same building, same floor sometimes." 
Establishing Roots
Chick's mother Virgie, 83, was part of the Second Great Migration. That brought 1.5 million rural blacks from the south to the northern cities, according to a report by the Schomburg Center for Research and Black Culture.
In 1946, she left the tobacco and cotton fields of Henderson, N.C., for a crowded fifth-floor walk-up in Harlem where her grandmother and other relatives lived. She was 16-years old.
"When I first came to New York I hated it," she said with spit-fire quickness and a drawl that revealed her southern roots. "I said, 'How can anybody live here—everybody on top of one another?' I really hated it when I first came here."
Virgie met her future husband, Walter, a distant cousin, during her junior year of high school. "I guess it might've been love at first sight for him," she said. "I had no intention of marrying this boy from North Carolina in the country."
But a year later, at the start of her senior year, she dropped out to marry him. He was charming and they had fun together.
By 25, Virgie had three kids and needed to get out of the four-bedroom apartment she and Walter shared with her grandmother. So, they applied for public housing.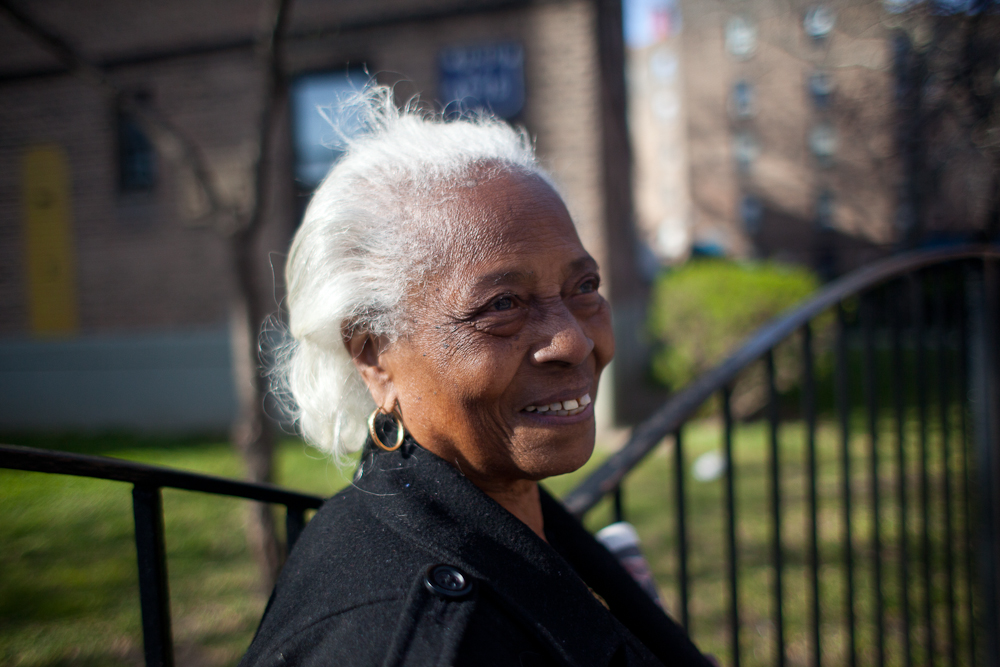 Virgie Alston, the matriarch of the Alston family Stephen Nessen/WNYC
In 1953, NYCHA had started filtering potential tenants based on "desirability." These were 21 items that could be used to reject applicants for such things as having out-of-wedlock children, being single parents, poor housekeeping, lack of furniture or for having an "irregular work history."
Virgie only remembers having to prove she was married. These 21 requirements were abandoned in 1968. Virgie's application was accepted. She'd had never been to Queens before, but she was ready to leave Harlem.
The Alstons paid $37 a month for a two-bedroom apartment. Walter worked two jobs, cleaning buildings and cooking at a fish-and-chip shop in Manhattan. Virgie continued to care for her expanding family.
But under pressure from advocates who believed state-subsidized housing should only be for the very poor, NYCHA began evicting tenants whose annual income exceeded $3,000 in 1947. This meant more space for lower income residents in public housing.
Meanwhile, with the availability of suburban housing for whites, which often discriminated against black homeowners, many fled the neighborhood in what became a trend of migration of whites from urban centers, known as white flight.
Soon, as more working class white residents left, poverty in public housing became concentrated and Virgie's family would be shook by the changes.
By the late 1950s, public housing was also becoming stigmatized.
What had gone from a solution to the housing crisis of the time, was quickly becoming its own problem in need of a solution.
Many of the social problems that come with disrupting stable communities with a flood of new residents set NYCHA on an unsteady course.
In 1957, a city investigation of NYCHA noted "heavy vandalism" in 20 percent of NYCHA's buildings. The Daily News also published a series of articles at the time, sensationalizing the crime and management of NYCHA.
Yet still for many, the close-knit structure of the housing development was conducive to building a sense of community among residents.
Fifty-eight years after she moved to Queensbridge and 12 grown children later, Virgie's home is still where Alstons converge.
Virgie still cooks dinner for family and friends on Sundays. On a recent evening, her cramped living room was cacophonous with the sound of her children and grandchildren watching TV, playing cribbage, cell phones ringing and laughter, lots of it. 
"You very seldom find this house quiet," she said.