Area of Expected Flooding Rises for NJ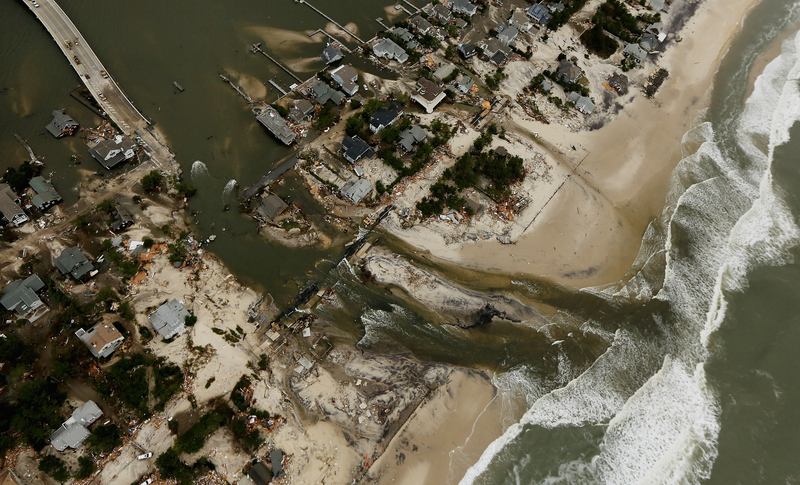 New flood maps for New Jersey predict water levels to climb several feet higher than previous estimates when major storms strike the state.
The updated information raises the elevation at which flood insurance becomes cheaper for residents and businesses planning to rebuild after Sandy.
The new maps produced by FEMA in collaboration with the state depict flood hazards across 1,800 miles of coastal tidal zones in ten counties: Atlantic, Bergen, Burlington, Cape May, Essex, Hudson, Middlesex, Monmouth, Ocean, and Union.
These maps show how high water is expected to rise due to a so-called 100-year event. That means a storm that has a one percent chance of happening any given year.
The new maps were already being made when Sandy hit the region in October, but FEMA expedited the process in response to the storm. Ryan Pietramali, a Risk Analysis Branch Chief at FEMA, says elevations will be three and a half feet higher on average for these counties, with most elevations increasing by one to five feet.
It's the first time these maps have been updated in more than 20 years. Pietramali said advances in science help give a more accurate picture of risk that was always there, but may not have been documented.
"Obviously we're not driving the same cars we were driving with the same technology 20 years ago," he said. "The science has changed on the way we understand coastal hazards. We've also been able to update the topography these maps are based on."
FEMA analysts looked at 60 years worth of storm data when revising the maps. Bill McDonnell, Deputy Hazard Mitigation Branch Director for FEMA, said that data did not include an analysis of Sandy's effects, but it did include a look at the effects of hurricanes "substantially similar to Sandy."
Pietramali says the new maps should help New Jersey residents make decisions about where and how to rebuild after Sandy. He stressed that building above the new elevation lines will save people money on flood insurance.
"Construction in coastal areas needs to withstand damaging wind and waves," he said. "It's important that property owners and business owners should check with local building officials to fully understand any requirements for using advisory based flood elevations in rebuilding."
Raising the flood elevation increases the number of people who would be required to purchase flood insurance. Had these revisions been made before Sandy hit, it's likely that more New Jersey residents would have had flood insurance, and would have been covered for damages sustained from the storm.