Last Chance Foods: A Whole Latke Love
Hanukkah celebrations wrap up this Sunday, which means that there's still time this weekend to celebrate the Festival of Lights with fried food. Einat Admony, the chef of Balaboosta and Taïm, says now is not the time to quibble over the healthiness of fried food.
Instead of worrying about baking latkes or donuts, she recommends focusing on providing healthful sides and compliments. "I think you should balance it with other things, with fresh salad or fresh something else," said Admony. "Yes, you eat fried falafel for example, but you have whole wheat pita, if you like the pita. And then you have a beautiful vegetable salad. I think it's all about the balance."
Admony explained that basic latkes are made with grated potatoes, grated onions, flour, eggs, and seasoning. "Some people actually grate the potato into a bowl of water, and I think that's in order [for the potato] not to get darker," she explained. Admony prefers not to do that, however, because she says the water dilutes the starch, and more flour and eggs have to be added to make everything stick together.
To avoid having the potatoes oxidize and change in color, Admony relies on speed. "You need to do it fast," she said. "So the minute you grate the potato, you will put [in] like eggs right away, and the onion and the flour. So you mix it. and then you need to fry it right there."
That's particularly the case when making latkes with sunchokes. "It's one of my favorite vegetables," she said, adding that the results taste like artichoke latkes. "The problem with sunchoke is that is oxidizes pretty fast. So you need to work it even faster than you work with potatoes, but the taste is great." She also cautioned that peeling sunchokes can be a laborious task, so it's not the best for larger parties.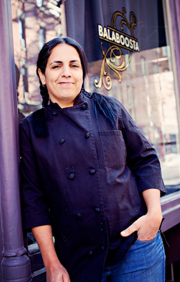 Admony has also made latkes using vegetables like carrots and beets. For this year's Latke Festival at the Brooklyn Academy of Music, she made potato, yam, and carrot latkes and served them with honey, preserved lemons, and yogurt sauce (recipe below). "There is a little bit sweetness but there is a lot of intensity from the preserved lemon that give all the flavor," she said.
(Photo: Einat Admony/Courtesy of Einat Admony)
Admony generally prefers a savory latke, though, and says that the tradition of serving applesauce as a topping is not common in her native Israel. "Latkes, for me, with applesauce is always a little bit weird," she admitted.
That's not to say she's not willing to compromise to appease the masses, however. "This year, I actually grated Granny Smith [apples] into the latkes," said Admony. "I said I'm not going to serve it with applesauce but I'm going to put the apple inside the latke recipe."
When it comes to making latkes, though, there are certain processes Admony does not recommend modifying. For instance, latke makers should just anticipate spending much of the celebration standing next to the stove making freshly-fried pancakes. "You can do some ahead and then heat it up in a very high temperature to get the crisp back but I don't think it will ever be the same," she said. In the past, even for private events, Admony has simply had guests gather around her while she fries the latkes. "I think it's the only way," she said with conviction.
Here's the recipe Admony used for this year's Latke Fest.
Potato, Yam & Carrot Latke with Honey, Preserved Lemons & Yogurt Sauce
by Einat Admony, chef and owner of Balaboosta and Taïm
1 cup grated potato
1 cup grated yams
1 cup grated carrot
1 1/2 cup grated onion (after having the liquid squeezed out)
1/2 cup grated peeled granny smith apple
1 egg
1tbs chopped thyme
4 tbs AP flour
1 tbs salt
Pinch black pepper
Pinch sugar
Canola oil
Method:
Mix all in a mixing bowl.
Heat up sauté pan with 1/2" oil.
When the oil is hot, around 370 degrees, create a 2-inch patties and fried them on both sides until they are golden brown.
For the yogurt sauce:
Simply mix chopped preserved lemons with enough honey to balance out the bitterness. Gently fold in plain yogurt until you have a homogeneous mixture. You can add turmeric for color if you wish. Season with salt and pepper. Dollop on your lovely little latkes and let the holiday feasting begin!