Climate Change Fears Meet Development at the New Hudson Yards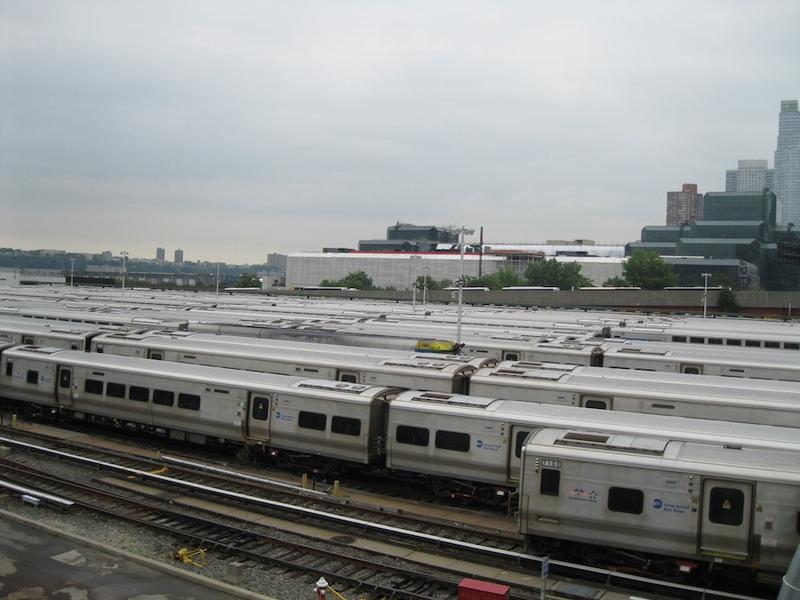 It's not easy building over the West Side Rail Yards in Manhattan.
Used for storing Long Island Rail Road trains in between their runs to and from Penn Station, the rail yards, formally known as the John D. Caemmerer Yard, were redesigned in the late 1980s to accommodate a platform above them that could hold buildings.
Madison Square Garden even flirted with moving there back then, according to a history of the site by the Metropolitan Transportation Authority. Then came Mayor Michael Bloomberg's plan for a football stadium, a second proposal by the Garden that threatened to thwart that plan, and then a series of fits and starts as the economy sputtered. Finally,  the Related Companies broke ground last week on the first of several office and residential buildings that will one day cover the 26-acre area between 30th and 33rd streets, 10th and 12th avenues.
Except—what about Sandy?
The West Side Rail Yard flooded during the storm and is partially located in a 100-year-flood zone and the city's Evacuation Zone A, which was evacuated during Sandy.
According to Related, the towers above the platform will be located 40 feet above sea level. But Klaus Jacob, special research scientist at the Lamont-Doherty Earth Observatory of Columbia University, has another concern: the trains underneath. Generally, he says, infrastructure such as train yards should be designed to last hundreds of years. And these days that means taking steps to plan for rising sea levels.
"It will be almost inevitable that they will have to raise those tracks," Jacobs said, "or abandon them for their original usage, which is always an option. But then the question is, where do they store their moving stock?"
Jacobs, who has consulted for the MTA about climate change, fears that by building a deck over the rail yard, the authority is literally putting a ceiling on how high the train tracks can go.
An MTA spokesman, Kevin Ortiz, said in an email that the Long Island Rail Road is "hiring a consultant to study the hardening issue to see what can be done in the future."
This is where the slow pace of development of the site might come in handy. The first office building, at 30th Street and 10th Avenue, is going up on terra firma. The platform over the rail yard will come later, and will depend on the market demand for office and residential space.