Learning From Irene, Lessons Guide NY Officials on Sandy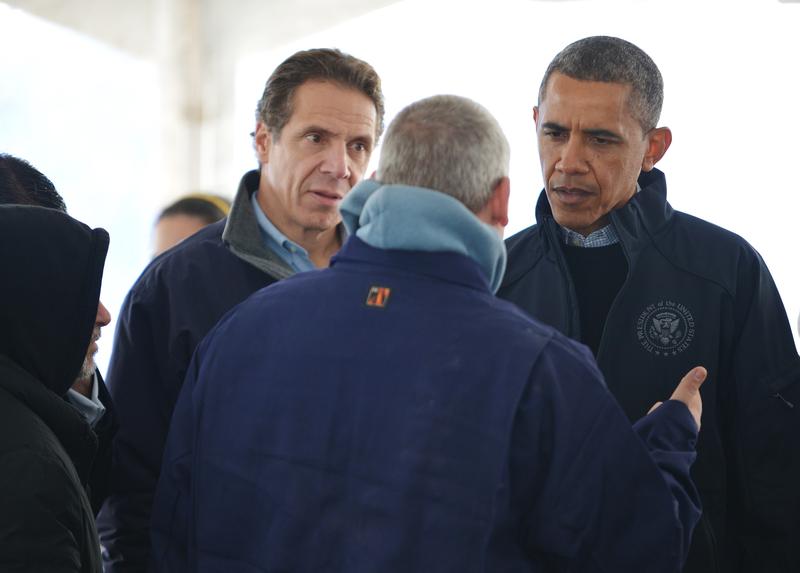 Despite its relatively small cost ($1.3 billion awarded so far in federal aid for the double wallop of Irene and tropical storm Lee), the experience of going through Irene is giving New York's state and federal officials a leg up on Sandy recovery efforts. It's also helping them to manage expectations.
New York is poised to receive a portion of the $60.4 billion in funds from the federal aid package President Barack Obama put forth to Congress.
But state officials, Congressional sources and FEMA personnel say that New Yorkers should expect fully financing the recovery process to take months or years, not days or weeks. Officials estimate that New York is still waiting on approximately $200 million in federal aid for Hurricane Irene.
There are many differences that separate Sandy from Irene, not least of which is the pure scope of damage: the state's initial estimate for Irene was $1 billion in damages, versus the $42 billion cited by Cuomo for Sandy. Still, some the state's Irene experience held lessons now being applied to Sandy.
For example, after Sandy the state sought and obtained $30 million in emergency transportation funding from the federal Department of Transportation, which is outside the FEMA process and is available immediately.
That wasn't the case with the state applied for reimbursements during Irene.
"For a [transportation] project like that, the clock doesn't even start running on the reimbursement unless you have a special arrangement to advance the money, until six months has gone by," said a Cuomo administration official with direct knowledge of the state's recovery efforts for both Irene and Sandy, referring to the typical FEMA process.
The official said "there are thousands" of local projects upstate still looking for Irene reimbursement and said state officials now have better relationships with many of their federal counterparts "in part, sadly you could say, it's because of Irene and Lee."
"It becomes much harder to keep a focus on reimbursements and federal assistance the further the storm is in the rearview mirror," the source added. "We were much more aggressive this time around seeking federal funding sources up front."
Regional lawmakers are also well-rehearsed in the debate over cutting other federal aid to offset disaster relief. This year fiscal cliff talks provide the backdrop. Last year, it was Obamacare.
"They said…'You don't get disaster aid, Northeast, until we make the similar amount of cuts to what you propose to spend to Obamacare,'" said one New York congressional aide. "Even Republicans at that point, who had [states that had] been hit, said, 'Wait a minute. That's disgusting. Enough is enough.'"
Another lesson from Irene is that many homeowners found themselves caught in the gap between the maximum FEMA would provide and their private insurance payout. This is leading some federal lawmakers, like Senator Charles Schumer, to seeking flexibility for Sandy funds.
The White House's appointment of Shaun Donovan as a regional director is also a step in the right direction, according to Michael Byrne, who's leading FEMA's response in New York.
"The president's direction and creation of putting a cabinet-level secretary—Shaun Donovan in this case—in charge of that longer-term, coordinated, multi-state recovery program is going to be a big help to make sure that all of the other agencies that can contribute, as well as the private sector—insurance companies and the voluntary agencies—to get everybody to coordinate together," he said. "FEMA's going to be a big support piece for that, but we're certainly not in it alone."