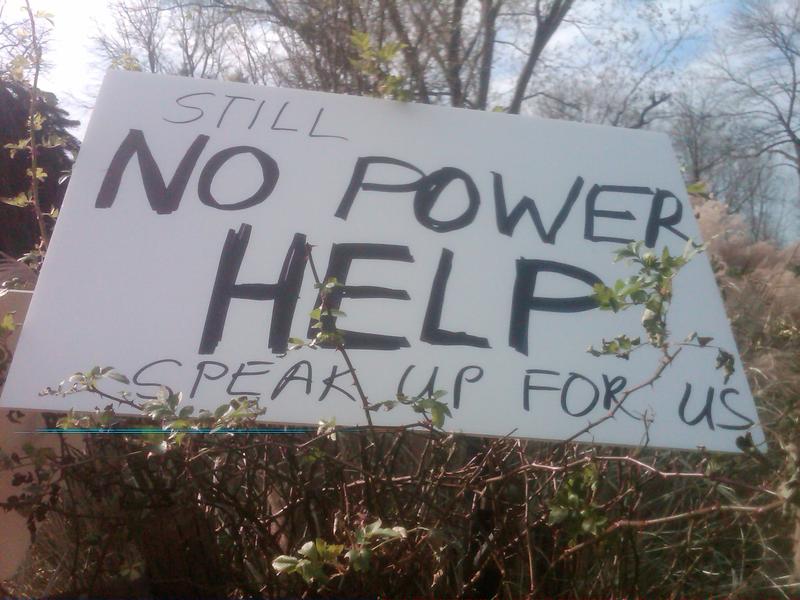 More than a hundred people turned out Monday night in Basking Ridge, New Jersey, at the first of a series of public hearings by the state's Board of Public Utilities, as part of a review of how the state's power companies handled Sandy.
Most complaints zeroed in on Jersey Central Power & Light's communications with local officials and homeowners. Chester resident David Tourville described one of many calls he made to the Ohio-based utility.

"And I said I saw something that I thought I never would see in America, but I did in Chester, New Jersey," Tourville told the BPU and JCP&L President Don Lynch. "I saw school children stepping over downed wires to get on a school bus. It's not as if JCPL didn't know they were there. We called them for ten straight days."

Lynch, JCP&L's top executive, defended the utility's response to Sandy, which he said caused unprecedented damage to the utility's infrastructure.

Anya Hill-Gill, headmaster of the Purnell School, a girls boarding high school in Bedminster, said since Hurricane Irene school officials have struggled with getting reliable information from JCP&L.

Hill-Gill said the local fire house had no power and the local Office of Emrgency Management had no information that could help school administrators make decisions. "It wasn't until we had several people helping us through the bureaucracy and our elected officials to try and get some response from JCP&L."

Many of the speakers wanted more scrutiny of how JCP&L collected and disseminated power outage estimates which often proved inaccurate but were used by the government and the media.

Hunterdon County resident Charles Joseph was out of power for 16 days.

"I would like to see from the BPU an assessment of this reporting of JCP&L. I think the numbers were self-serving and were essentially a fantasy."
 
Several local officials referred to an independent study done by the BPU after Irene and the 2011 Halloween blizzard that identified all of the issues that surfaced in Sandy's aftermath. The BPU is currently considering a 1.4 percent rate hike from JCP&L to cover pre-Sandy storm damage.

Additional hearings will focus on the performance of the state's other utilities. The next hearing is December 12 in Ramsey and will focus on Orange and Rockland's post-Sandy response.