With Bellevue Psychiatric Unit Offline, Mentally Ill Face New Challenges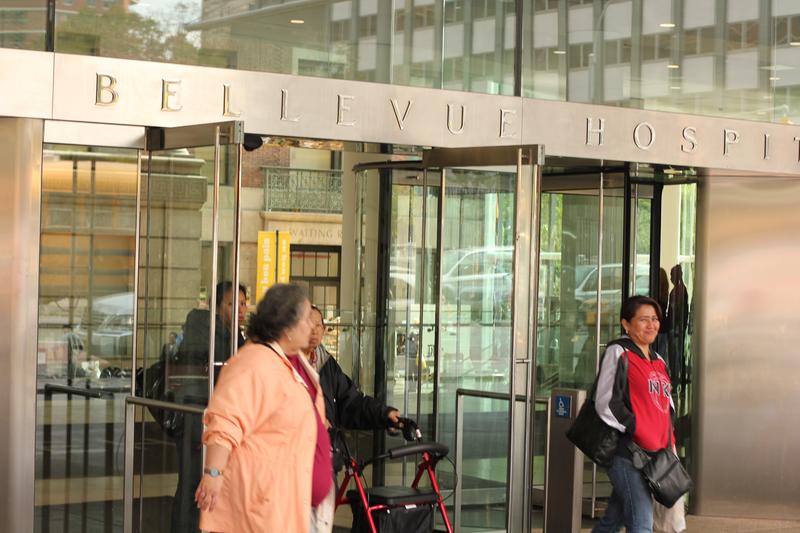 The closure of Bellevue Hospital during Sandy has sent patients from New York's flagship public hospital to facilities around the city and beyond. Many are receiving treatment relatively smoothly, according to various accounts. Doctors, patients and administrators have extolled the hospitals' creativity in getting care to people who need it. 
But the temporary shut-down of Bellevue's psychiatric ward—the largest and most famous in the city—is also raising questions about patient care and institutional transparency.
Advocates and family members have expressed concerns about how the patients have been treated at the hospitals where they ended up. They say the mental health system, already squeezed from decades of declining space for psychiatric patients, is struggling to cope with the loss of additional hospital beds when Sandy closed other hospitals as well.
The New York City Health and Hospitals Corporation, which runs Bellevue and 10 other public hospitals, refused to specify where patients went after Bellevue was evacuated or to respond to questions about their treatment.
"All the patients evacuated from Bellevue are being cared for at other facilities and new patients are being treated at other hospitals that have expanded to capacity to meet the community's needs," Samantha Levine, a spokeswoman for Mayor Michael Bloomberg, said in a one-sentence statement provided after WNYC requested interviews with hospital officials.
WNYC was able to partially reconstruct where the initial patients went, based on interviews with mental health watchdogs and officials at private hospitals. Destinations included Metropolitan, Mt. Sinai, St. Luke's-Roosevelt and Beth Israel hospitals in Manhattan; the Bronx Psychiatric Center; Creedmoor Psychiatric Center in Queens; and Kings County Hospital Center in Brooklyn. 
Troubling Report Card
Kings County, in East Flatbush, Brooklyn, is the city's second largest inpatient center for the mentally ill, after Bellevue. It's also perhaps the most notorious, at least in recent years. In 2008, a Jamaican immigrant named Esmin Green died while waiting in the psychiatric emergency room. A videotape captured her keeling over onto the floor, yet staff members ignored her, until they later realized she was dead. Under a 2009 settlement approved by a judge in Federal District Court in Brooklyn, the U.S. Department of Justice and three legal watchdog organizations are monitoring Kings County's psychiatric ward for five years.
The latest periodic report to Judge Kiyo Matsumoto, dated Nov. 16 but based on pre-Sandy monitoring, said Kings County has solved some of the most severe problems that led to neglect of patients, unnecessary use of restraint and excessive violence. But the memorandum also cited persistent troubles.
"The rate of patient-to-patient aggression across both the adult and child/adolescent services has increased," the report stated. "This is in part because [Kings County Hospital Center] still does not adequately consider the potential harm, both to self and others, in the process of developing appropriate individualized patient treatment plans."
The report said the hospital doesn't provide proper treatment to patients and training to staff members to help reduce violence, and doesn't sufficiently follow-up on incidents, when they occur.
Beth Haroules, senior staff attorney at the New York Civil Liberties Union, one of the co-counsels in the lawsuit that led to the settlement, said anyone diverted there from Bellevue, should be especially vigilant, as should their loved ones.
"I would be concerned," Haroules said. "I would be asking a lot of questions about what are they getting? What would they be getting over in Bellevue? How are you maintaining that over here? Did their doctors come with them? What's the situation? Is there overcrowding?"
Haroules said even in the best of times, Kings County's psychiatric unit—like others in the city—is operating close to capacity, which is often part of the problem.
"When we run into problems with the psychiatric emergency room, it's because there's no bed at the inn," she said. "So, when Kings County has to take on additional patients, it's just a bad scene for everyone."
Haroules said since Sandy, weekly reports that the NYCLU and the court system receive from the hospital show there has been an "uptick" in violent incidents there. But she added it's difficult to know whether that is the result of integrating more patients or other factors, such as general stress related to the storm's aftermath, or seasonal distress as the days grow shorter and holidays approach.
Cascading Crowds
The temporary shut-down of Bellevue's psychiatric unit is being felt throughout the city, especially at a time when psychiatric units across the region are shrinking or disappearing altogether.
And it isn't just Bellevue. Coney Island Hospital, the Manhattan branch of the Veterans Administration health system, NYU Langone Medical Center and South Beach Psychiatric Center on Staten Island also closed because of Sandy, depriving the city of hundreds of additional inpatient slots for the mentally ill.
Mary Lee Gupta, a program director at the National Alliance on Mental Illness, said an increasing number of distress calls to the group's local helpline suggest that psychiatric emergency rooms around the city have grown crowded and waiting times have increased.
"The patients who may go there voluntarily will become too anxious in the ER with the wait and may then just turn around and go home," Gupta said. "For patients who are brought there involuntarily, the crowding in the ER's is likely to exacerbate what's already a very traumatic experience."
Many advocates for the mentally ill have argued for long that treating many patients—even with severe mental illness—can be more effective in outpatient settings than in hospitals. But even those who favor less restrictive settings are eager for Bellevue and the other facilities to return online as quickly as possible.
"Acute inpatient beds are tapering downward, and there's a debate about to what extent we need them," said Dr. Hunter McQuistion, director of outpatient psychiatry at St. Luke's-Roosevelt Hospital. "But I'm concerned about their loss in the absence of significant alternatives. It leaves a gap of care in the city, increasing the risk of human suffering."