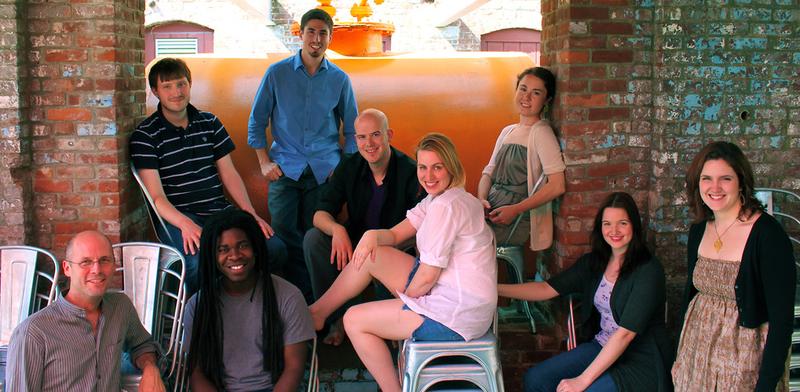 As we begin to wrap up 2012, it's time to take stock of the year in music and select our favorites. Team Soundcheck is presenting some of our favorite and least favorite music and moments from 2012, and to help, we've crafted a series of questions including favorite album, favorite song and most memorable concert of 2012.
We kick things off today with picks from Soundcheck host John Schaefer.
Here are the picks from the Soundcheck staff:
But we also want to hear from you! Fill out Soundcheck's 2012 Music Survey and tell us your picks!
------
 1) Favorite Album Of 2012 -- Roomful Of Teeth, Roomful Of Teeth
An indie-classical vocal octet directed by Brad Wells that sings music written for them by some of the top younger composers in New York, as well as a pair of works written by Merrill Garbus of the band tUnE-yArDs. Fans of Meredith Monk, Bobby McFerrin, Philip Glass, Korean music, Central African yodeling, Tibetan Buddhist chant, and advertising jingles will all find something to love. And fans of all of the above will, um, say it's their favorite album of the year. 
 2) Favorite Song Of 2012 -- Matthew Dear, "Her Fantasy" from Beams 
Brooding but dancetastic, full of lush electronics and Dear's sepulchral baritone, "Her Fantasy" will satisfy those of us who've grown tired of waiting for David Bowie to release some new music. (Watch Matthew Dear on Soundcheck)
 3) Favorite New Band Or Artist Of 2012 -- Alex Winston
This Michigan-bred, New York-based singer came out of nowhere with her album King Con, a record full of dark, catchy indie-pop. This is what Kate Bush might've sounded like if she grew up in the Ozarks. (Watch Alex Winston on Soundcheck)
 4) Biggest Musical Surprise Of 2012 -- Benh Zeitlin and Dan Romer, Beasts Of The Southern Wild film score
Filmmaker Benh Zeitlin and composer Dan Romer combined on this score, which marries Impressionist touches to cinematic grandeur. And as befits a movie set and shot in Louisiana, it's packed with allusions to Cajun music and a couple of actual Cajun recordings. Even while watching the film I couldn't take my eyes of the music. Well, you know what I mean. 
5) Biggest Musical Disappointment Of 2012 -- John Cage's 100th Birthday
This year was the 100th anniversary of the birth of John Cage, the avant-garde composer who as far back as 1939 was incorporating turntables in his Imaginary Landscape. Hello DJs and producers! Didn't anyone think of doing a dance remix of the piece that foreshadowed hip hop by about 40 years?  C'mon, hip hop producers, pull yours heads out of your assets and your bespoke cars and remember why you got into this game! 
 6) Most Memorable Concert Of 2012 -- Tie: Death Grips at Le Poisson Rouge; Philip Glass and Robert Wilson's Einstein On The Beach at BAM
Death Grips, the Sacramento-based hip hop duo, played 45 minutes without a single break or pause during the NPR Music and Soundcheck concert during the CMJ Music Marathon, with MC Ride spitting and barking his rhymes while Zach Hill beat furiously on a small drum kit. I was not a fan beforehand, and would not say I'm a big fan now. But for the duration of their live set I was spellbound by one of the most intense and committed performances I've seen in a long time.
The opera that changed what the word "opera" means, Einstein On The Beach was revived for the first time in 20 years, and realistically, the last time we'll probably see it in the hands of its creators. This Einstein was brilliant. The production looked and sounded great; there was a fair bit of humor that I don't remember being there before; and the five hours absolutely flew by.
7) Music Trend Of 2012 -- The Mainstreaming of Dubstep
Yes, you can say this began last year, because all of Skrillex's Grammy Awards came for music he did last year. But the big breakthrough came with this year's "Too Close," from Alex Clare. An otherwise unremarkable pop ballad, the song is driven by a typically enormous, distorted dubstep bass line. And unlike Skrillex's songs, this one sticks in your mind's ear, especially now that it's been used in its first TV commercial. A door had been cracked, and Alex Clare has kicked it wide open.
 8) Worst Music (Song or Album) Of 2012 -- Rihanna, Unapologetic
There are songs and records out there that have even less "socially redeeming value" (to quote the famed Supreme Court decision on pornography -- which somehow seems appropriate here). But my kids and yours are not hearing them constantly. I liked Rihanna's very first single, "Pon de Replay," quite a bit. And even "Umbrella," though ubiquitous, was a well-crafted piece of pop. But this year's Unapologetic seems to be a calculating commercial ploy rather than the "I am not a victim" cry of affirmation that her handlers would have us believe. For the latter to be true, this album would have to have some heart. Instead, it's all private parts and spleen. Which, believe me, I have no problem with -- most of the time. But getting back together with violent ex-boyfriend Chris Brown was not a mistake -- it was intentional, and it was all kinds of wrong.