Life After Sandy: Shared To-Do Lists in East Village Co-ops and DIY Residents of the Rockaways Pull Together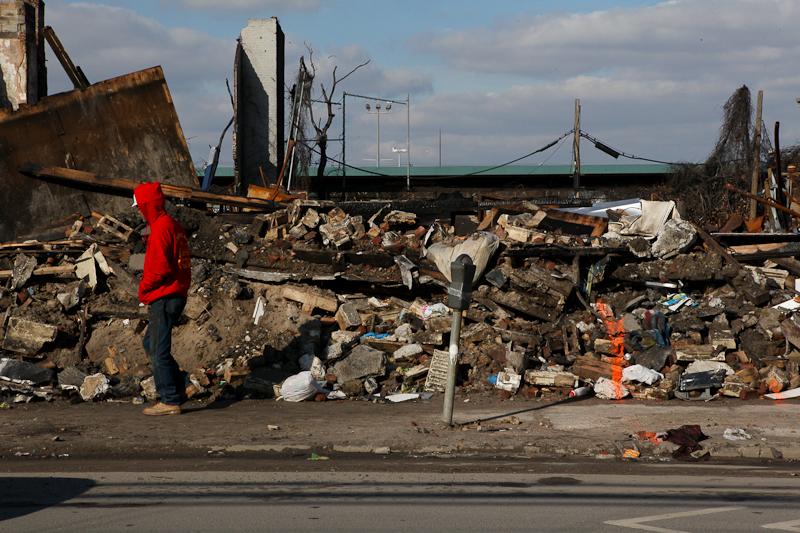 For homeowners of flooded houses along the shores of New York and New Jersey, the post-Sandy to-do list is endless: sort, dry, trash, clean, make calls to the electrician, the boiler guy, an engineer, a mold specialist and, all along the way, document everything for insurance claims. It's a lot for one or two people to manage on their own. And some residents of cooperatively owned buildings in the East Village are finding collective ownership a big advantage. 
On the night of the storm on East 14th Street between Avenues B and C, Tom Radigan and his neighbors gathered on the part of their stoop that wasn't yet under water and watched as a fireboat made its way down their block, headed toward the Con Ed substation." Here we are on East 14th Street watching the boats come down," he joked. "The annual boat parade."
In a New York co-op, residents of each apartment own shares in the building (or, technically, in the corporation that owns the building).
The co-op Radigan lives in lines much of the block between Avenues B and C – six 5-story buildings in total. Many of the co-op's residents bought their apartments in the 1980s, when crack vials littered empty lots and gunshots rang out at night. One of Radigan's neighbors, Carol Kostik, said there's already camaraderie and a can-do attitude but both were rekindled with the flood." We were calling ourselves SOPA, 'South of Power,'" she said giggling.
To the north was "The Emerald City." Though this building is in Zone A, an area of the City officials tried to evacuate, Kostik and her neighbors estimated half stayed. They checked on each other constantly, she said, sharing food, drinks and chats." It's amazing how powerful the homing instinct is," she said.
Among the homesteaders and squats and early co-ops of the East Village, there's an entrenched hands-on tradition. So owners in the E14th co-op didn't just help each other, they also did what they could for the building. When Leslie Tucker and her immediate neighbors saw the water rising toward the top of their stoop, they filled plastic bags with towels they soaked in the flood water to block the water at the front entrance. After the water receded, they unloaded their basements together. Around the corner and a few blocks down Avenue C, Jill Woodward lives in a much smaller co-op. She says with only nine apartments, responsibilities have been floating from one to the next.
Immediately following the flood, "My husband lost a week of work," she said, "But now he's back at work and we have other members that don't have a job right now. So that is actually helping." Woodward said, after all the collective hustling and manual labor, her building-mates are closer.
"Now we've all rolled our sleeves up together and taken nasty trash out to the sidewalk," she said. "I don't want to say we're one big happy family but we do know each other better at this stage."
No co-op is one hundred percent harmonious. Neighbors along these blocks have described dysfunctional moments on the road to recovery: a co-op board that took several cold days to vote on whether to fix or replace a broken boiler, buildings where all the work fell onto only a few residents, co-op members hotly debating whether mold is or is not a problem.
East 7th Street resident Simin Farkhondeh said Sandy brought both teamwork and tension to her 24 unit co-op.
Farkhondeh said, "That night, so many people came together on the street in front of our door … I'm so and so .. which floor! That was the catalyst." 
Since Sandy, Farkhondeh says, newly active shareholders have rejected the Board's plans to take out a large mortgage in hopes of instituting more do-it-yourself approaches: maybe peer to peer lending? How about we paint the hallway ourselves? There are obviously some new tensions in the building, Farkhondeh says. But she argues Sandy and its aftermath served as a reminder that co-op stands for cooperative.
Farkhondeh said, "We have to share in those situations. And then the beauty of working together comes out. And people see oh, it's pleasurable! If we can create positive experiences around community, it's really very worthy."
---
DIY in the Rockaways
Another community we're following that was hard hit by Sandy is The Rockaways. On a 6-block stretch on the peninsula the task of replacing sheet rock and water damaged floors is well underway. While insurance claims and FEMA payouts are pending neighbors are helping neighbors ease the burden of rebuilding.
Bob Gates' friends jokingly refer to him as the mayor of the Rockaways. The 58-year old firefighter will celebrate his 25th year onRockaway Beach Boulevard, a street with dozens of small businesses and 2-story clapboard homes that sit a block from the ocean, like Gates'.
Video produced by Jennifer Hsu
During Hurricane Sandy, floodwaters rose 6 feet, ruining the first floor of his home and destroying his rental in the back. Gates' flood insurance expired 5 years ago, but he isn't waiting for his homeowner's insurance to come through. He's gutted the place and is making it livable again.
"Fortunately, I had some money saved for a rainy day, and whatever I get I get, hopefully it'll cover the materials, and I'll take care of the labor," he said. "I got friends." (Photo right: Bob Gates Jennifer Hsu/WNYC)
Friends like James Hoffman. With putty knife in hand he slabbed another coat of spackle in Gates' kitchen. "Yeah we help each other, it's what you gotta do in this neighborhood--stick together, help each other," Hoffman, 50, said. The bridge painter has been going home to home helping all his Rockaway pals.
A few blocks down is a row of burned out buildings—17 in total, with little left but the foundations. A backhoe sits idle in one lot, which has already been demolished. Overhead power lines dangle precariously on this block, but aren't live. Hanging from the charred security gate of one building is a pink neon sign informing customers of the "Europian Beauty Salon" that it's been temporarily relocated to 116th Street.
The only shops open on this stretch between 111th Street and 116th street are bodegas, hardware stores and a lone salon called Beauty and Spa.
A TV in the corner plays the soaps and there's a wall of nail polish. Everything is new.
The owner has taken in half a dozen hairdressers from nearby salons that are still closed. It's like a Rockways Hairdresser all star team.
The salon was flooded during Sandy, but the owner Michael Badalove, 33, used credit to replace the chairs and supplies. "Listen, people want to feel more better—want to do their hair, manicures pedicures, more relaxing, forget about stuff that is happening," he said.
Beauty and Spa has only been open a few weeks and on a recent Wednesday the shop only had 2 customers. Outside it's still a disaster site. National Guard Hummers cruise by, and utility trucks kick up large plumes of dust. Badalove admits most of his regular customers aren't back, but he has had some surprising customers.
"Construction people, only they come now, they bring business," Badalove said. Men's cuts are $10. "Nothing fancy. Ladies—no ladies—only boys, guys, men," he said.
The landlord is giving him a break, and isn't charging rent. And Badalove is giving local hairdressers a break—taking in veteran salonists like, 67-year old Richard Blanck. (Photo right:Richard Blanck Jennifer Hsu/WNYC)
"Cut, blow, set style, perm, I do wigs, hairpieces, I don't do makeup, but other than that I do mostly everything," Blanck said.
This is Blanck's first day back to work, and his first day coming out of retirement. "I was very happy being home—but now I have to rebuild my home—so I need money—so I have to go back to work—not such a bad thing, but you have to go back to work in order to survive."
Like the firefighters at Gates' home pulling together and rebuilding each other's homes—Badalove is putting salonists in the area back to work. One business at a time. One home at a time. Rebuilding in the Rockaways continues.
A burned out salon that has relocated nearby until the owners find a new location (Stephen Nessen/WNYC)