Bloomberg's Waterfront Development Comes Under Scrutiny from Sandy's Impact
When Mayor Michael Bloomberg rezoned Brooklyn's Greenpoint-Williamsburg waterfront in 2005, most of the attention focused on the height of the proposed buildings, and how the subway system could cope with hundreds of new residents.
Then Sandy struck in late October, and it turned out those new buildings were in evacuation Zone A and faced the threat of flooding.
At one of the new complexes, The Edge on North 6th Street, the storm surge from the East River came awfully close.
"The water rose to within a foot of our building grade but never to where the water penetrated the building," said Jeff Levine, chairman of Douglaston Development, the developer of the 30-story condominium complex. "We were extremely lucky. I would love to tell you that we were brilliant and spared no expense, but that would make me a liar." 
Still, Levine thinks that his—and Mayor Bloomberg's—efforts to turn the city's formerly industrial waterfront areas into gleaming residential neighborhoods still makes sense, despite the potential for more storms like Sandy.
"I've never had a second thought about populating Zone A areas because generally the water is a wonderful attraction, and you want to build where people want to live," he said. "We have limited areas that have very good public transportation, in the form of subways buses, ferries, etc., and I think we need to take advantage of that."
All new buildings constructed in federally designated flood zones have to conform to special regulations, which stipulate the first floor be above the expected 100-year-flood level. Also, builders are supposed to protect utilities and electrical equipment from flooding, generally by elevating them. The city's evacuation zones roughly correspond to the federal government flood zones, though not entirely.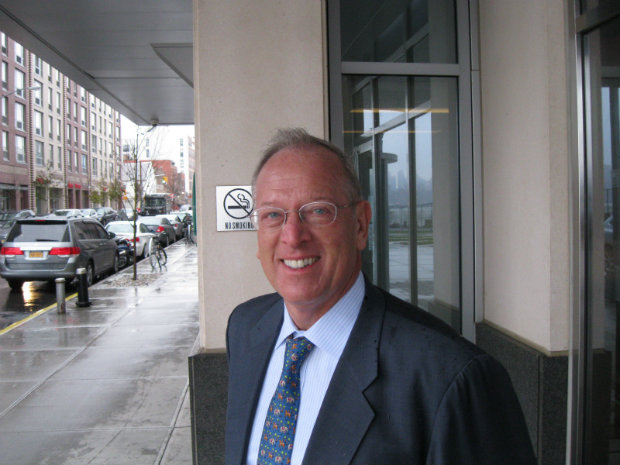 (Photo: Jeff Levine, chairman of Douglaston Development, believes in waterfront development despite the possibility of more Sandy-like storms. Matthew Schuerman/WNYC)
In Williamsburg, Levine used landfill to raise his property to the maximum allowable height, keeping it at an equal grade with Kent Avenue, the first street inland. He also put the building's generators on one of the roofs—although it turned out he didn't need to use them.
City officials have been reviewing zoning and building codes since Sandy to see if changes are needed. But the Department of City Planning says initial evidence points to the success of current building regulations.
"New buildings built to modern code requirements are much better equipped to survive coastal flooding than the buildings of a century ago," the department said in a statement.
Williamsburg-Greenpoint is just the furthest along of four waterfront areas rezoned under Mayor Bloomberg that are fully or partially considered Zone A, which means they would likely be evacuated in a hurricane. The others are Hunters Point South in Queens, Coney Island in Brooklyn and Manhattan's Far West Side, where ground was broken Tuesday. Another rezoning site is Willets Point in Queens, which is a federally designated flood zone though it is technically not part of the city's Zone A.
Once these formerly industrial areas are fully built out, tens of thousands of additional residents would likely have to be evacuated during serious storms. Currently, about 375,000 people live in Zone A areas. Many of them chose to stay in their homes during Sandy, despite a mandatory evacuation order from the city.
While the city is reviewing its building regulations, it is continuing its redevelopment of these areas — even in Coney Island, one of the worst hit areas of the city.
In addition to expanding the amusement park area and adding hotels, the city's plan calls for developing apartment towers — some as high as 25 stories — on a series of parking lots that now line Surf Avenue, west of the Coney Island subway terminal. Since that area lies in a flood plain, the city would add tons of landfill to raise the grade level. All told, the new development could bring in another 4,500 residents to Coney Island, which lies almost entirely in Zone A.
"The underlying rationale for the rezoning was as important as it ever was," said Nate Bliss, a vice president for the city's Economic Development Corporation. "This is a neighborhood that has struggled and has not experienced the same renaissance that a lot of its neighbors in Brooklyn have."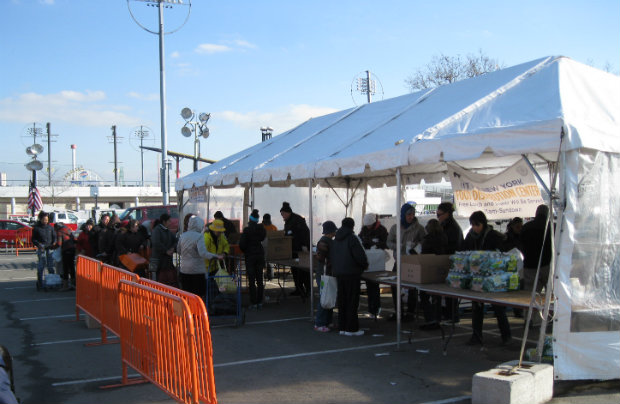 (Photo: A parking lot where high-rise apartments would be built under the area's redevelopment now hosts a city relief tent. Matthew Schuerman/WNYC)
The development company that is the principal owner of more than seven acres of the residentially rezoned area in Coney Island, Taconic Investments, says it is still interested in developing there.
"Our interest in developing it hasn't changed," said Taconic co-Chief Executive Officer Charles Bendit. "It's all really more geared to or I should say more tied to what the market will allow us to do."
Some planners and architects doubt the city will reverse its rezoning actions, but warn that officials should take a close look at what can be built where, and how.
The New York City Panel on Climate Change, which was appointed by Mayor Bloomberg, predicted that sea levels could rise another 2 to 4.5 feet by the year 2080. That means The Edge in Williamsburg, instead of surviving a foot above Sandy's surge, could find itself a few feet underwater from the next flood.
"I think we're involved with a moving target," said Lance Jay Brown, a professor at the Bernard and Anne Spitzer School of Architecture at the City College of New York.
Jim Garrison, an architect and adjunct professor at the Pratt Institute, points out another potential challenge from building on flood plains: any action to control nature elicits an equal reaction.
"If you look at it as a comprehensive water management area, then it suggests to you that you don't build in this area," Garrison said.
As it happens, observers say most of the flooding in Coney Island came not from the ocean. That's because years ago the U.S. Army Corps of Engineers raised the ocean beachfront. So Sandy's storm surge made its way around the peninsula instead, and then attacked from an inlet to the north of Coney Island.
Some planners suggest that adding landfill to raise the height of the rezoned area could have a similarly unintended effect: it will keep the new buildings dry, but could create more flooding in the lower parts of the neighborhood.