In Hard-Hit Areas, Red Cross Runs Into Image Issue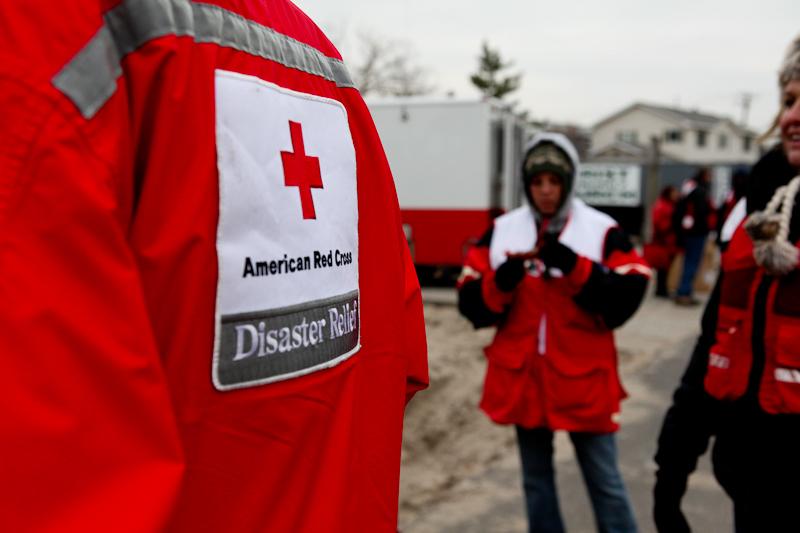 The Red Cross has been providing relief since the Civil War, but recently it's run into an image problem.
The group was criticized for not being on the ground in New York City immediately following Hurricane Sandy when residents from Staten Island to Breezy Point were asking themselves: where is the familiar red-and-white logo of the Red Cross?
"We're not first responders, so we don't send our people into an area that could be heavily impacted," said Sam Kille, Red Cross communications director for the New York region. "We don't send people into areas we know are going to flood during something like this."
The Red Cross has received pledges of $170 million since the storm hit and says its given out 7.5 million meals and snacks and more than 5 million relief supplies — which includes blankets, comfort and clean up kits and other items. It says 91 cents of every dollar donated goes to disaster victims.
But in places like Breezy Point, where more than 100 homes burned to the ground, many were left cold and hungry for the first few days and now they are cleaning out and repairing their damaged homes.
"You hear about the Red Cross building hospitals in other countries. Why aren't they here helping us build our houses? They're just giving us week-old hot dogs," said Douglas Owens, 28.
But building houses is not part of the Red Cross' mission.
Here and abroad the Red Cross and Red Crescent assist local charities religious-based relief groups and other organizations. The Red Cross has networks in 187 countries.
Kille said during disasters like the Haiti earthquake the Red Cross played a more visible role because there was little support from the government there.
In New York, the organization works with FEMA, city agencies and other groups that are providing assistance, which means the Red Cross is often less visible on the ground. It even says it has partnered with Occupy Sandy, which arrived immediately after the storm providing relief supplies.
"It's not been a perfect response, but we're very proud of the response we've had. This is the biggest response we've had in five years as an organization," Kille said, noting that it took the organization three days to get into some storm-ravaged areas
Kille said the Red Cross also offers mental health counseling and is sending volunteers door-to-door to visit evacuees.  It has two tractor-trailers at Aqueduct Racetrack and Fort Tilden where large meals are cooked and distributed through various networks throughout the city.
Annemarie Willis, a resident of Breezy Point, was a Red Cross volunteer, but is now taking relief into her own hands. Surveying a stockpile of diapers, baby wipes, cleaning supplies and shovels that she has collected, Willis said residents have come to her because the Red Cross' offerings aren't enough.
"It's Annemarie's Warehouse," she said.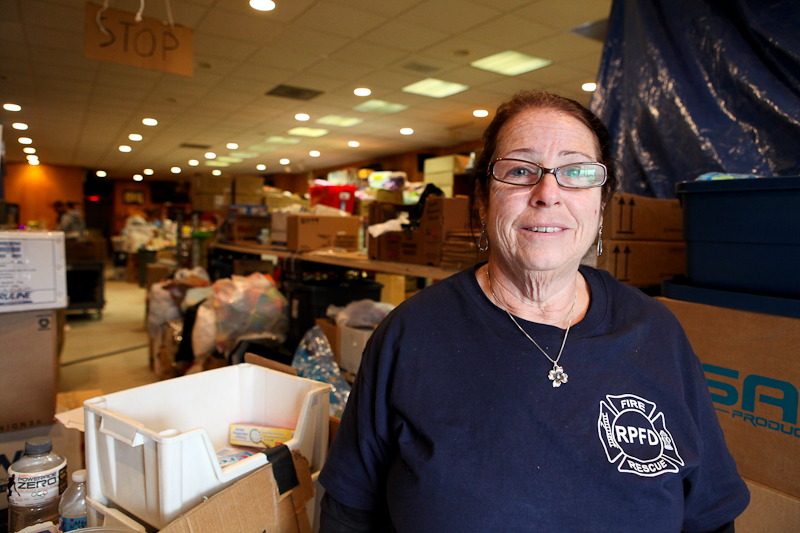 Annmarie Willis, a Breezy Point resident who has collected relief supplies and is distributing them herself (Stephen Nessen/WNYC).
Nearby, the Red Cross runs what it calls an Outreach Center. There are nine in the affected areas. Volunteers meet there and fan out in groups, canvassing the hard-hit neighborhoods — assessing the needs.
At the Breezy Point outpost, backhoes, bulldozers and work trucks rumble by on a recent morning. Red Cross volunteers in an ambulance-shaped van hand out Meals-Ready-to-Eat, diapers and winter hats.
A team of four volunteers from across the country pile into an SUV and drive three minutes to a home that previous volunteers identified as needing assistance.
Wes Mukoyama, 70,  from Santa Clara, Calif., and his team enter a beige home to check on an elderly woman who lives alone. About 15 minutes later, he emerges.
"I asked if she's sleeping and eating regularly," he said. "I cautioned her about this feeling if she gets agitated—it's a normal reaction to an abnormal situation, so that may continue for awhile."
But Mukoyama, like many of the 15,000 volunteers, is not from New York, and is only staying for about two weeks. He admits he probably won't be following up with this woman.
"We can't continue to come back; we might not know where we're going to be in the next day," he said. "So we caution them and say, 'We never make any promises that we'll be back.'"