Solar Generators Power Sandy-Stricken Areas
A non-profit clean energy group, Solar One, has been deploying solar generators to areas most affected by Hurricane Sandy. The group currently has several generators running in the Rockaways, and made a recent delivery to Midland Beach on Staten Island.
The delivery went to a community-run center operating at St. Margaret Mary Roman Catholic Church. Adjacent to the church's gymnasium is a building still without power. There, volunteers have set up services like a legal clinic, to help residents with their paperwork, and a free store, packed with donated goods like soap and canned foods.

Outside is a small yard with tents where residents can get a massage, sign up to volunteer for the day, or just rest. Several groups and individual volunteers have set up shop here, to help provide services. It's become a one-stop shop for residents in need. 

It's also where the new solar generator will reside. Max Joel, with Solar One, hopes it will provide some small conveniences. "People will be able to charge cell phones, charge laptops … can run a small refrigerator, lighting," he said. "For a lot of the things I'm seeing around the site here, it should serve pretty well."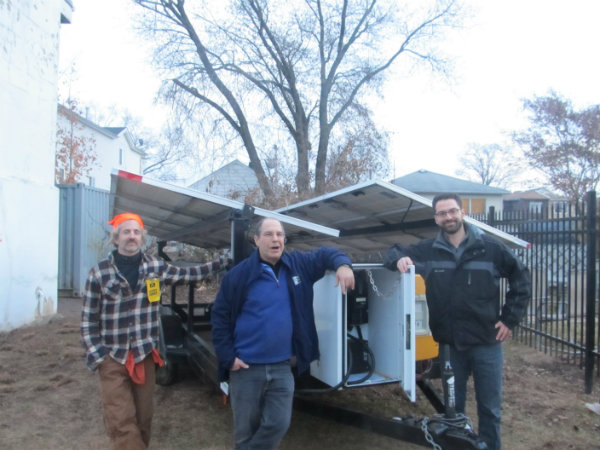 (Goldi Guerra, Jonathan Lane, and Max Joel, with the solar generator deployed to Midland Beach on Sunday.)
Solar One said it identifies sites by partnering with relief groups, or grassroots organizations on the ground. The generators are made by another company, DC Solar Solutions, and distributed by Consolidated Solar. In this case, the deployment was sponsored by HSBC, and the group worked with Occupy Sandy, a volunteer offshoot of the Occupy Wall Street movement.
Goldi Guerra, a volunteer with Occupy Sandy, said he's happy about the prospect of using quiet, clean energy from the solar generator, after many days of listening to the hum of gas powered generators.

"It's just going to be a great way to show this community that, you know, things can be done in a better way," he said. "Instead of waiting for Con Ed to turn on the grid, we can have our own little grid."
The actual generator is made of two giant solar panels, the size of large dining room tables. It was hauled in on a trailer from Red Hook, Brooklyn, where it was used until power was restored. About a dozen men helped lift the trailer over the curb and into the yard, to the sound of cheers once it cleared the entryway.

Some residents at the community center watched with anticipation. Others, like Robin Michelle of Dongan Hills, had some questions.

"A generator to put lights on in here? … Yea, I think that would be a great idea," she said. "Does heat come with that?"

It's the big things, like heat, electricity, and home repairs that many here have on their minds, as they continue with recovery.

Laura Lamont's Midland Beach home was destroyed by Sandy. She watched with interest as the trailer carrying the solar generator was backed into the yard.
"That would probably be a lot of help because now as the houses are being gutted they're still so wet, and as they come around to ask what we need, it's really not so much cleaning supplies, not so much clothes anymore. [It's] generators, extension cords," she said.
Solar One has ten generators it's been moving around to storm-damaged areas. When one site gets back on its feet, the group is able to redeploy solar generators to other areas in need. It hopes to place them on the Jersey Shore and Long Island soon.
Correction: WNYC incorrectly identified Consolidated Solar as the maker of the generators. That is incorrect. It is the distributor. WNYC regrets the error.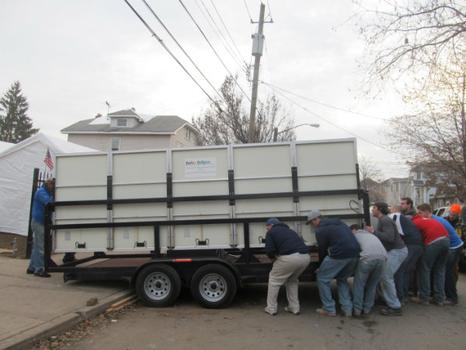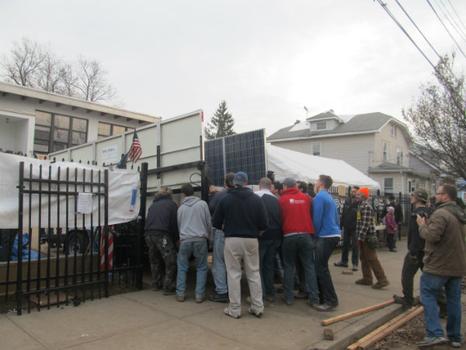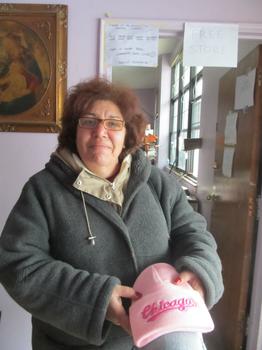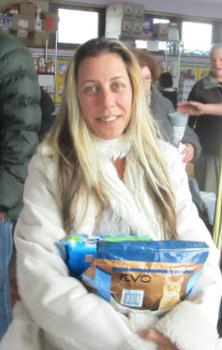 of