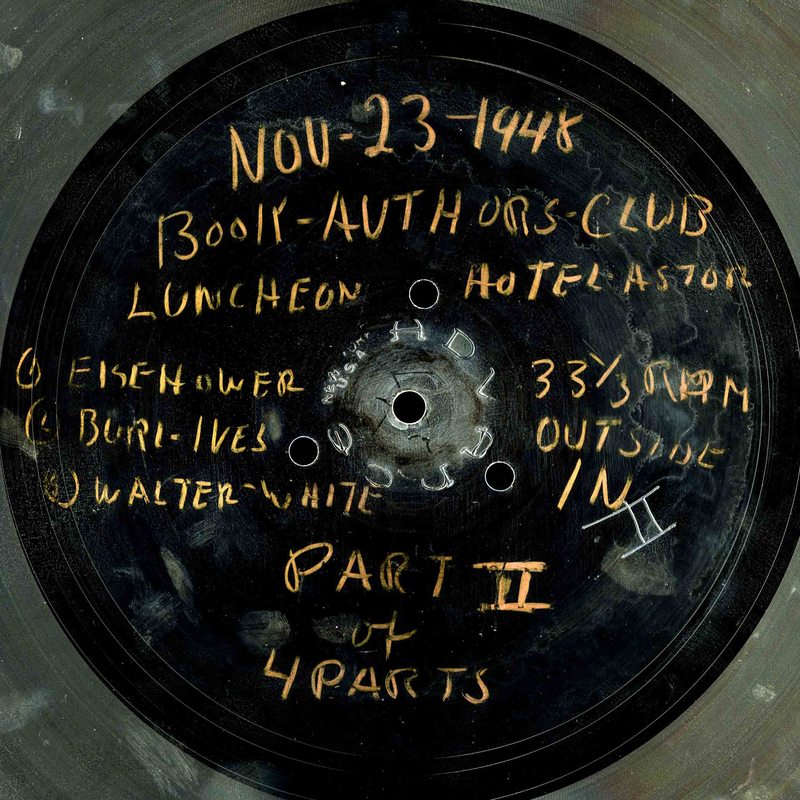 In newly recovered audio from our collections, Dwight D. Eisenhower addresses a Books and Authors Luncheon audience. Historian David Pietrusza weighs in on the surviving audio from the Nov 23, 1948 speech.
In this talk, co-sponsored by the New York Herald-Tribune and the American Booksellers Association and delivered before an audience of 1,800 at the Astor Hotel, Dwight Eisenhower refers to himself as an "amateur author." As the term "amateur" usually applies to an unpaid status, his characterization, while properly modest, was not, however, particularly accurate.
Not at all.
In anticipation of his assuming the presidency of Columbia University in 1948, Ike had authored his wartime memoirs, Crusade in Europe, for which Doubleday & Co. had advanced him $635,000. In an unprecedented ruling, the Treasury Department decreed Eisenhower's earnings to be exempt from then sky-high personal tax rates, subject instead to the significantly lower capital gains rate. Ike, it reasoned, not being a professional writer, was not so much writing, as marketing a lifetime asset. Accordingly, Eisenhower paid only $158,750 in taxes—saving approximately $400,000. Not bad compensation for three months work.
In this excerpt from his address (moderated by Herald-Tribune book editor Irita Bradford Van Doren), Ike focuses upon two main themes: religion as the basis for American democracy and the very real possibility of a new war. 
To contemporary sensibilities, Eisenhower's outspoken religiosity may seem foreign. In 1948—and in years prior to that year—such public acknowledgements of the nation's faith were the norm. President Calvin Coolidge, for example, regularly expounded on the religious basis for the American republic. Franklin Roosevelt's D-Day radio message to a fearful nation was in every aspect a prayer.
Regarding the possibility of a new conflict, Eisenhower spoke within the context of wide-spread and increasingly ominous international tensions: the Greek and Chinese civil wars, the Marshall Plan, the Czech Communist seizure of power, and the Soviet blockade of Berlin. Harry Truman had just re-instituted a peace-time draft, and, in fact, the United States would soon confront a shooting war with Communist forces in Korea.
Ike's comments regarding the perils that American democracy might confront in any new war, indeed, presage his more famous January 1961 thoughts on the dangers of the "military-industrial complex."
Ideas have consequences.
They also, it seems, possess antecedents.