Web Extras
Deb Perelman's Tres Leches Rice Pudding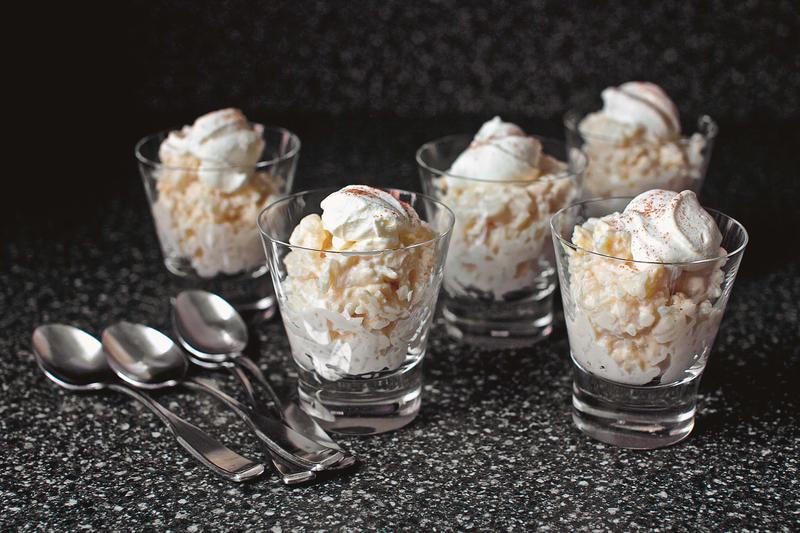 yield: serves 8
1 cup (180 grams) long- grain white rice
¾ teaspoon table salt
1 large egg
One 12-ounce can (1½ cups or 355 ml) evaporated milk
One 13.5-ounce can (17/8 cups or 415 ml) unsweetened coconut milk
One 14-ounce can (1¼ cups or 390 grams) sweetened condensed milk
1 teaspoon vanilla extract
1 cup (240 ml) heavy or whipping cream, chilled
1 tablespoon confectioners' sugar
Ground cinnamon, to finish
My list of rice pudding loves is long. There's the Danish risalamande, with chopped almonds, whipped cream, and a sour cherry sauce, usually served at Christmas with a prize inside— one that I never win, not that I've been trying for thirteen years at my best
friend's house or anything. There's kheer, with cardamom, cashews or pistachios, and saffron. There's rice pudding the way our grandmothers made it, baked for what feels like an eternity, with milk, eggs, and sugar. And there's arroz con leche, which is kind of like your Kozy Shack went down to Costa Rica for a lazy weekend and came back enviously tan, sultry, and smelling of sandy shores. As you can tell, I really like arroz con leche.
But this—a riff on one of the best variants of arroz con leche I've made, which, in its original incarnation on my site, I adapted from Ingrid Hoffmann's wonderful recipe—is my favorite, for two reasons: First, it knows me. (That's the funny thing about the recipes I create!) It knows how preposterously bad I am at keeping stuff in stock in my kitchen, like milk, but that I seem always to have an unmoved collection of canned items and grains. Second, it's so creamy that it's like a pudding stirred into another pudding.
The rice is cooked first in water. I prefer to start my rice pudding recipes like this, because I'm convinced that cooking the rice first in milk takes twice as long and doesn't get the pudding half as creamy. Also, it gives me a use for those cartons of white rice left over from the Chinese take- out I only occasionally (cough) succumb to. Then you basically cook another pudding on top of it, with one egg and three milks— coconut, evaporated, and sweetened condensed— and the end result will be the richest and most luxurious rice pudding imaginable. But why stop there? For the times when the word "Enough!" has escaped your vocabulary, I recommend topping it with a dollop of cinnamon- dusted whipped cream, for the icing on the proverbial cake.
Cook the Rice
Put the rice, 2 cups of water, and the salt in a medium saucepan with a tight- fitting lid. Bring to a boil— you should hear the pot going all a flutter under the lid and puffing steam out the seam. Reduce to a low simmer, and let the rice cook for 15 minutes, until the water is absorbed. Remove the rice pot from the heat.
Once the rice is cooked, whisk the egg in a medium bowl, and then whisk in the evaporated milk. Stir the coconut and sweetened condensed milks into the rice, then add the egg mixture. Return the saucepan to heat and cook the mixture over medium- low heat until it looks mostly, or about 90 percent, absorbed (the pudding will thicken a lot as it cools), about 20 to 25 minutes. Stir in the vanilla extract, then divide the pudding among serving dishes. Keep the puddings in the fridge until fully chilled, about 1 to 2 hours.
To Serve
Whip the heavy cream with the confectioners' sugar until soft peaks form. Dollop a spoonful of whipped cream on top of each bowl of rice pudding, dust with ground cinnamon, then enjoy.
Cooking Note
If you have 2 cups of leftover white rice, you can skip the first step, and jump in with the egg and three milks.
Excerpted from THE SMITTEN KITCHEN COOKBOOK by Deb Perelman. Copyright © 2012 by Deb Perelman. Excerpted by permission of Knopf, a division of Random House, Inc. All rights reserved. No part of this excerpt may be reproduced or reprinted without permission in writing from the publisher.