Rockaway Pipeline Project Set to Move Forward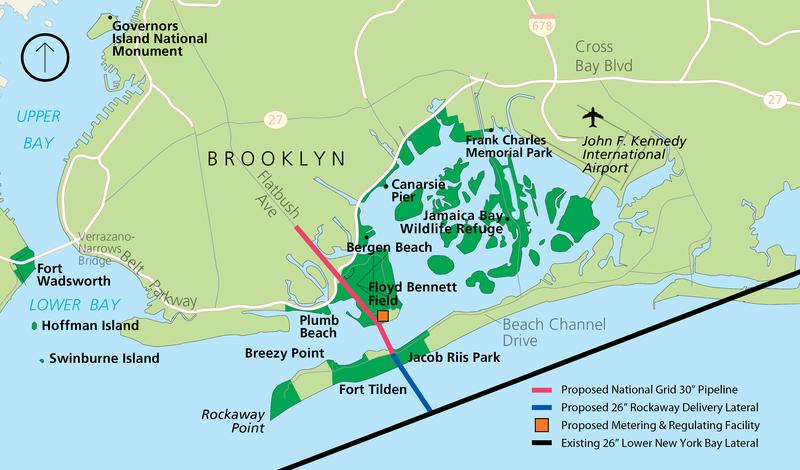 A pipeline operator is moving forward with plans to build a natural gas pipeline through the Rockaways and under Jamaica Bay, despite concerns about the area's vulnerability to storms like Sandy.
The Rockaway Lateral Project would construct a 3.17 mile pipeline that would connect to an existing natural gas line in the Atlantic Ocean and run beneath Jacob Riis Park in the Rockaways and Jamaica Bay to Brooklyn's Floyd Bennett Field. The Rockaways suffered major damage from Sandy.
Chris Stockton with the Williams Companies says the pipeline would be built under the ocean floor and be designed to withstand the roughest storms.
"We're not only burying it under ground, but they put concrete mats over the pipe to make sure it doesn't float to the surface, because you're filling it with a gas. You want to make sure it doesn't float," Stockton explained.
But environmentalists say one of the components of the project — a meter and regulation station set to be built on Floyd Bennett Field — would be under water if a storm stronger than Sandy hit the area in the future.
"If the storm surge hits one foot higher, then Floyd Bennett Field is flooded," said Sandi Stratton-Gonzalez with the Coalition Against the Rockaway Pipeline.
President Obama signed legislation allowing the use of Gateway National Park, essentially allowing the project to move forward. It still needs approval from the Federal Energy Regulatory Commission. Williams says it plans to submit an application to the agency in January.