Soundcheck
The Brooklyn Philharmonic At The Winter Garden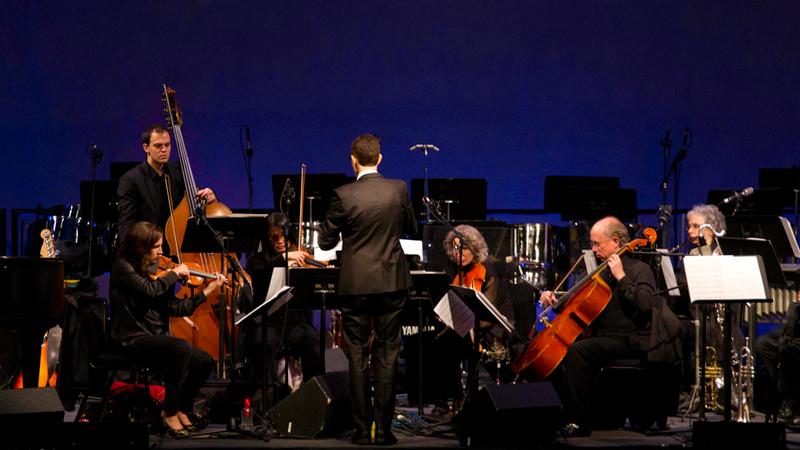 Back in October, Soundcheck took over the stage at the Winter Garden at the World Financial Center. Tonight, we revisit the second of those concerts, an eclectic gathering of styles, ideas and performers that only Brooklyn could make possible. Conducted by Alan Pierson, the Brooklyn Philharmonic's chamber ensemble collaborates with a pan steel orchestra, the composers Ted Hearne and Christopher Cerrone, and two local indie musicians.
First, the Brooklyn Philharmonic performs Hearne's new piece, But I Voted For Shirley Chisholm.
The Brooklyn Phil is then joined by the Pan Sonatas Steel Orchestra of Brooklyn for the world premiere of an interesting work composed by Cerrone called Flows Beneath.
And then, Brooklyn indie musician Tim Fite collaborates with the Brooklyn Phil on a piece called Copy Cat.
 During the performance, visuals were presented alongside the work. Below, you can sync up video with the audio of the performance "Dark Side Of The Moon-style." Listen in to the show to host John Schaefer for the countdown.
Copycat - without strings. from tim fite on Vimeo.
Lastly, indie rock musician Matt Marks (from the band Skeletons) premieres a new work, Bluetooth Island.
Below: you can listen to the full concert from Oct. 25, 2012, including additional interviews and a piece by Arnold Schoenberg
-----
Plus: British soul band The Heavy returns to Soundcheck for the first time since 2009. We hear songs from the group's new record and hear about what it was like to hear their song in a television commercial.