Opinion: Why Cory Booker Should Take on Gov. Chris Christie Next Year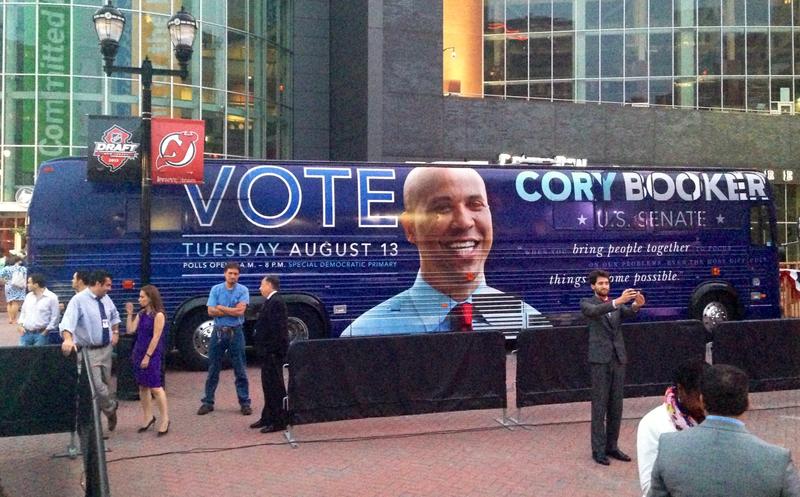 Cory Booker running against an established incumbent. A young, ambitious, long-shot candidate going against the odds. Challenging political machinery, ignoring naysayers and defying conventional wisdom that would suggest who should wait his turn a little longer.

Why would he do it? Because the established political apparatus isn't serving its constituents. Because the incumbent has priorities on his agenda other than serving as the executive he is elected to be. Because Booker could empower new people, unleash untapped energy and look forward in a way his rival refuses to.

Whether this is the scenario that will define the 2013 New Jersey gubernatorial race, it is actually the description of Booker's 2002 run against Sharpe James, a powerful incumbent Mayor of Newark who many not only believed couldn't be beaten, but also said shouldn't be challenged.

Cory Booker ignored that wisdom then, and should do so this year in order to run against Chris Christie for governor of New Jersey.

Christie has long been a Republican darling. His ability to win and push his agenda in a blue state has inspired his fellow partisans around the country, promoting talk of a Presidential run, nearly securing him the second spot on the Romney ticket, and earning him the keynote at the RNC.

More recently, though, his performance in the aftermath of Hurricane Sandy has won him praise from all quarters. He worked closely with President Obama, against whom he had been vigorously campaigning in the weeks before. He was attentive, compassion, omnipresent and embodied the style of active, hands-on governance that people needed to see.

That has boosted his popularity in recent polls, making this odd-year reelection race seem a cakewalk. His collaboration with the President and dismissal of partisan opportunities in the hurricane's wake drew Democrats into agreement that he is doing a good job.

And, in the relief efforts, he did do a good job. He did what we should expect from our elected representatives: he collaborated, he cared, he problem-solved.

Unfortunately, that's not what he's been doing in his three years as governor.

Rather than collaborating, Christie has continuously chosen a fateful go-it-alone approach, pushing away federal help and other state allies to pursue his own agenda and beef up his right-wing credentials. He has left federal money on the table that would have built a trans-Hudson freight rail.
He has played games with stimulus money and healthcare exchanges, both of which would help New Jersey residents, in order to curry favor with Tea Party voters he might someday pursue. While he once believed in the science of climate change, as governor, he scuttled the opportunity to work with neighboring states on reducing carbon emissions.

It's one thing to be strong and supportive in relief efforts. However, it's another to be brave and bold enough to address the issues behind climate change in ways that are far-reaching, meaningful and potentially politically unpopular.

Add onto that record, Christie's history of refusing to fairly tax New Jersey's wealthiest residents, deciding instead to cut necessary services and pile the burden on the middle class. He has attacked teachers, demonized unionized workers. And of course he served as flack-in-chief for the Romney/Ryan ticket - the economic ideas of which would have further hurt New Jersey's already stagnant economy.

Many of these decisions have not been about New Jersey but about clearing a prime spot on the national stage - presumably a 2016 Presidential run. That's why he has shifted his stances to come in-line with Tea Party doctrine. It's the proof that gives lie to his straight-talk reputation. And it's why pre-Sandy fewer than 50 percent of New Jerseyans thought he deserved a second term.

Christie's work during Sandy was that of an admirable public official, the same type of public workers he had railed against in much of his first term. Maybe the crisis was so great that he saw the need to take a new approach. Or it maybe was his political crisis -- as his poll numbers dropped in his reelection bid. Either way, it's made him a better governor.

If he can continue to govern this way -- as a true problem-solving, non-partisan collaborator, he will win reelection. If, however, he keeps his eye on the furthest right-wing voters of a national GOP election, he doesn't deserve consideration.

That's where Mayor Booker comes in. He can give credit where credit is due, but also point out where the governor has failed his state. He can bring focus onto the challenges of the state's urban population, but also build upon his record of true coalition-building and innovation. He doesn't need to wait his turn.

If you've seen the compelling documentary Street Fight about Booker's 2002 race, you know the result: he didn't win. Mayor James was too powerful, the race too rigged, Booker too new. Sure enough, that may happen again.

But that race changed was about more than electing Cory Booker. It changed the dynamics of Newark politics and truly challenged the incumbent in a vital way. Win or lose, that could be Booker's impact on this year's New Jersey race.

Booker knows it can be important - and meaningful - to run even when pundits say you can't win. Maybe you win… or maybe you don't, but still make a difference. That would be worth it for all New Jerseyans this year.

And don't forget, four years later, Booker took a second shot and won.