Soundcheck
The Life, Faith, And Words Of Leonard Cohen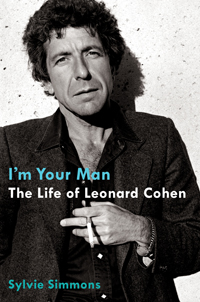 The new biography I'm Your Man: The Life Of Leonard Cohen charts the roles that religion, loneliness, and beautiful muses have played in the work of the singer, songwriter and poet. Author Sylvie Simmons digs into Cohen's early years, including the depth of his family's Jewish life and their prominence in his native Montreal.
Cohen's paternal great-grandfather and grandfather played important roles in the synagogue located near his childhood home. His maternal grandfather was a famous Hebrew grammarian. 
The younger Cohen "came from rabbis, big businessmen, and important men -- philanthropists," Simmons says in an interview with Soundcheck host John Schaefer. "It would take two hands to count all the institutions that they presided over or founded."
Simmons, who interviewed Cohen for the book, traces his journey through Judaism, Scientology and Buddhism. She also interviewed the women who have shaped Cohen's work, including family members and lovers.
"It's like the women are necessary for him to create his work," Simmons says. "But at the same time, they somehow stop him from moving on into the next piece of work. It's a terrible dilemma to have to deal with."
Touring this year behind a new album, Old Ideas, Cohen remains an icon for multiple generations of fans and fellow musicians. His songs have retained their appeal, too.
"There's something about them. There's a great deal of space in them," Simmons says. "If you just take one of these songs, you can put yourself in to it and make it go."